Caribbean Islands have emerged to be a huge market for ride-hailing companies around the world. In this article, we are going to discuss in detail about every aspect of the ride-hailing industry in the Caribbean islands. So, let's begin with the ride-hailing market in this region.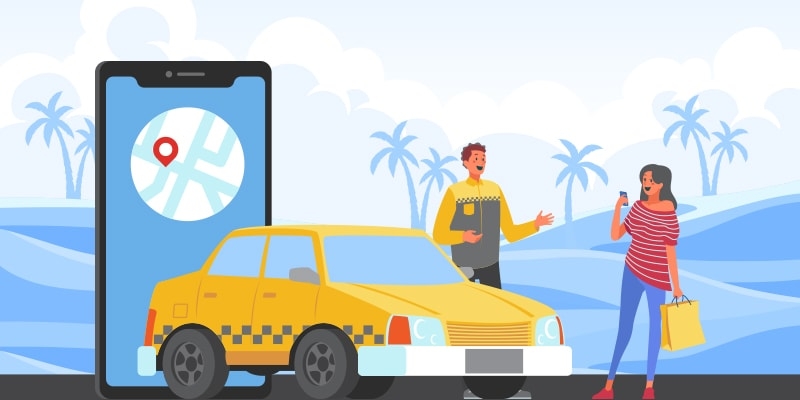 The stats support this as the revenue in the ride-hailing & taxi segments amounts a mammoth US$107m for the year 2020. This revenue is estimated to show annual growth of 16.8% from 2020-2024. This growth in the CAGR will result in the market volume of US$199m by the year 2024. Moreover, the average revenue per user (APRU) as of now amounts to US$52.87.
The ground reality
However, these promising stats don't add up to the ground realities. The transportation infrastructure in the Caribbean islands is not in the greatest. Especially, when it comes to the public transportation market, modernization is the need of the hour as a poorly planned transit system and lack of information are giving rise to a number of economic and social challenges.
Caribbean Islands is a tourist destination as millions of tourists come to this beautiful place every year. However, due to lack or limited information about the status of their transportation, tourists have to suffer a lot. Not only tourists, but also locals get late for school, work, or miss their appointments due to limited knowledge of their transportation arrival.
At the same time, many people who drive and manage these vehicles have no means of information as to how they are being driven. This becomes dangerous when it includes drivers driving in the highest risk categories.
Caribbean Transit Solutions, which is a Barbados based company, wishes to change the current transportation situation in Barbados and other Caribbean Islands. They will provide on-demand and real-time information on the various public transit vehicles operating in the city. Moreover, they would also provide information about the private fleets of vehicles.
According to the company's co-founder Khalil Bryan, "our focus is to create solutions that solve local transportation problems and frustrations and provide customers with information that will allow them to make the best decision on the use of their time."
As of now, the company offers three products which are aimed at providing better access to vehicle information and public transportation:
EasyTrak: Effectively manage vehicle without any risks
BeepCab: Get a cab directly from your smartphone
BeepBus: Use buses on-demand and find various bus routes
All the above services are available in different cities. EasyTrak operates in Barbados, St. Lucia, and Trinidad. Similarly, BeepCab is operational in Barbados.
Caribbean Transit Solution is well aware of the competitive international marketplace for the taxi which has giants like Uber, Didi, EasyTaxi, and many more.
It's important to note that Caribbean Transit Solution is not the only ride-sharing company in the region. In the past years, many taxi entrepreneurs have emerged thus making the competition even tougher. Below are some of the major taxi startups in the Caribbean region.
Major taxi startups in the Caribbean region
Drop
Drop is among the most popular local apps in the Caribbean. Drop Taxi provides both instant and scheduled pick-up along with trip estimates throughout various zones. The company gained immense popularity among the locals and tourists over the past two carnival seasons. It became the first choice for fete-goers who didn't want to drive or didn't have any means of transportation. Recently, the company have announced few adjustments to their rates to time fares and distance.
PinkCab
PinkCab is different from other ride-hailing services in the Caribbean as it's a women-only ride-hailing platform. This platform was established with the motive of empowering women by providing them with job opportunities along with providing safe transportation. PinkCab's first priority is to provide top-grade safety for its riders. And it does that by 24x7 live monitoring, SOS feature, and rigorous background checks.
RideConnect
RideConnect is a ride-hailing service which has its own unique concept. In this, the driver sets his own pricing, which both riders and drivers have to agree upon. Both riders, as well as drivers, announce their rates that they are willing to pay on the RideBoard. As per their website, they don't force take a cut per ride or force anyone to charge for a ride. Both drivers, as well as riders, can work out on the rate that works for both of them.
Drivers can also create private channels which allow them to set different type of prices for different rider groups. Moreover, riders can also group their favourite drivers by geography or any other factor like interest and personal need such as female-only drivers with the help of rideshare channels.
TT Rideshare
As per the TT Ridershare's representative, they entered the market after realizing that there was a need for ridesharing service in the region. They also said that many entrepreneurs and ex-Uber drivers came together to fill this void.
Their fare structure includes a base fare which is $12; $1.50/km; $1/minute; minimum fare ($25). Moreover, the riders can also share their rides with friends and can also enable emergency mode in case they feel unsafe at a point during the trip. The moment you activate the emergency mode, the trip details will be automatically sent to your pre-defined emergency contact or it will contact the police.
Ride Caribbean
RIDE Caribbean is another well-known ride-sharing company in the Caribbean islands which connects riders with drivers. It's a Transport Network Company that connects drivers with riders through a mobile app. It also offers a carpooling service in which multiple riders pay their own fare as they are picked and dropped off at their destinations. Not only this, but RIDE Caribbean also offers Luxury Ride Sharing, Grocery delivery, Private Ride Sharing, Food Delivery, and Mobile Payment Wallet services.
Ride Caribbean claims to offer income opportunities to the existing private and taxi drivers as well as the convenience of on-demand service to their riders. Ride Caribbean doesn't charge any surge pricing as they offer flat rate per mile. Moreover, they also offer their passengers with a fleet of vehicles including SUV's, wheelchair cabs, pickups, cars, and 8 seat Mini Vans in St. Lucia.
Conclusion
The Caribbean islands are famous for its several famous tourists destination. Due to the large tourism industry in the region, taxi startups are bound to thrive in this region. We already saw how different taxi companies are pushing to emerge as a leading taxi company in the region. In the coming years, we might see this competition getting tougher and tougher.