Last year was surrounded by Covid-19 and the pandemic era accelerated digital technologies globally. Businesses were back to life when 2021 stepped in, a year of hope with a huge opportunity to reset the businesses.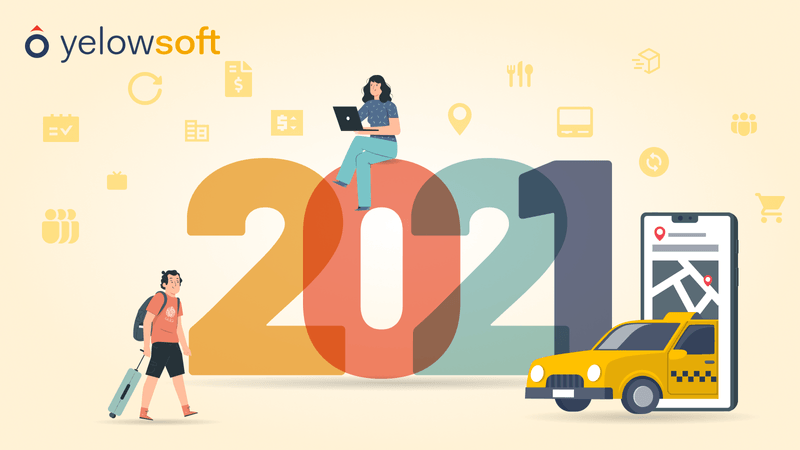 Yelowsoft provides on-demand taxi solutions that save your time and money on technology. We cater for a wide range of products which includes YelowTaxi, YelowRide, YelowXpress, and YelowSend. We help our clients to streamline their operations through digital transformation. Get customized on-demand solution services which meet your specific business needs.
2021 was an incredibly hard year for many businesses, let's look at all the enhancements that happened in Yelowsoft, along with predictions and inclusive growth the upcoming year 2022.
Yelowsoft Milestones Achieved in 2021
We have introduced a bundle of updates in YelowTaxi which renders fuss-free solutions for taxi dispatch operations. Let's look at the new features added in Airport Taxi Solution, Corporate Taxi Solution, Taxi Dispatch Solution, and On-Demand Delivery Solutions which improvise the Yelow Taxi application more efficiently.
Taxi Dispatch Solution
Taxi dispatch solution gives you a highly advanced and automated Taxi dispatch solution. With all-in-one advanced dispatch software, you can take your taxi business to the next level by adding value to your daily operations. Here are new features that enhance the application: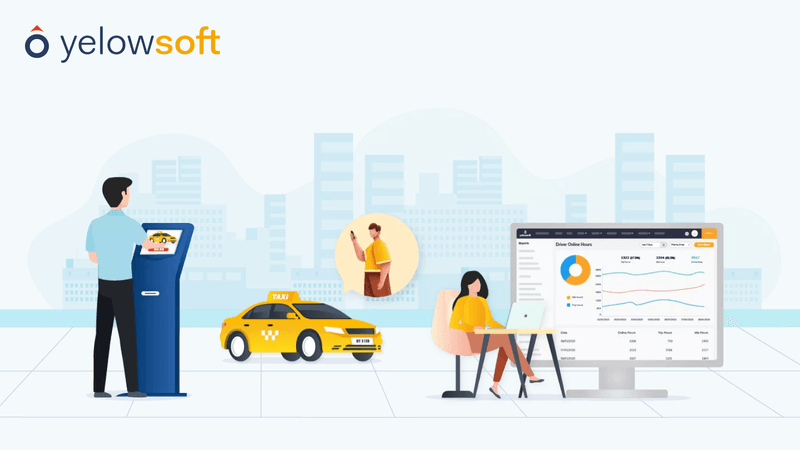 Live Tracking - Keep an eye on your taxi business operations by tracking your drivers and customers. You can also manage the bookings, drivers and data-driven operations.
Broadcasting - Customers can get access to multiple booking channels were booking a cab becomes swift and comfortable. Different booking modes are available which includes website booking, self-operating kiosks and dispatcher app.
Scheduling Flexible Rides - Get automatic taxi booking with our automated dispatch solution. You will not be able to miss out on a single ride request whether you get it via phone calls or in person. Make instant ride bookings by just entering the ride details in the application and confirming it with a single click.
Airport Taxi Solution
Airport taxi Solution comes up with new version updates that boost your airport transfer business. In this update, we have added new features that enhance the working of the application and provides benefits to your business: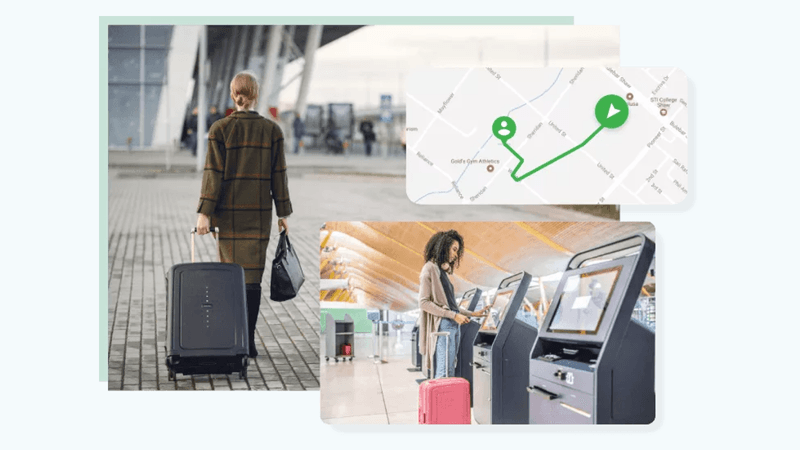 Queue System - At the airport, there is always a hustle and bustle of taxis and each driver wishes to get passengers. Que System is a token-based booking system for all users where they get printed receipts or tokens for their rides.
This way each driver gets passengers without waiting in the queue and passengers do not have to wait for their rides. Queue System the time for both drivers and passengers.
Fixed Route Pricing - Price for a ride will be similar for selected zones and locations to the airport and vice-versa.
Kiosk System - Passengers will be able to book their taxis after they have landed from a flight using the Kiosk system available at the airport. The easy-to-use system where passengers need to add their destination and select the type of service they want and the taxi will be booked.
Corporate Taxi Solution
2021 introduces new version updates that enhance the corporate taxi solution and makes your corporate travel business more efficient.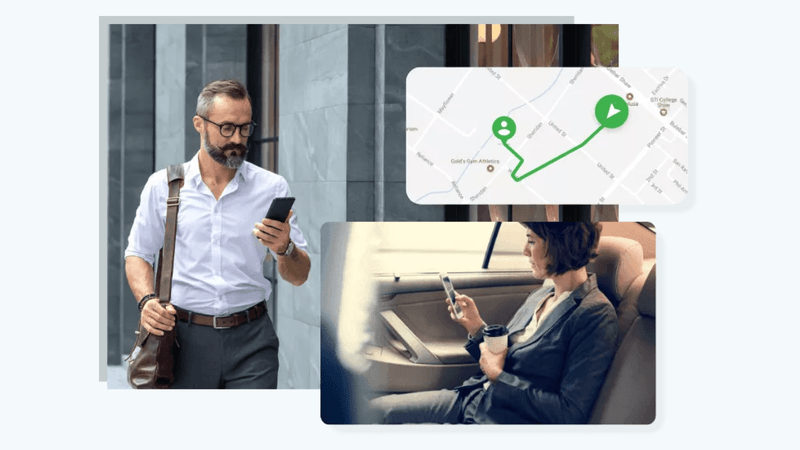 With this application, you can get a fully functional taxi dispatch system for all your corporate clients. The new features provided us with benefits such as:
Giving new corporate panel
Recurring
Automated invoice to the client
On-Demand Delivery Solution
YelowXpress provides on-demand delivery businesses with our extensive range of products and services. Easily manage all your on-demand delivery operations in just one place and give your business an automated mode. New features added in the on-demand delivery solution are as follows:
Food Delivery Solution - Restructure your food delivery services with customized and advanced on-demand food delivery software and solutions. Marketplace Food Delivery Solution will help you with a food marketplace delivery solution for quicker and easier management of your vendors and orders.
Restaurants and chains delivery solutions will help you with your own, custom, restaurant or chain delivery system for quicker and easier management of your orders.
Grocery Delivery Solution - Streamline your grocery delivery business and boost your operational efficiency with our advanced grocery delivery solution. YelowExpress can help you with a grocery marketplace delivery app for quicker and easier management of your vendors and grocery orders. You can also get your grocery delivery application for quicker and easier management of your orders.
Parcel Delivery Solution - YelowSend application provides the one-stop solution for smart parcel delivery software. This software gives your business a digital transformation to make it smarter and faster.
Parcel Delivery Solution is packed with multifarious features like managing deliveries, optimum utilization of resources, smart and simple user interface, live tracking orders, and doorstep delivery of all orders.
Business Amplification
Our Team is Expanding
Yelowsoft business is growing in leaps and bounds and with the growth of the business, it is necessary for the company to expand the team.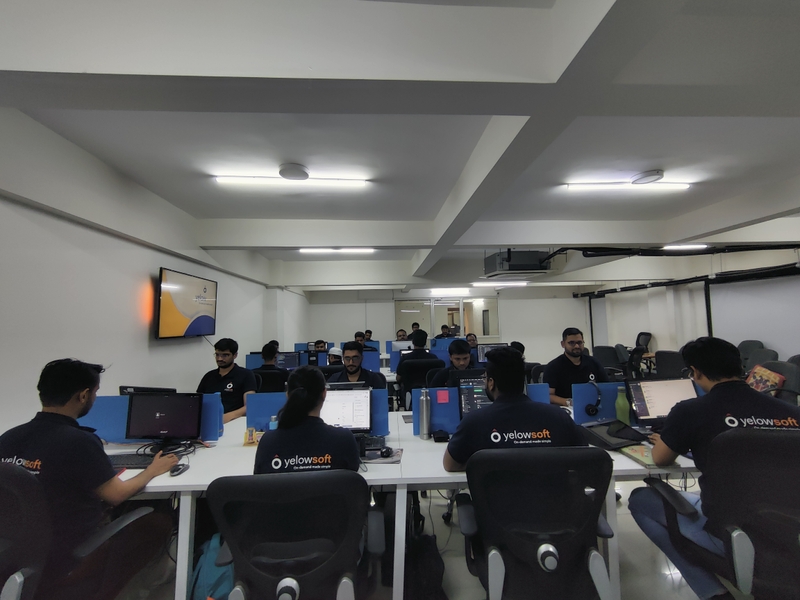 Our main goal is to render hassle-free and best solutions to our clients, to meet their requirements and to provide on-time solutions, we have expanded our team. The overall expansion of the team is more than 35% in development, back-end and support departments.
We have moved to a new Location
With the expansion of the team and the growth of the business, Yelowsoft needs a bigger space to manage the team. Now the company has changed their office and will provide their services from:
1st Floor, Meem Procon Pvt. Ltd. Indraprastha business park, besides DAV School, Makarba, Ahmedabad, Gujarat
Series of Webinar to grasp new features of our product
In the year 2021, we came up with a series of webinars where our taxi experts discussed various topics related to on-demand business and taxi solutions.
On-Demand Taxi Business
Grow your on-demand taxi business while saving time and money on technology. In this cut-throat competition of taxi business, our on-demand taxi business application will give you guidance to achieve success in this market.
In this webinar, our expert, Jafar Shaikh will share amazing tips on the taxi business that can help you to sail out smoothly through the highly competitive taxi business market.
Get a closer look and overview of our taxi solution
After the pandemic era of Covid 19, let's boost and streamline your taxi business using our taxi solution application. Easily understand and get the total overview of the features available in the application.
In this webinar, our experts Jafar Shaikh and Afzal Meman will provide you with a live demo of Yelowsoft's ride-hailing solution. Also, they will give a walkthrough of all the important components of Yelowsoft's solution such as dashboard, pricing, reports, wallet, and many more.
What's next for Yelowsoft in 2022?
By the end of 2021, Yelowsoft has implemented new features to enhance the application where the customers of the company can get better solutions for their business. Apart from enhancing the application, the company has expanded their team and changed the location.
In 2022, we are planning to start with Urban Clap Service Solutions. This application will give you the services at your doorsteps such as beauty and spa, home cleaning, pest control and many more services just by using a mobile application.
In On-Demand Delivery Solution we are also focusing on the implementation of the medical delivery solution, flower delivery, plant delivery, cargo delivery solution, and gift delivery solutions. These new implementations will make the application more efficient, fast and improved. We are also planning to start with a parking solution application for our international clients.
This was all for the year 2021. See you with more efficient applications, solutions and business growth in 2022.