The year 2020 will probably be remembered for all the wrong reasons. It's been nothing but a year of losses. This year recorded a massive loss in the form of lives, profits, lifestyle, and many more. But even in such circumstances, Yelowsoft was able to achieve so much in 2020.
In this blog, we are going to have a look at all the important things that happened in Yelowsoft. So, without any further ado, let's begin.
Yelowsoft website in a new avatar
The New Year also brought a new and fresh look of the Yelowsoft's website. With the latest addition of the new on-demand delivery services and launch of the Super App, the older version of our website was unable to communicate with our clients effectively. Due to which, the users were not able to find the information which they wanted.
To resolve this issue, our marketing team brainstormed many ideas and strategies. Finally, they came up with the plan of rebranding our website and its look.
Our new website is easy to use. Furthermore, all the information on it is provided in such a manner that they are easily accessible to all our clients.
Here comes our Super App!
As mentioned earlier, the COVID-19 pandemic has heavily affected the ride-hailing industry. Even the big players like Uber, Lyft, Grab, etc. have felt its impact on their business. Yelowsoft's clients were no exception as they were too having terrible 2020 due to the COVID-19 pandemic.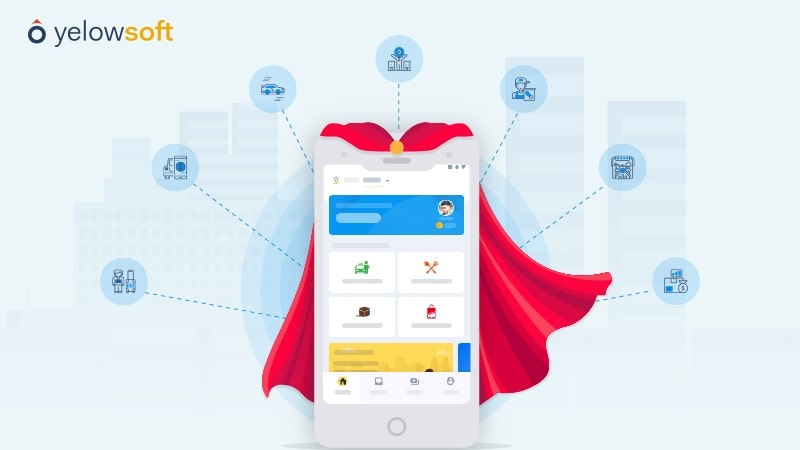 We understood the plight of our clients and decided to come up with a solution. After hundreds of brainstorming sessions, our team reached to a conclusion that Super App was the only solution that can help our clients to sustain their business in the times of COVID-19.
Super App enabled our clients to offer multiple services such as ride-hailing, food delivery, parcel delivery, cargo delivery, grocery delivery, etc. on a single app. Moreover, it also offered a way for them to recover their ride-hailing losses as the demand for on-demand delivery rapidly surged due to COVID-19 pandemic.
Becoming smarter, faster, and better with each update
2020 was also the year when we introduced a cluster of updates for our solutions. These updates made our solution more robust, fast, and advanced. Let's have a look at some of the major product updates one by one.
Yelowsoft's new version update
Yelowsoft introduced its new version update which makes its taxi solution efficient, fast, improved, and advanced than ever. In this update, we came up with the microservices architecture which provided us with benefits such as:
Smaller codebase
Scalability
A mix of the technology stack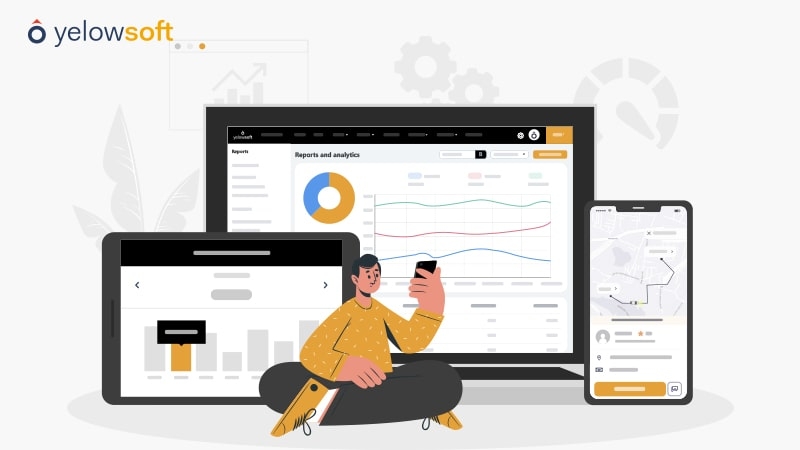 We also segmented data as per their use case thus ensuring that they are stored separately. We divided the data into the following three categories:
Reporting data
Streaming data
Master data
Other than that we also switched from Python top Node.js to leverage the benefits of asynchronous processing in real-time operations.
We also added a caching layer in which enabled us to collect data used in real-time processes directly from it thus eliminating the need to go to the database.
We made several major changes in the app side as well such as:
Made our application lightweight
Low network and battery usage
Made our mobile app faster
Replaced Socket.IO with MQTT
We enhanced the execution speed of all real-time functionalities by replacing Socket.IO with MQTT. There were many issues associated with Socket.IO which we wanted to get rid of. These issues were:
Scaling
Acknowledgement
Greater bandwidth requirement
Large internet data consumption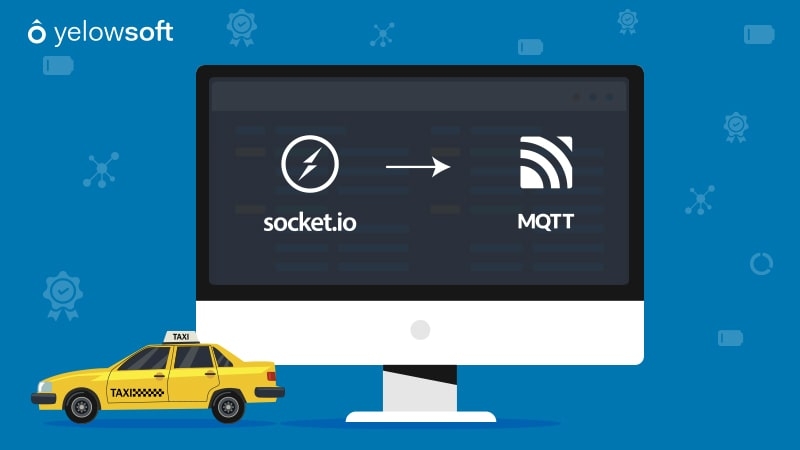 Deployment of MQTT offered us with many benefits like:
Quality assurance
Lightweight
Reduced data usage
Accepting a large number of connections
Low battery usage
Major UI updates in the admin panel
Yelowsoft came up with major UI updates in admin panel to make the panel more user-friendly and simple. Earlier, Yelowsoft only provided taxi booking solutions, so the admin panel was designed keeping only taxi businesses in mind.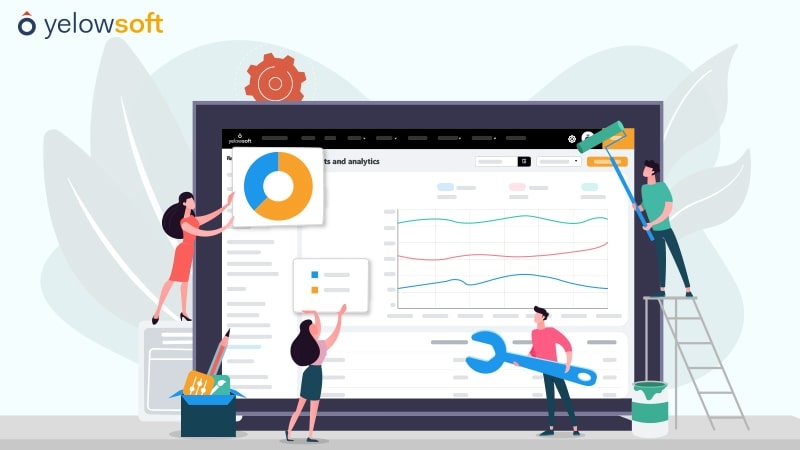 However, now it has become a super app, that's why our clients were facing many issues to manage their several services on it as there was no proper bifurcation of data of the respective services.
To overcome this issue, we made two major changes which were:
Introduced go to service page
Basic detail tab
Our new admin panel offered several benefits to our clients such as:
Easy management
Simple UI & navigation
Bifurcation of data
Business intelligence
There was no social distancing between Yelowsoft and success in 2020
Despite the pandemic and slowdown in the ride-hailing business, Yelowsoft achieved many milestones in the year 2020. Some of the major achievements are as follows: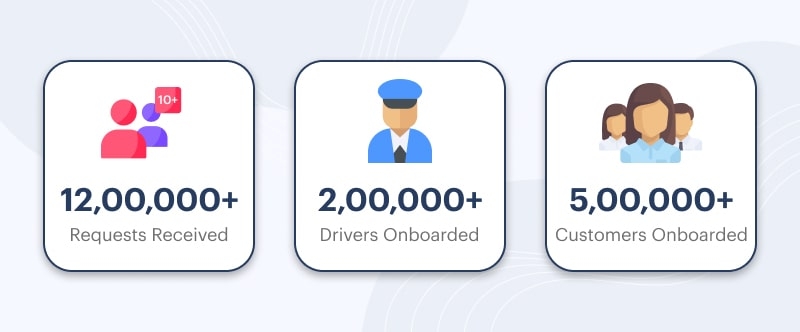 Business partners that made our 2020 better
In the year 2020, Yelowsoft expanded its clientele by many folds. We partnered with 25+ companies across the globe this year. Names of some of these companies are mentioned below:

Get a glimpse of few our best works in 2020
MyCar
Yelowsoft fulfilled MyCar's vision by providing them with a robust Super App which enables them to offer e-hailing, food delivery, and parcel delivery from a single app. In this Super App, the driver can opt for food delivery, ride-hailing, and parcel delivery at any time straight from the Super App. This Super App is available on both Play Store as well as on App Store.
We also provided our client with customized pricing schema in which the admin can change the fare per km, base fare, minimum fare, and many other types of fare of various zones at any instant of time.
BBR
Yelowsoft provided an advanced Super App to BBR which is the very first ride-hailing company in Afghanistan. This Super App had all the customization and modifications as demanded by the client.
This Super App can also work in the low network since it was a lightweight application. We used lightweight servers and code optimization to improve its performance under low network.
Apart from that, we also made UI customization, resolved every security concern, provided seamless support, etc. BBR Super App is available on App Store and Play Store.
On the way to conquer the world
Since its inception, Yelowsoft has rapidly increased its global presence. By the year 2019, we already had our presence in 15+ countries. And in 2020, we added 9 more countries to take the tally over 25 countries. The below image shows our global presence till 2020 along with the new countries added in 2020.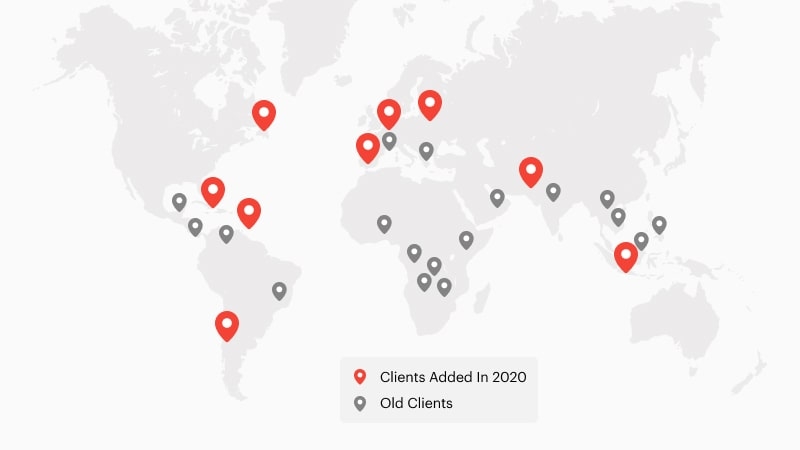 Join our series of insightful Webinars
In the year 2020, we also came up with a series of Webinars where our taxi experts discussed various topics related to the on-demand businesses.
How pandemic is forcing transport companies to evolve into a SUPER
The COVID-19 pandemic has adversely affected the entire transportation industry due to which the industry is witnessing unprecedented lows. As a result, these companies have now begun to evolve into a next-gen Super App to recover their losses by diversifying and foraying into the on-demand delivery industry.
In this Webinar, our on-demand business experts Jafar Shaikh and Afjal Memon discusses along with sharing their insights as to how Super App can help ride-hailing businesses to sustain in the times of the pandemic.
Ride-hailing in 2021: A glimpse into the future
The ride-hailing industry is going through a tough time due to the COVID-19 pandemic. And everybody has only one question in their mind that how 2021 will turn out to be for the ride-hailing industry.
In this Webinar, our ride-hailing experts Jafar Shaikh and Afjal Memon will provide answers to this question by discussing the possible future of ride-hailing in 2021.
What's next for Yelowsoft in 2021?
2020 has been a forgettable year for all of us. That's why everyone including us is optimistic from 2021. In 2021, Yelowsoft has very high aspirations. We are aiming to achieve three times the targets that we achieved in 2020.
Apart from that, we are also planning to tap newer territories like the United States, Europe, and other unexplored regions.
In 2021, we are also planning to expand our development team, support team, and network team along with scaling the infrastructure.
We are also focusing on the implementation of artificial intelligence technology in our solution to provide our clients with better and accurate reports and analytics.
This was all for the year 2020. See you in a COVID-19 free 2021!