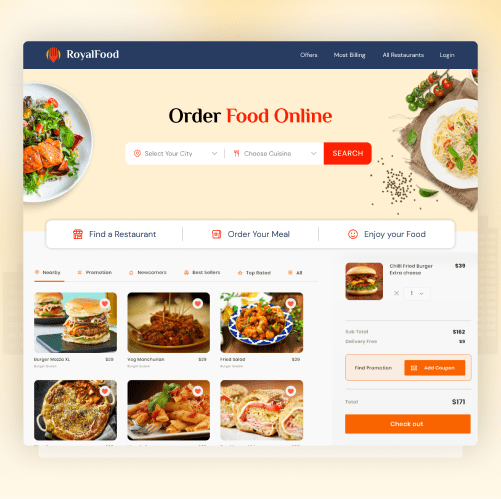 Get started with
food ordering

on your website

Turn your existing website into an earning machine and food order accepting & delivery platform. YelowXpress helps you convert your website traffic into customers. Just integrate our smart solution's API and have your website ready to serve your customers.
Saves your app development costs
Allows you to accept orders in real time
Makes you brand
Increases market reach
Turns visitor into a regular customer
Easy management of orders, bills, & payments
A
quick preview

of our complete restaurant ordering and delivery solution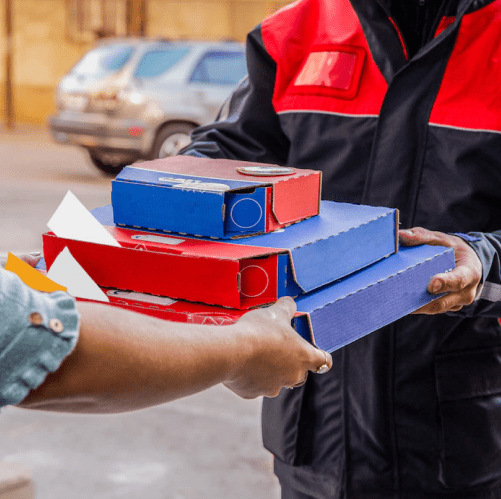 Get Ready to Use Restaurant Ordering & Delivery App in
2 Weeks
No matter how big or small restaurant you run, you can get a comprehensive readymade restaurant ordering and delivery app tailored to your business needs within 2 weeks. Our solution is packed with:
Features of our
Restaurant ordering

and delivery software

Our restaurant ordering & delivery solution is armed with 4 characters (customer app, restaurant app, driver app, and admin panel,) and is packed with advanced features ensuring to keep you ahead of the competitive edge.
Offering a delightful restaurant ordering experience to your
customers
Make your customers happy with an easy-to-use customer Software that offers an exciting food ordering experience.
Easy to make an order

With an easy to use and navigate user interface, customers can walkthrough the menu, chose the items and place an order easily in few steps.

Multi payment options

Solution offers various payment options. Customers can make payments by choosing their choice of payment mode such as cash, card, or wallet.

Explore products

Customers can easily navigate through the menu, explore variety of food with the app and order that they want.

Advanced search

Customers can locate their favorite food item with the help of advanced filters and sorting options and can order or save for future ordering.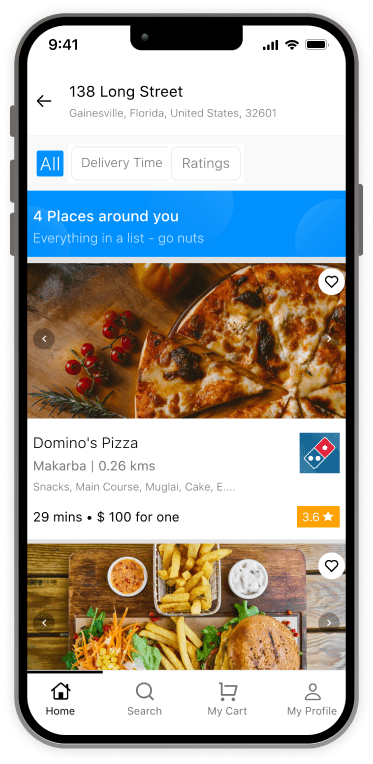 Powerful solution for end-to-end
restaurant

operations

YelowXpress' restaurant ordering & delivery mobile solution enables you to manage all online orders and deliveries in hassle-free way.
Manage availability

Admin can manage the availability of the order accepting, drivers availability, enable/disable online status based on the business being open or closed.

Manage product availability

You have the full power to change menu, display products, amount of stock to be shown, and categorize them based on product availability.

Keep tracking of order

You can monitor and keep track of every order received or cancelled, and delivery that is delivered successfully or rejected.

Update menu

You are the driver. You can make changes to the menu as per your convenience whenever you want with just a few clicks.

Live tracking of earnings

The data and record of every activity is updated in real time. This feature enables you to keep live tracking of earnings of your business.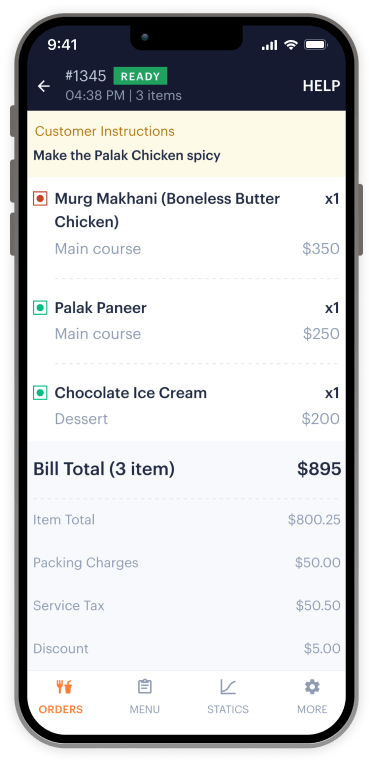 A
driver app

to make delivery efficient

YelowXpress' restaurant ordering and delivery mobile software allows the delivery agents to deliver order at the right time and at the right place.
Get order assigned for preferred area

Drivers will automatically be assigned with the orders based on their preferred locality. This makes the delivery process fast and improves customer satisfaction.

Track earning

Drivers can stay updated with the latest earnings they made based on their total trip and track them on a daily basis.

Availability preference

With the enable/disable option in the app, drivers can choose their availability preference and can stay online as per their convenience.

Navigation toward the destination

Map is integrated in the app. Driver can easily navigate through the route using map withing the app to help deliver order at earliest, to the right address.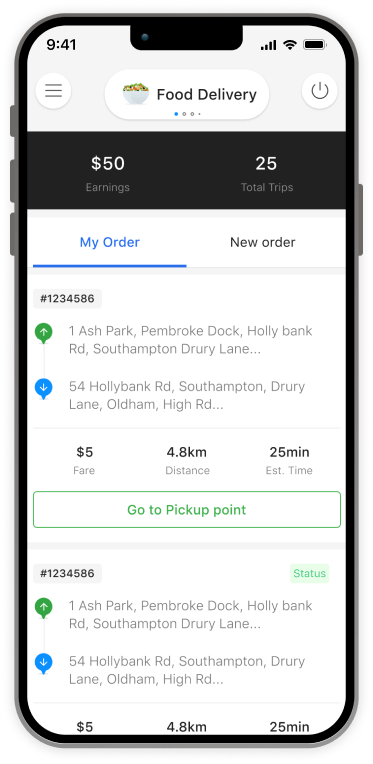 A centralized
admin panel

to manage entire restaurant operations

Effortlessly manage all the aspects of your restaurant delivery business from one centralized hub. You also get the full control, overview, and analytics to make management easy and smooth.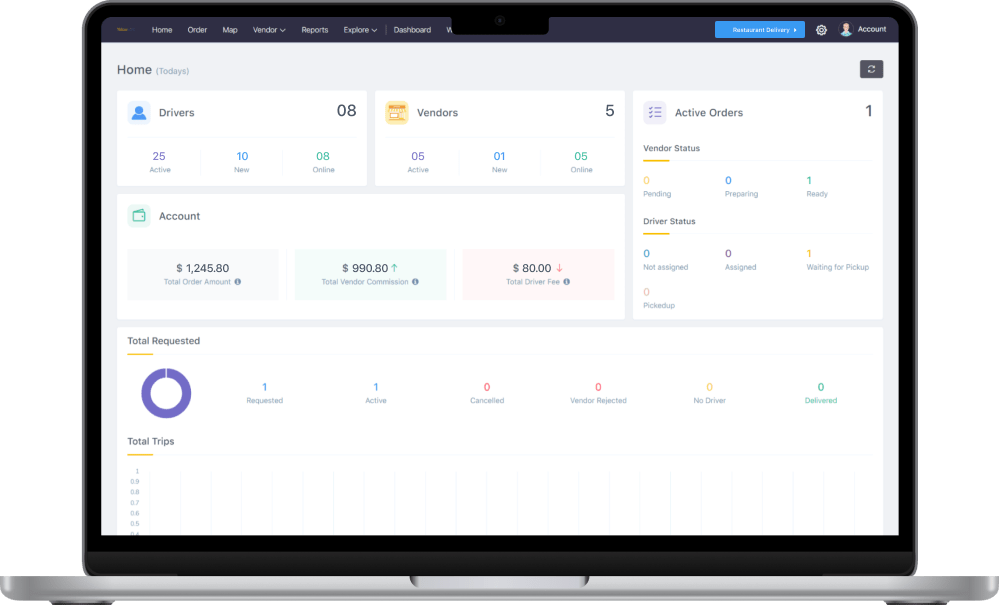 A reporting system with powerful analytics

You get indepth reports, analysis, and super insights of all the number of orders requested, canceled, delivered & rejected with reasons for the same.

Easy to manage orders and deliveries

Monitor all your orders and deliveries by keeping track of both with our smart user-friendly dashboard and streamline the operations.

Smart order assignment algorithm

It automatically assigns the order to drivers who are near to the customers preferred area to make the delivery fast and improve customer satisfaction.
Want to digitalize your restaurant
delivery business?


Our experts can help.

REQUEST A DEMO
Why Choose
YelowXpress?
We offer everything that requires to automate your Food Delivery Business. Our solution is the blend of your business problem's solution and advanced technology that makes us stand apart from the rest.
Trouble-free Usability
Our solution is designed by implementing the best UI/UX practices to make it human-centric and easy to use, navigate, and operate.
Efficient Updates
Gives you real-time visibility of all orders & deliveries and keeps you informed and updated about the entire operations.
Strong Security
Our solution is designed using the most advanced technology to make it a highly secure solution and protect your business from any cyber threat.
Technical Support
Be rest assured with the technical support. You can reach our support team anytime if you face any technical issue and get a solution in real-time.
No huge Upfront
You don't have to pay 100% upfront. You can start using the solution from any time till any time. No contract & no limitations.
99.9% Uptime
The solution is powered by a robust cloud infrastructure that is scaled automatically based on your orders and delivery volume and ensures 99.9% uptime.
Our every client says, you are a
great

company.

Proofs we have done amazing things!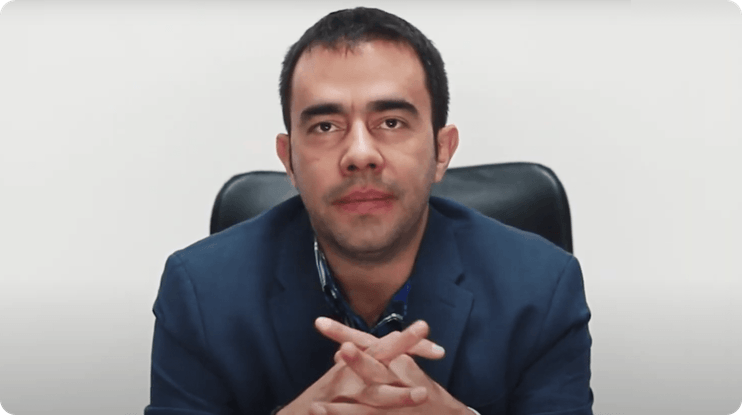 It was a pleasure working with a team of expert developers to create a taxi app for my business. The team was professional, responsive, and incredibly knowledgeable about the latest trends in the industry.
Arturo Reveles
CEO, Click To Go
View Case Study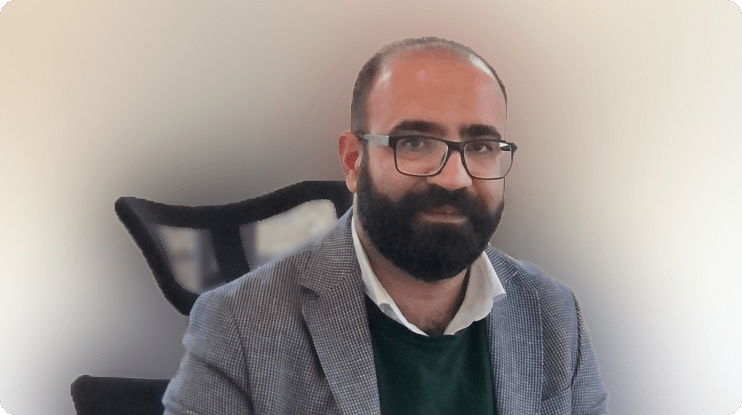 We are really impressed with them because they created an app beyond my expectations. It has helped me to streamline my taxi business while also providing a more convenient and enjoyable experience for my customers.
Abdullah Halim
Managing Director, SK Taxi
View Case Study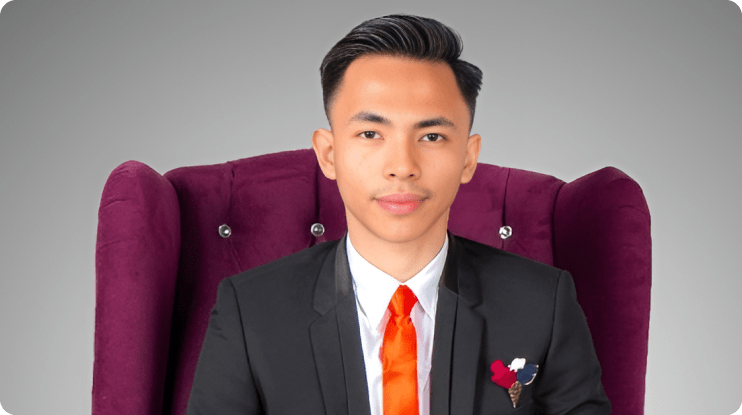 It was a great pleasure working with Yelowsoft team as they built a smart taxi app, and I must say, it was an incredible experience. The team was extremely knowledgeable and skilled, and they paid attention to every detail.
Mohamad Amirul Shafiq
CEO, Smart Taxi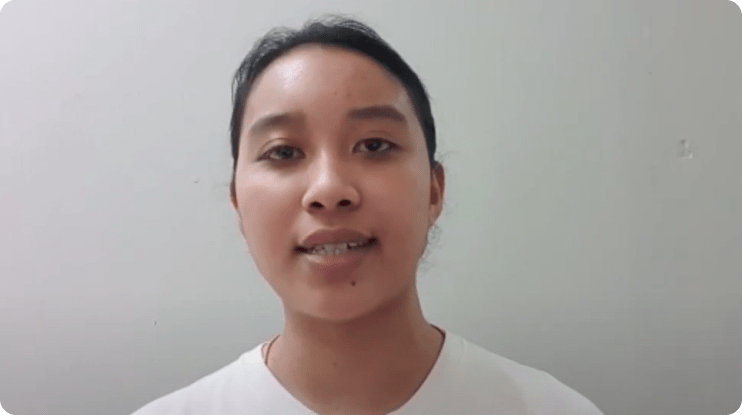 I couldn't be happier with the results. From the very beginning, the team was professional, responsive, and incredibly knowledgeable about the latest technology trends and user needs.
View Case Study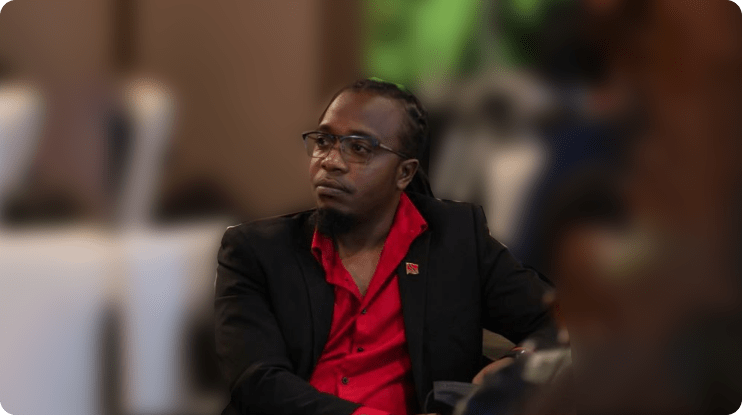 I would highly recommend their services to anyone looking for a reliable and skilled team of developers to help them create a taxi app.
View Case Study
Yelowsoft's across the
globe
YelowSoft continues to provide top-notch, white-label solutions to clients across the world and continues to grow each day.

News, blogs and
insights
Discover all the latest news, trends, and insights pertaining to on-demand businesses through our well-crafted content.
Don't Wait, Begin Your
On Demand


Journey Today!