Quick Summary
Custom Built vs. Buy Readymade. What to choose for my restaurant? This is the booming question among the majority of the restaurant owners. You might be one of them too. In this blog post, you will read the point-to-point comparison between the two with all aspects. Plus, you will also uncover the 5 questions that you should know and ask yourself when you are about to make a decision to go with restaurant ordering and delivery software to automate your restaurant operations.
For restaurants considering implementing an online food ordering system, one of the first big decisions is whether to build a custom system in-house or go with an off-the-shelf ready-made restaurant ordering and delivery software.
Both options have their pros and cons that must be carefully weighed for your specific business.
In this post, we'll compare the two approaches to help you save time and determine the best choice for your restaurant.
Readymade vs. Custom Built restaurant ordering and delivery software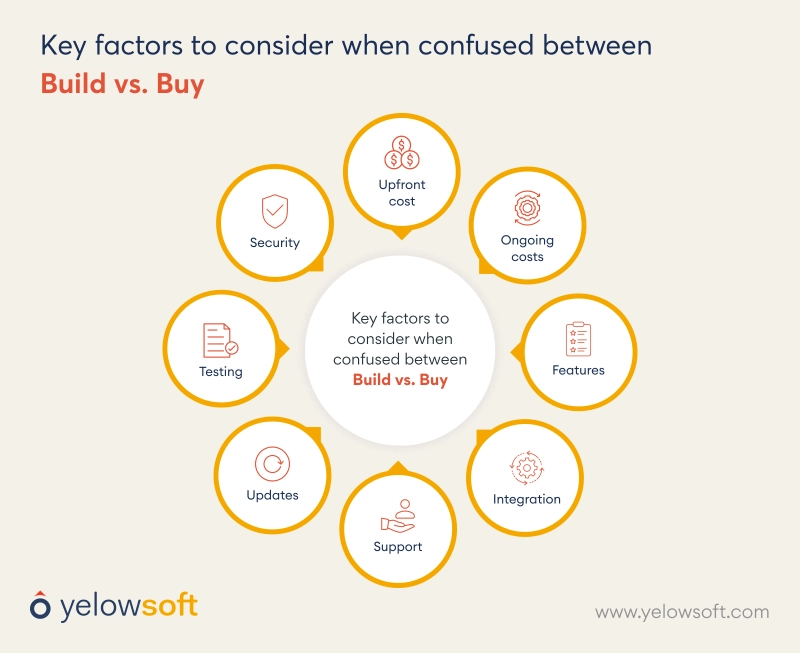 I know you're trying to decide whether to build your own ordering system or buy a ready-made solution. Let's compare some key factors:
| Aspects | Custom built | Readymade |
| --- | --- | --- |
| Upfront Cost | For on-demand food delivery app development, you'll need deep pockets, friend! Be ready to put down around $150K+ and wait months before your system is usable. Not ideal for quick returns. | Pretty reasonable startup fees get you up and running in weeks. No long wait for your investment to pay off! |
| Ongoing Costs | Once it's built, you've gotta maintain it. That drains the budget from operations and service. | Vendor keeps their food delivery system optimized so you can stay focused on your restaurant, not tech! |
| Features | Your team builds what you can afford. Probably won't match what specialists design specifically for restaurants. | Packed with next-level features to wow customers and meet all your ordering and delivery needs! |
| Integration | Sure, you can connect it to other systems but changes down the road require more custom work. | Seamlessly works with your POS, accounting, inventory and more right out of the box! |
| Support | Your IT folks will try their best, but food delivery software development ain't their speciality. | Get experts dedicated to supporting restaurant platforms when you need them! |
| Updates | Relying on your staff to keep up with the latest innovations is tough. | Vendors continuously enhance their systems and features - you just reap the benefits! |
| Testing | Lots of time and energy are spent hunting for bugs in homemade code | Vendor rigorously tests so their system is rock solid for you on day one! |
| Security | You're fully responsible for locking down your custom system, but vendors do it for a living | Leverage pros who stay fully up-to-date on security and compliance stuff for you! |
| Scalability | You'll need to grow your IT staff to grow your restaurant food delivery system. Hurray? | The vendor's cloud setup seamlessly handles your growth behind the scenes, with no effort on your end! |
| Time to Deploy | Frankly, you'll be waiting over a year for your food delivery app development before that custom system is operational. | A few weeks and you're taking orders! The vendor does the heavy lifting upfront. |
And there you have it - a detailed comparison of building vs buying readymade food delivery software for restaurants. It's a lot to think about!
Now, let's explore the top 5 questions you should know and ask yourself to decide if your business should hunker down and heave that bucket in-house, or hang it over to an experienced carrier optimized for the job...
Top 5 Considerations for Comparison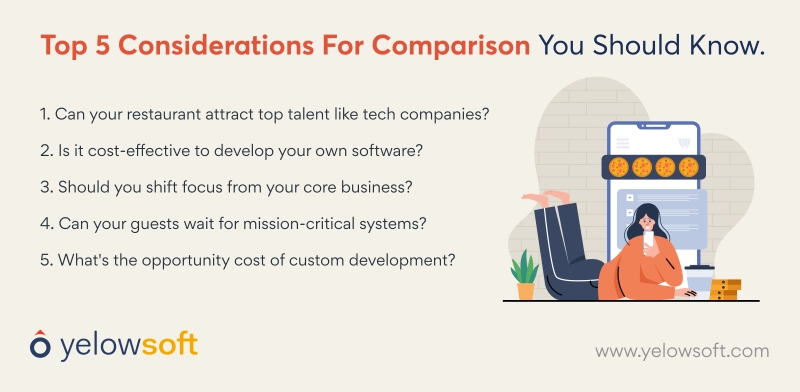 Can your restaurant compete with tech companies for top talent?
Software engineers flock to big technology companies that pay enormous salaries and offer lucrative stock options. A talented software developer can make $200,000+ a year at a place like Google or Facebook.
As a restaurant, you likely can't match those compensation levels. Your budget has to be spread across many operational needs like:
Culinary
Real estate
Marketing
Training and more
Attracting top-tier technical talent would be an uphill battle for you.
Partnering with a restaurant-focused software provider gives you access to their entire team's expertise. Their staff lives and breathes software design and has input from a diverse range of industry players.
An in-house development of food delivery software would be limited to the knowledge of your relatively small employee base.
Instead, leverage the depth of a specialist vendor's team rather than trying to compete for rare technical talent. Their capabilities and experience can bring tremendous value to your business.
Focus on being an amazing restaurant, powered by technology partners!
Can you justify the costs of building your own software?
Specialized technology companies invest heavily in designing, engineering, maintaining, and optimizing software to stay competitive. Their products are resold to thousands of businesses across industries.
As a restaurant, you likely can't match the focus and scale of a tech vendor. Developing a custom food delivery system could easily cost over $150,000 - more than a year's worth of licensing a ready solution. And you'd still need a vendor to keep operations running during the long development process.
The end result may not even be as good as an industry-leading SaaS platform. Because you can only use the software internally, the value gained probably won't justify the massive costs.
Once launched, the expenses don't stop either. You need ongoing investment in maintenance, improvements and bug fixes. The marginal value for your limited number of locations doesn't balance out the marginal cost.
Carefully scrutinize if you can really afford to custom-built vs buy. Partnering with a proven restaurant-tech vendor for an on-demand food delivery system allows you to leverage their expertise and focus on better serving your guests!
Should you divert focus from your core business?
As Jeff Bezos of Amazon says, "We do the heavy lifting so you can focus on what matters." The technology behind your guest experiences is undifferentiated heavy lifting.
As a restaurant, building a memorable, authentic guest experience is your true expertise and priority. It's already extremely demanding to craft great food, service, and atmosphere.
Diverting your focus and limited resources to building custom software could spread your team too thin. That technology should enable your hospitality, not become a distraction.
Partnering with a restaurant ordering and delivery software provider allows you to stay laser-focused on delighting guests. They handle the heavy lifting of building, optimizing, and supporting software tailored for the industry.
Leverage their specialized skills so you can keep devoted to what makes your brand unique - an exceptional in-person dining experience. The technology should complement that experience, not compromise your ability to keep improving it.
Trust vendor partners to lift the heavy things so you can focus on what matters most - amazing guests!
Can your guests wait for you to build mission-critical systems?
If a technology solution is a high priority to solve problems or drive revenue, what is the cost of delaying it for custom development?
Leading vendors deliver ease of use, advanced capabilities, stability, and support from day one. Their products have gone through years of rigorous testing and refinement based on customer feedback.
With in-house food delivery software development, it could take 12+ months to achieve even 20% of the functionality-proven solutions offered out of the box. And features for food delivery software would be limited by your budget and developers' skills.
There's also a high risk of failure if your sole internal engineer leaves by taking critical knowledge with them. You could have to wait months for a new hire to ramp up.
Make your guests happy now by purchasing a specialized food ordering and delivery system for a restaurant that is tailored to your needs. Don't make them wait for you to build food delivery software that delivers a fraction of the value. Leverage vendors' hard-earned knowledge so you can focus on serving great experiences. Delight guests today with technology built by experts!
What's the real opportunity cost of choosing custom development?
The time spent waiting for an internal system extends beyond the build phase. You'll also miss out on the capabilities and revenue that proven solutions deliver from day one.
A homegrown platform likely won't integrate smoothly with your other systems or offer crucial features you need. And keeping pace with rapid industry innovation is nearly impossible internally.
While some brands can justify custom builds, most are better off focusing their resources on hospitality, not technology. The core experience you craft for guests is your true expertise.
Relying on specialist vendors providing delivery management software allows you to leverage their ever-evolving capabilities tuned specifically for restaurants. They handle the undifferentiated heavy lifting so you can stay devoted to your guests.
Yes, some customization may be warranted. But the right technology partners make it easy to configure a multi-vendor food ordering system to your needs without the distraction of building everything yourself.
The opportunity cost of choosing a limited in-house system over proven food ordering and delivery software is too steep for most brands. Partner with the experts so you can focus on being amazing restaurateurs powered by technology!
Conclusion
In summary, both custom development and readymade solutions have pros and cons that restaurants must weigh carefully. There is no one-size-fits-all answer - assess your specific capabilities, resources, timelines and needs.
For many, starting with an industry-proven readymade on-demand delivery software that can be customized as needed is the best approach. Be sure to thoroughly evaluate costs, features, and vendors. Seek demos and conduct a cost-benefit analysis of building vs buying.
With the right information and priorities, you can choose the optimal ordering and delivery management software for your restaurant's success.