If you think that developing a taxi app or getting a ready-made SaaS-based taxi solution is all you need for a successful taxi business then you're probably wrong. It's because, in today's digital world, almost every other taxi business has a mobile app. The app stores are flooded by millions of taxi apps and more and more taxi apps are being added to the list every day.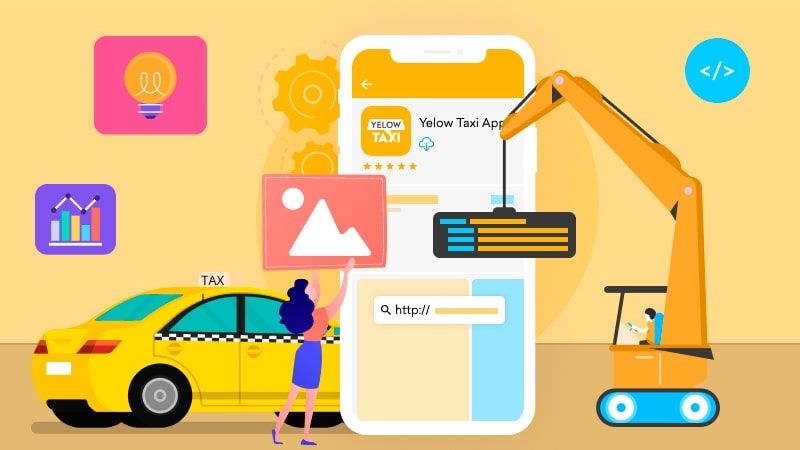 In such cut-throat competition, it's quite obvious to think that were would your taxi app stand in this never-ending list?
Well, what if I tell you that there's a way by which you can make your taxi app rank high on the app store?
Sounds interesting, doesn't it?
I am talking about App Store Optimization (ASO). ASO can do wonders for your taxi app. In this blog, I will tell you what ASO is and how it can help you to boost your taxi business. So, without further ado, let's begin.
What is ASO?
ASO stands for App Store Optimization. It's a process that is used to improve the app's visibility on the different app stores. It's an effective way to increase app conversion rates. The major app stores on which ASO is applied are Google Play (Android) and App Store (iOS).
ASO not only focuses on topping the app store results but also concentrates on click-through rate (CTR).
In simple words, it means that you have to convince people to click your application on the app store listing. To achieve this, you can optimize various things such as App Name, App Icon, App Title, App rating, and App screenshots.
People often associate ASO with SEO; however, ASO is only used in the app store's search and ranking algorithms. ASO can also help you to increase the overall reach if you're able to convey the uses of your app to customers as well as the store.
ASO is not a new thing for taxi companies. Big names like Uber, Grab, and Lyft is already leveraging ASO to be on the top of the various app stores search results. So, when a customer types any taxi-related keywords such as "taxi", "ride", "cab", etc. then they see the names of these big taxi players.
Top 7 factors that affect ASO for your taxi app
When it comes to App Store Optimization, then there are many factors that can make it better or worse. So, it becomes very important for you to know what these factors are and how they affect your ASO?
Icon
An Icon is the first thing that a customer sees. In simple terms, it makes the first impression of your taxi app on the customers' mind. That's why an icon of the app becomes really important. You must ensure that the icon must convey a rough idea of your app to the customers.
You can make the icon based either on the brand name or the brand symbol. More importantly, your icon must be able to create a sense of curiosity about your brand apart from telling the overall story of your taxi app.
Keywords
It goes without saying that keywords are of utmost importance for optimizing your app on the app store. Keywords are nothing but words or phrases that your user uses to search your app. It means that you can get more visitors to your app page by adding more relevant keywords.
App's title
App's title is one of the most important elements of the app's page. Many people believe in the myth that you have to change the app's name in order to keep up with the time. However, it's not true. On the contrary, you must create a title using the most relevant keywords and then stay with it for a while.
While naming the app's title, you must ensure that the name is related to the taxi in some ways. Also, ensure that your name sounds trendy and stylish. However, to achieve this don't keep a name that is totally irrelevant to what you're offering. For example, don't name your taxi app "SKY". It's because no one is going to search for a taxi service by typing "SKY".
You must try to keep such names which fall in the vicinity of cabs, taxi, riding, driving, and all other terms related to the taxi business.
Description
Similar to icon and keywords, a brief and clear description is also very important. A description must be such that it explains the workflow of the app. It must help the users to clearly understand how the app works and what its major features are.
Furthermore, the app description should also have the relevant keywords which help the app to rank high on various app stores and search engines.
Screenshots
You must also include various screenshots to provide a visual description of the app's workflow and interface. You must ensure that the screenshots are clear to view.
Preview video
In addition to the screenshots, you can also add a short preview video that shows the interface of the app. This video will act as a teaser for your application.
The total volume of downloads
One can argue that this factor is out of one's hands and it's absolutely true. But, nevertheless, it does affect the ASO of any app. It's because more the app is downloaded more the possibilities that you potential users see it in the suggestion section of the app stores.
The above were some of the major factors that affect your ASO. However, these are not the only factors. There are also other essential ASO factors that you must consider. These factors are:
Title and subtitle
Retention ratio
Reviews and ratings
How ASO benefits your taxi app?
ASO can benefit your taxi application in a myriad of ways. Let's have a look at the major benefits one by one.
Enhance visibility
In today's digital world, building a robust taxi app is not enough. To make your mark, you have to gain maximum visibility on various platforms to grow your customer base. This ensures that you stay ahead of the competition and not get overshadowed by competitors or new entrants. App Store Optimization can help you in finding new customers by improving your app ranking and visibility.
Reach out to your targeted audience
ASO is much more than just gaining visibility for your brand. It's because increased visibility with lower conversion can cost you a lot of time and money. Also, getting poor conversion rates after putting so much effort can frustrate you greatly. And this is not good for your business growth.
You can avoid this dreadful scenario by effectively using ASO techniques to make your app visible to potential customers.
To achieve this, you can identify few keywords that your potential audience is likely to use to find out about taxi apps. This will drastically increase the probability of your target audience finding your app on the app store.
Reduce costs
ASO can also prove to be handy for reducing costs. It's because a well-planned ASO strategy can attract a huge amount of organic traffic on your app page. This also means that now you don't need to spend extra bucks on paid ads for driving more visitors to your app page.
Increase app downloads
Generating organic traffic on your app page means that more and more people are going to install your application from the app store. You can leverage ASO to strike the right balance between the numbers of app downloads and click-through-rate.
Conclusion
ASO is an inevitable part of any taxi booking application. If you have a taxi app, then you must apply ASO methodologies to reap its benefits. In this blog, we have explained to you the basics of ASO which includes its definitions, benefits, and factors to be considered while implementing ASO strategies. In the coming days, we will be coming up with top ASO methodologies that you can implement to get sure shot results for your taxi booking app. Until then, keep reading this space.