The covid-19 pandemic has brought a paradigm shift to our lives, so much so that our lives are now divided into pre-covid and post-covid eras. However, on the brighter side, the pandemic boosted several innovative industries. One such industry is the on-demand delivery mobile app which sets up a contactless delivery system. It has now evolved into a multi-billion economy.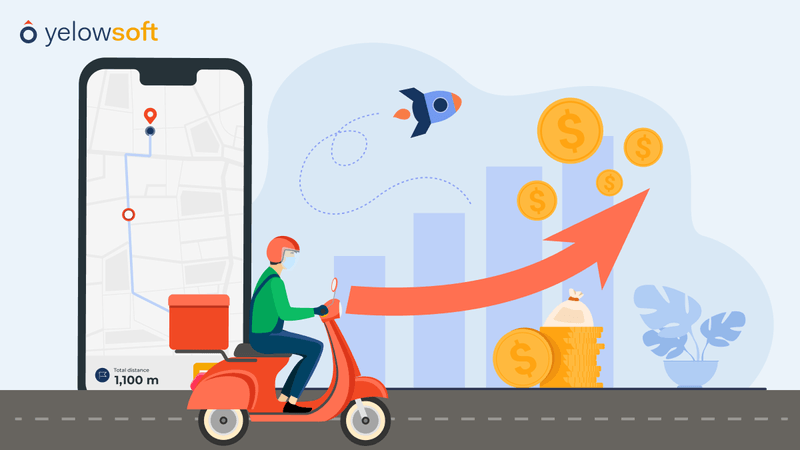 Restricted or frightened to move out of their homes, millions of people placed online orders for daily essentials like food, groceries and vegetables during the pandemic. The e-commerce market that earlier focused on lifestyle segments such as electronics and fashion suddenly realized the immense potential of on-demand delivery apps.
Now that the pandemic is over, people have got so used to the convenient at-door services that they are now happily spending money to avail these perks.
Future of On-demand apps
Statista's growth projections for the online food delivery segment are pretty optimistic. It is anticipated to grow at a CAGR of 7.60% per annum from 2022 to 2027. As a result, the online food delivery segment is expected to reach $323.30 billion in 2022 only. PwC also envisions the on-demand mobile apps market rallying in the coming years and breaching the $335 billion mark in the next three years.
Why is the demand for these apps increasing?
With Gen-Z spending 6 to 8 hours on their mobile phones and smart devices, the growth of dedicated on-demand delivery apps is inevitable. What started as value-added services by start-ups like Uber and Netflix have become a way of life.
People have become so used to ordering from apps that offering delivery services through app has become essential for businesses to sustain and grow.
From groceries to cosmetics to at-home maintenance services, on-demand delivery apps are changing the face of several industries.
So, if you are a business owner, here is the crux of why you should pay attention to on-demand delivery apps trend for your business growth.
Introduction to on-demand delivery app
The term is self-explanatory. Like other apps, it is mobile software that enables business owners to fulfil consumers' instant requests for delivery services. You can use this app for two different roles, either as a-
Deliverer or on-demand service provider
Customer
Doordash, Grubhub, Zomato, Instacart and Postmates are some famous examples of the on-demand delivery apps. In such apps, customers download the app on their mobile phones and represent a delivery need through the app. In its response, the deliverer provides the services.
The app also includes a tracking facility for the consumer and deliverer to ensure that the demanded service is satisfactorily provided.
Get ahead of the cut-throat competition with Yelowsoft's on-demand delivery solutions.
Businesses that needs an on-demand delivery app
If you are a business owner, on-demand delivery management solutions can enhance your business in ways you had never imagined. However, for some businesses it has become a basic necessity to integrate them into day-to-day operations. Here are a few examples:
Food Industry
The food industry has benefited the most from trends in the on-demand delivery industry. Food ordering through on-demand food delivery solutions is growing on a meteoric scale. Giving on-demand service providers an edge over competitors, these apps provide businesses with much-needed visibility.
You can communicate discounts, offers, and live order status messages to customers through push notifications through the apps. Can you imagine how this app makes it easier for you to engage directly with the customers, get their live feedback & reviews and even collect payments without any hassle?
Read More: Get a glimpse of our on-demand food delivery app.
Grocery stores
In a fast-paced environment, time is money. Therefore, on-demand grocery delivery apps for grocery stores are gaining momentum. Gone are the days people loitered in the hypermarkets shopping for groceries.
These days, customers seek pickup-and-delivery app solutions. Thus, it has become imperative for grocery stores to integrate on-demand delivery apps into their business model.
The app does more than just facilitating order placements and deliveries. So, if you are a grocery store owner, the app will prepare a powerful customer database for your store. You can manage inventories more prudently with the data by tallying stocks and orders.
You can meticulously predict emerging demands and work towards offering your customers the best experience. One app, many incredible benefits!
Read More: Know everything about our grocery delivery solution here.
Medical Stores
Telemedicine has a promising future. During the pandemic, patients and healthcare providers have realized that it might not be possible all the time to meet in person. Therefore, they have embraced teleconsultations and telemedicine with open arms. On-demand medicine delivery solutions are pivotal in enhancing the patient's experience.
For example, the physician writes a prescription, and the medicines are packed and ready by the time the patient reaches the store. On-demand medicine delivery app helps pharmacies manage inventories and prepares a solid database for pharma companies.
Read More: On-demand medicine delivery solution for pharmacy business
Gifts and Flower Shops
On-demand solutions are a must for gifts and flower shop owners. It opens up new growth horizons for gift and flower shop owners by enabling them to reach a more extensive customer base.
Earlier, brick-and-mortar stores' reach was restricted to the area they were located in. With this app, you can receive orders from across the city and gradually expand your business operations across states and nations with this app. Then, all you have to do is to deliver the product ordered from the app.
Similarly, it saves customers from the last minute's hassle of gift selection, or at the last moment, they can rely upon an on-demand flower delivery app. They can get it delivered directly to the recipient's address if the situation demands it.
Logistics and Transportation
On-demand software has transformed the logistics and transportation industry by enabling key stakeholders to locate vehicles in real time. Saving huge chunks of commissions spent on intermediaries, these apps connect solution providers directly with service seekers.
As a result, profits of logistic companies are skyrocketing. In addition, these apps have considerably reduced the TAT of vehicles with tracking facilities. To count a few, the vehicle owners can keep an eye on parameters like fuel consumption, vehicle maintenance, rerouting, and expected time of arrival/departure (ETA/ETD).
Due to transparency and cost-effectiveness, on-demand apps are rapidly replacing traditional business methods in the logistics and transportation industries.
Benefits of using on-demand delivery app
One significant reason on-demand solutions have gained popularity is the convenience and speed they offer. With these intelligent apps, you do not need to fuss about demand and supply management. They have made inventory management easier than ever. Here are some of the most significant benefits of on-demand delivery apps.
Boundaryless business
On-demand service solutions have given brick-and-mortar stores wings to fly. With these apps, they can spread their reach to not just other areas of the city but countrywide and internationally. Whichever industry you may belong to, you can quickly upscale your business operations with on-demand delivery software.
For example, earlier restaurants and eateries could accommodate only as many customers as their space allowed. These days, they can cater to customers remotely through on-demand delivery apps. Like this, on-demand apps have increased the profitability of several businesses.
Reduces human intervention
On-demand delivery apps reduce human intervention at multiple levels by automating delivery scheduling, task allocation, route planning, roster management and dispatching. As mentioned earlier, in several industries, they eliminate mediators. It can save your money and increase efficiency and profitability.
Helps understand customer behaviour
These apps are built using robust technologies like business analytics, artificial intelligence, machine learning and deep learning. With these components, it becomes easier for the on-demand service provider to understand customer behaviour.
For example, a grocery store owner can anticipate that sales of cheese and olives will shoot up on Saturdays as people in the neighbourhood prefer to cook pizza and pasta on Sundays.
He could arrive at such a conclusion by analyzing purchase data for the past few months. You can upsell, cross-sell and market the products smartly with the help of an on-demand app.
Helps reduce infrastructure costs
With an on-demand delivery app, you can sell through online platforms even if you do not have a physical infrastructure. These apps reduce business operations and staff compensation costs by eliminating the need to purchase a shop or store.
Helps earn customer loyalty
This is a niche benefit of an on-demand delivery app. It enables business owners to provide a personalized experience to their customers by knowing their choices and preferences. In return, it helps them reap customer loyalty.
One popular example of this is Starbucks' app. It provided an inviting and innovative user experience and ran a loyalty reward program through the app, which boosted its sales unprecedentedly. A convenient and user-friendly app has the power to create a large base of loyal customers.
Read More: Engage your customers with automated on demand delivery solution
Features of a robust on-demand delivery app
On-demand delivery apps are used by both customers and business owners. Therefore, it must include all the features that make the entire order-to-delivery process transparent and friction-free.
If you are planning to build an on-demand delivery app, you should consider involving the below-mentioned feature for its optimum utilization and lucrative ROI.
For Vendors
Check resource availability
On-demand service providers can easily manage rosters and keep track of their resources through the app. The app can help you communicate expected delivery time with the customers based on available resources. Also, it becomes easier for them to allocate the right resources for the delivery by calculating the destination distance from the shop or warehouse.
Keep track of earnings
This is one of the most significant benefits of on-demand delivery apps. Since most transactions happen through digital payment gateways, it becomes easier for business owners to keep track of their earnings. As a business owner, you can analyze the trends, and form strategies to boost earnings.
Inventory management
Which location receives the maximum number of taxi requests between 9 am to 5 pm? During which month are jeans sold the most? People buy more milk products on which day of the week compared to other days?
You can get all these answers from the on-demand delivery app. You can use this data to manage inventory more smartly and develop marketing strategies to enhance sales.
GPS tracking
It is one of the prominent features of an on-demand application. GPS integration enables business owners to track orders while customers can also check the progress of their orders using this feature.
Informed decision-making
The apps come with analytics features that provide you valuable insights related to your business growth. Analyzing the data, you can make informed decisions and prepare strategies to boost growth tremendously.
For Admins
Systematic user management
On-demand app's salient features let admin handle customer activities like discounts, payments and queries efficiently by streamlining processes. In a way, the app helps them build substantial goodwill for the company.
Automatic management of driver's ledger
Managing a driver's ledger manually can be tedious, primarily when the company's operations are spread across multiple geographical locations. The on-demand delivery app automates the process of keeping track of the driver's commissions, incentives, penalties and promotions.
Real-time analytics
The app provides admins insights into the app's performance. For example, as an admin, you can check which areas of the app are performing well and which section is the least visited. You can then form a robust marketing strategy based on the insights.
For drivers
Map integration and geolocation
Drivers play a crucial role in the success of on-demand delivery apps. Most apps have integrated maps so that drivers can easily find the delivery destination and meticulously provide the duration required for fulfilling the delivery.
Bookmarking of locations
On-demand apps gradually build a loyal customer base. Therefore, drivers are likely to get delivery requests from the same address. Thus, bookmarking frequently-visited locations enhance drivers' convenience and enable them to provide better customer service.
Requests approval and rejection
On-demand delivery apps enable drivers to check service requests through their apps. Drivers can approve or reject service requests based on their convenience and availability. It also empowers drivers to deny inappropriate or inconvenient delivery requests. On-demand apps ensure that drivers can work on their terms at their convenience.
For Customers
Easy order placement and tracking
The app should be as user-friendly as possible if it aims to sell products or services. The user should be able to add products or services to the cart, track its dispatch and even view them in the order history (in case they wish to purchase them again!).
Therefore, you should think from the user's perspective while designing the app and accommodate all the possible features to enhance their experience.
Reviews and ratings
This on-demand app feature lets customers check the actual feedback and helps them make decisions. In addition, users can share their experiences with products and services and promote genuine ones. Also, users' live feedback help app creators understand the scope for improvement and make changes accordingly.
Easy navigation
Apart from facilitating transactions, the app must aim to display a wide range of products or services the on-demand service provider offers. The user should be able to surf through the sea of products conveniently through the mobile application.
Multiple payment options
Offering comprehensive methods of payments such as e-wallets, internet banking, payment gateways, credit cards, and debit cards is imperative for enhancing the buyer's experience. Customer retention automatically increases when the buyers are given the freedom to make payments through various methods.
In app call/messaging
This feature lets users connect directly with the delivery man or driver from the application through phone calls and text messages. Therefore, if there is confusion regarding the location, address or products, the issue can be solved instantly.
Conclusion
The success of Uber, Ola, and DoorDash is evident in that you must provide a digital solution to engage your customers. This business model is set to witness multifold growth as smartphone users and internet penetration increase. The crux is- on-demand delivery business opportunities are skyrocketing. So be the early bird that gets the worm.
Get a Ready to use White-Labeled On-Demand Delivery solution to streamline your Business Operations.