The ride-hailing industry has grown tremendously over the last 10 years. The entry of app-based ride-hailing giants has literally changed the rules of the game. Names like Uber and Lyft have heavily disrupted the traditional taxi businesses in the US and around the world.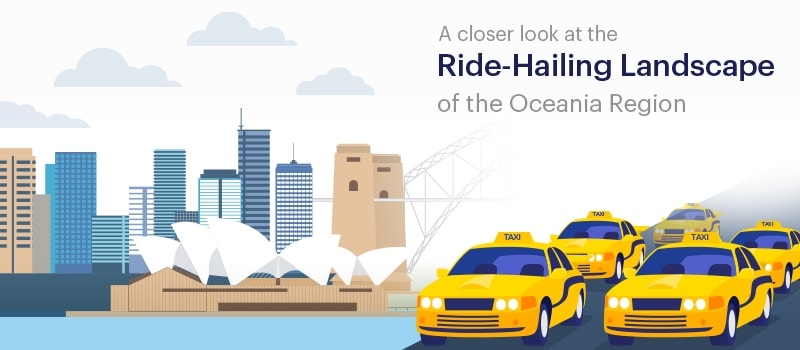 The massive success of Uber has inspired the emergence of several app-based taxi startups around the globe. Their rise is precisely the reason why Uber had to struggle to assert its dominance in a few parts of the world.
Many regions like the Middle East, Central & Western Europe, Latin America, Caribbean islands, North Africa, West Africa, and more are emerging as a hotspot of ride-hailing businesses. Even the behemoths like Uber, Didi, and Ola have recognized the same and that's exactly why they are entering these budding markets.
One more such emerging market for ride-hailing business is the Oceania region. This region consists of 14 countries which are Australia, New Zealand, Fiji, Marshall Islands, Palau, Papua New Guinea, Samoa, Nauru, Kiribati, Solomon Islands, Micronesia Tonga, Tuvalu and Vanuatu. In this article, we are going to discuss the latest ride-hailing market trends, important ride-hailing events, and the major players in the region.
Ride-hailing in Australia
Ride-hailing industry has bloomed in Australia in the recent past. The rise of the ride-hailing industry is also having positive impacts on the country's economy. Uber recently commissioned a report in which they showed their impact on the economy of the riders. The key findings of the reports include:
As per the current operating levels, UberX benefits its customers by approx. $81 million per year.

Ridesharing is expanding the point-to-point transport market as there are more than 60% of new UberX rides to the point-to-point transport market.

On average UberX services are 20% cheaper as compared to other taxi service fares which include surge pricing as well.
Market overview of ride-hailing in Australia
According to Statista, the overall revenue of the ride-hailing segment is estimated to reach US$ 1,895 million in the year 2020. The revenue is also projected to show an annual growth rate of 14.8% (CAGR 2020-2025) which will result in an estimated market volume of mammoth US$3,778m by the year 2025.
Taxis play a significant role in the transportation network in Australia. The demand for ride-hailing services is on an all-time high as riders want to leverage its several benefits such as convenient booking, multiple modes of payment, GPS-enabled vehicles, 24×7 customer support, and electronic fare meters. Apart from the above-mentioned benefits, the other major reason for the rise of ride-hailing services is its cost-efficient services.
Major factors behind the growth of the ride-hailing market in Australia include the rise of ride-sharing, an increase in the demand and usage of taxi booking applications, and the emergence of new ride-sharing players in the country. However, there are few factors which may hurt the growth of ride-hailing in Australia. These factors include the abolishment of taxi licenses, levies on rides, and other reliability issues.
The ride-hailing industry in Australia looks in a good shape as it is well regulated and consolidated. The on-demand ride-hailing business model has disrupted the traditional taxi industry in the country. There few factors which can be termed as deciding factors in the industry. These factors include regulatory restrictions like significant license plate costs, fixed fare rates, and high insurance costs due to the classification of vehicles.
Key market trends in ride-hailing in Australia
App-based taxi bookings are expected to increase rapidly
Increasing penetration of mobile phones and the internet has resulted in app-based taxi services to have the highest market share. According to an estimation, around 88% of the total Australian population had access to the internet. Major players in Australia like Uber, Ola, Didi, GoCatch, and Bolt all have their own taxi applications.
Not only this, but a survey also revealed that people in major Australian cities preferred using the ride-sharing platform to commute to work if they could reach at the nearest transport hub via taxi at a capped rate of 5 Australian dollars.
The country is also expected to witness the emergence of new ride-sharing players over the years that will further drive the internet segment of the market.
Trends based on geography
If we have a look at the geographical trends of the taxi, then New South Wales represents the biggest market for the ride-hailing services in Australia. By April 2020, there were around 6,992 taxi licenses issued in this region with 5,572 licenses being issued in Sydney itself. This huge surge in issuance of the license is due to an increase in the demand for ride-sharing services, increasing tourists, and the rise in the number of app-based taxi services.
However, taxi booking numbers fell drastically by almost 80% in 2020. This was mainly due to the COVID-19 pandemic which forced people to work from home thus causing a major decline in the bookings. This has also caused a decline in the average fare cost which fell down to USD 19 from USD 25. Around 30% of the network went out of operation as drivers took their vehicles off the road.
Many taxi services in NSW like 13Cabs have also begun online delivery of groceries to help the pandemic struck customers. This service is available all seven days a week.
Uber's domination and the emergence of new competitors
The ride-hailing competition in Australia is becoming interesting and stiff as new competitors are emerging to challenge the Uber's domination in the market. According to research from Roy Morgan, the majority of people in Australia uses Uber as more than nine out of ten rides are booked with Uber. However, companies like Didi and Ola have also emerged as an alternative option by gaining a significant amount of market shares.
Read More: How local taxi cab unions can beat Uber?
Roy Morgan also analyzed the percentage of those 18 plus Australians who had used ridesharing in the last three months. In their analysis, they found out that more than 93% of the people used Uber, while 20% hailed in Ola, and 14% chose to ride with Didi. Even other ride-hailing services managed to gain a small size of market share with Bolt (4%), Shebah (2%), GoCatch (2%), Shofer (1%), Rydo (1%). The overlap clearly suggests that some users also used multiple ride-hailing services.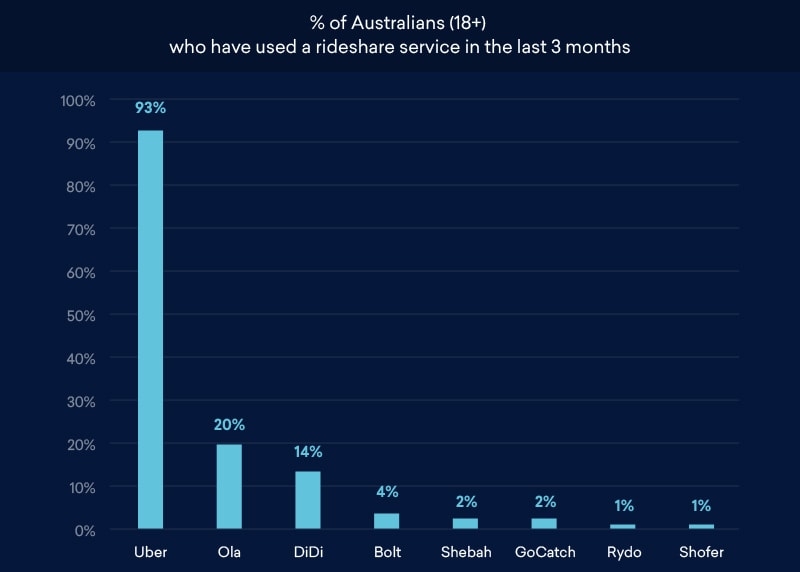 Roy Morgan CEO Michele Levine also mentioned that earlier Uber's main competition were taxis. But over the years, other ride-hailing companies have entered the market replace the taxis as Uber's main competition.
"In recent years, the term 'get an Uber' was the only one that existed for Australians when it came to ordering a rideshare service," she said.
"However, that is now changing. Uber's disruption of the private transport industry, and incredible success, has led to a host of other rideshare services entering the market." she added.
Roy Morgan's research also found out that people who used ridesharing services other Uber also had used Uber at some of the point. For example, 84% of Didi users also availed services from Uber. Similarly, 92% of Ola users had also used Uber.
Uber has the most satisfied users
When it comes to customer satisfaction, then Uber tops the chart with 88%. Uber's competitors Didi and Ola follow the list with 75% and 72% respectively.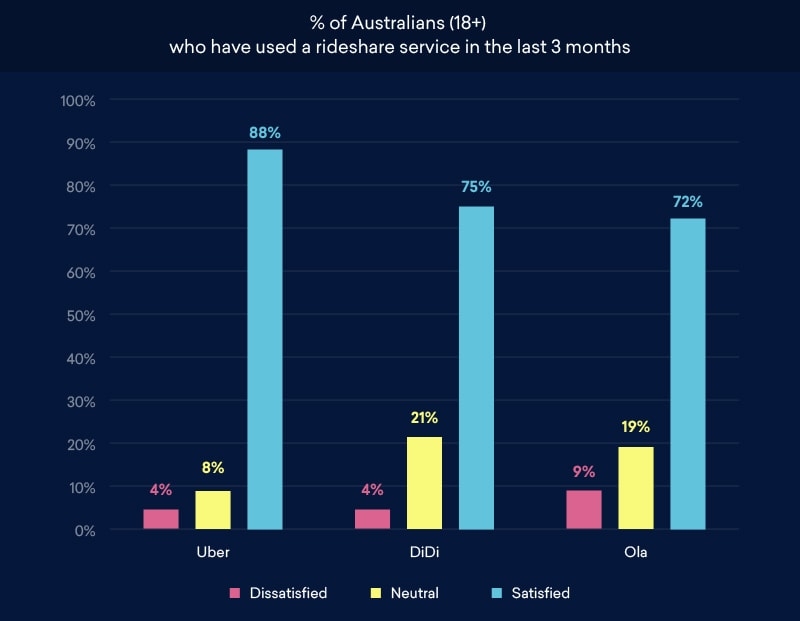 According to Uber's spokesperson, the company have heavily invested in customer support, mapping technology, and other tech for more than 6 years in Australia to achieve a higher number of satisfied customers.
"Uber leads by treating customers and driver partners as VIPs through Uber Pro and Uber Rewards and we will continue to lead on safety globally and at home through innovative always-on safety features," Uber's spokesperson added.
Read More: 5 things to improve passenger satisfaction.
Ride-hailing in New Zealand
The ride-hailing market of New Zealand is dominated by names like Uber, Ola, Zoomy, ihail, and Green Cabs. Uber is unarguably the leading ride-hailing player in the county with more than 300,000 active users and 4,000 drivers in the country. Even the country's government and local authorities believe that these ride-hailing services are reliable, safe, and a cost-efficient transport alternative. Furthermore, it also creates employment opportunities for many unemployed citizens.
If we have at the ride-hailing market stats, then according to Statista, the overall ride-hailing revenue in New Zealand is estimated to reach around US$225m in 2020. Not only this, but the revenue is also projected to show an annual growth rate of 14.3% (CAGR 2020-2025) which will result in an estimated market volume of US$439m by the year 2025. If we talk about user penetration then it is all set to reach 19.2% in 2025 from 18.4% in 2020. The average revenue per user (ARPU) is also projected to reach US$252.26.
Ride-hailing services also complement local public transport services. For example, in Auckland, around 43% of the trips begin and end with public transit. Ridesharing services also boost the local economic activity by providing improved connectivity across cities. Ridesharing also enables people to travel to areas which were earlier inaccessible through public transport.
In New Zealand, around 63% of the distance driven only involves the drivers. Whereas, 25% of distance driven involves only one passenger. In such a scenario, options like ridesharing and carpooling can significantly reduce the country's carbon footprint and reduce traffic congestion.
Ola enters New Zealand
After successfully entering the ride-hailing market of the UK and Australia, Ola has now also entered in New Zealand. Initially, Ola will offer its ride-hailing services in three cities which are Wellington, Auckland, and Christchurch.
"Entering New Zealand is an important step for Ola, and the ride-sharing industry here. Over recent weeks, we have received enthusiastic feedback from drivers across Auckland, Wellington and Christchurch," said Brian Dewil, New Zealand Country Manager for Ola.
Ola is also coming up with a safety feature which will enable customers to share their ride information like location coordinates,real-time tracking, driver and vehicle information to their friends and family.
Ola is fully committed to offering affordable and safe ride-hailing services to its customers in New Zealand. That's the reason why every Ola vehicles is inspected and every driver undergoes a police check.
Major ride-hailing players in Oceania
We just had a look at the ride-hailing market overview and trends in Australia and New Zealand. Now, let's have a look at the major ride-hailing players in the Oceania region.
Uber
Uber is unarguably the biggest ride-hailing player in the Oceania region. It heavily dominates the ride-hailing markets of both Australia and New Zealand. Uber which was entered Australia in 2012 has now become the most preferred ride-hailing option in the country.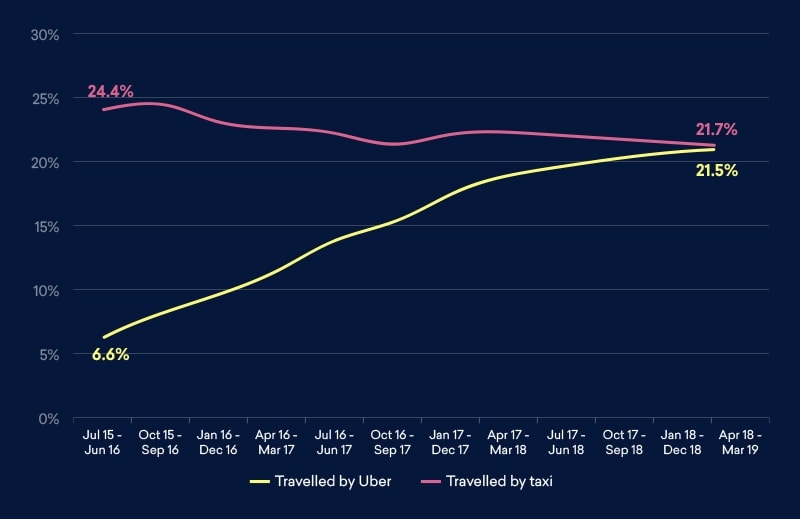 According to Roy Morgan, Uber has more than 4.4 million users in Australia which are 21.5% of the population. Moreover, with this Uber is all set up to overtake the traditional taxi services in the country.
Even in New Zealand, Uber claims about 65% of the market share.
Ola
Ola is Uber's biggest competitor in Australia and New Zealand. This India-based ride-hailing company entered in Australia in early 2018 and is emerging since then. Ola is available in Australian cities like Perth, Sydney, Melbourne, Gold Coast, Brisbane, and Canberra. Ola entered New Zealand in 2018 and is operational in 14 cities. According to country's manager Brian Dewil, the Ola app has been downloaded more than 350,000 times. Furthermore, Ola is all set to launch in 11 new locations in New Zealand and Australia which would take their total presence to 33 cities in the region.
Didi
Apart from Ola, Didi is another ride-hailing service which is giving a tough competition to Uber. This Chinese ridesharing company was first launched in Melbourne in the year 2018 and then later expanded to other cities like Sydney, Perth, Newcastle, Brisbane, Gold Coast, Geelong and Sunshine Coast. Didi is one of the biggest taxi-hailing services in Asia with more than 550 million users and 31 million drivers across the globe. In Australia, Didi has more than 2 million customers.
Read More: Top strategies to follow to compete against Uber.
Zoomy
Zoomy is New Zealand's own ridesharing app which started in 2016. Zoomy has signed more than 2300 drivers across the country. Zoomy is operational in Wellington, Auckland, and Christchurch. According to the marketing manager Nick Rowland, "We're not a billion-dollar technology company. We don't want to get into a price fight where it's just discount after discount, because that's not sustainable long term,"
"We pay our drivers up to 40 per cent more and offer rides at a cheaper base rate compared to the others." Rowland added.
Shebah
Shebah is an all-woman ride-sharing company based in Australia. It aims to offer secure and safe ridesharing services for the women and by the women. Women, women with children, and men travelling with kids are allowed to use Shebah's ride-hailing services. However, men aren't allowed to ride shotgun. Furthermore, Shebah is the only ridesharing company which offers unaccompanied kids to ride in their cars. Moreover, they also offer boosters and child seats if required.
Conclusion
The ride-hailing market scenario in the Oceania region has become interesting with the emergence of companies like Ola and Didi. These companies are giving a tough competition to Uber for becoming the most preferred ride-hailing service in Australia and New Zealand.
Although the COVID-19 pandemic has slowed down things, but things would be right back once the pandemic is under control. Also, New Zealand has lifted its social distancing norms which would boost the ride-hailing businesses a lot. The coming days will be very interesting to see how the ride-hailing competition in the Oceania region unfolds.