In the past century there were no major changes in the taxi industry. The way we traveled was more of the same throughout the years, only the cabs got advanced.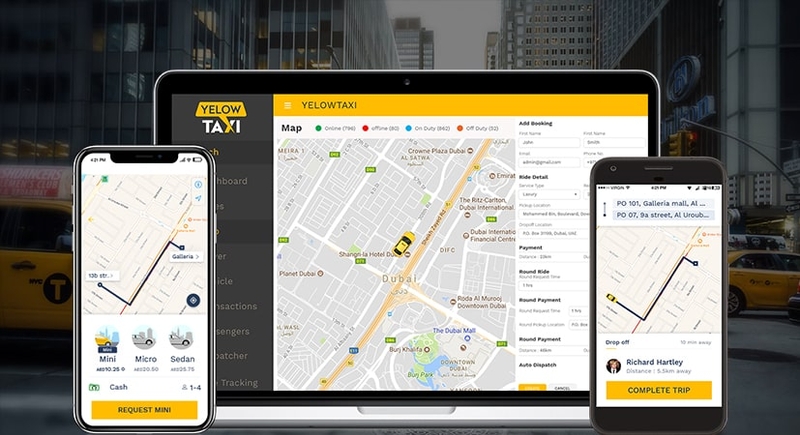 However, technology has metamorphosed the taxi industry. Uber, Lyft, and Grab are its prime products
The technological intervention has surely made the process of booking easy, swift, and convenient. It had been great for these cab behemoths, riders, and drivers; however, it did affect a section adversely, which is of local & traditional cab service companies.
Local cab service owners took the worst hit as the Uber and Lyft came into the scene. They saw people making a switch in huge numbers from their cabs to these app-based cab services.
Nowadays, the situation is so worse that they are struggling to even survive. So, is there a way that these companies can still hold on?
Yes, they can, if they have a taxi dispatch system. To survive in the times where technology has such deep penetration in the taxi market, you have to embrace the technology without any second thoughts.
And Taxi Dispatch App is the solution that can boost your business. Let's see what are its benefits and how it can help your taxi business.
Benefits of a taxi dispatch solution
Easy access to services
If you're still going by the traditional way then no matter how many services you provide they might not reach the audiences.
Whereas, a taxi dispatch app will facilitate an easy access to all your services and that too for a huge amount of audience. The riders can simply access all the services just by few taps on the phone.
Due to this wide reach, the dynamic dispatch system will always attract more people to your business along with increasing the retention ratio.
Reports & analytics
Reports & analytics play a crucial role in increasing the overall bookings. It provides you with vital data which are presented in graphical form through various tools. Let's see what data you get from this analytics.
Business heat maps
This heat map shows demand in various areas of the cities. It shows which areas has the maximum amount of ride requests.
The demand is represented in the form of the color in which the light shade means fewer ride requests and dark color means high number of requests.
You can make more profit by sending your drivers from the region of low or no requests to the regions of high requests.
Total no. of bookings and revenue in a day
Through reports and analytics, you can also view the total number of bookings and revenue made in a day.
This data is critical as it keeps you updated about your performance and helps you to take necessary actions.
Total no. of bookings made by a driver
The reports also show the total no. of bookings made by a driver over a period. This helps you to track each of driver's performance. These data play a significant role in taking insight driven business decisions.
Reach the destination quickly
You can't call your system the best dispatch software if it doesn't have the GPS and Google Maps services incorporated in it. GPS helps your drivers to opt for the fastest route for the destination. This fast service enhances your customer service and hence helps in customer retention.
Read More: Role of GPS tracking in Taxi Business
GPS is also useful in cases like traffic jams. You can inform your drivers in advance regarding the situation so that he/she can opt for an alternative route thus preventing the jam.
Monitor your fleet with the app
If you run your taxi business with a traditional way then it becomes difficult for you to keep a track of all your drivers and fleet.
However, a taxi dispatch system enabled with GPS system can solve this issue. With it you can monitor all the activities of your drivers.
If you see any of your driver taking longer routes unnecessary then you can warn them. This will save your time and fuel costs.
Constant monitoring of your fleet also helps you to keep a check on the overall fuel consumption. Moreover, it also helps you to oversee the maintenance of all your fleet.
Reliability
If you're using a traditional way of taxi business management then you may face problems when your business expands.
You may not be able to handle the sudden increase in the total number of bookings. With a reliable taxi dispatch system, you can handle any number of booking and hence can make maximum profit.
Uber & Lyft has a huge number of loyal customers due to their impeccable service and user experience. It's obvious that if you provide your customer with good service then more often than not they will come back.
Having a taxi dispatch software plays a major role in retaining those customers. Moreover, it helps in enhancing the revenue and brand value. High retention ratio of customer will ensure the steady growth and your business will ultimately outperform all your rivals.
Payment modes & rates
One issue that a cab management software comprehensively solves is that of payment modes and rates. In the traditional taxi you are restricted to pay only in cash which usually causes a lot of problems. With a dispatch system in place you can pay via multiple modes like cash, credit, debit, and wallet.
Secondly, customers are generally unhappy with the volatile nature of the rates as it fluctuates heavily. App-based taxi services usually offers a fixed rate for selected number of kilometers, which is an attractive deal for the customer.
Quick promotion
Advertising your brand is critical for the growth of your company. However, it's usually a time-consuming task. Ads in the newspaper, TV, and radio might not give you the desired results.
In contrary advertising through your app is a wise decision as it saves your money, has better engagement with audience, targets the suitable audience, and has a wider reach. With in-app advertising you can offer your customers with various discount plans on the application itself.
Promo codes and discounts
You can offer various promotional offers and discounts to both new and old customers. Promotional offers for newcomers will attract them to try your services for once.
Similarly, you can reward your loyal customers by providing them special discount offers. Such gestures to your customers build a strong relation with them and enhances their loyalty toward your service.
Feedback
No matter how big of a company you become there's always a scope of improvement. To continuously improve you must act on feedback, and who would be better to provide the feedback apart from the customers themselves.
Taxi booking apps have a feedback section in which customers write down their experience and rate the trip accordingly.
With customers' ratings you can track your drivers' performance. You can take actions against the driver receiving consistently low ratings and negative feedback. Similarly, you can reward drivers you receive excellent ratings on regular basis.
Moreover, if you receive many feedback from customers regarding a change in the service then you can consider that suggestion and try to incorporate in your service to satisfy your customers and to make your services better.
Conclusion
In this blog we saw how behemoths like Uber & Lyft have decimated the traditional taxi businesses. We found out the key factor that facilitated their advent. We also discussed how the local taxi business owners can embrace the technology and adopt a robust taxi dispatch app that would boost their business.
We saw all the major advantages that a taxi dispatch system provides. In the end I would like to say that to survive in today's tech savvy world you got to evolve with time. And right now, the time demands you to build a taxi dispatch app for your system.
So, what are you waiting for? Hire the best developers for your taxi app or buy a ready-made white label solution that would put an end to all your taxi business miseries.