Well known economist, E.F. Shumacher mentioned in his 1973 essay collection Small is Beautiful that "today, we suffer from an almost universal idolatry of gigantism. It is therefore necessary to insist on the virtues of smallness—where this applies."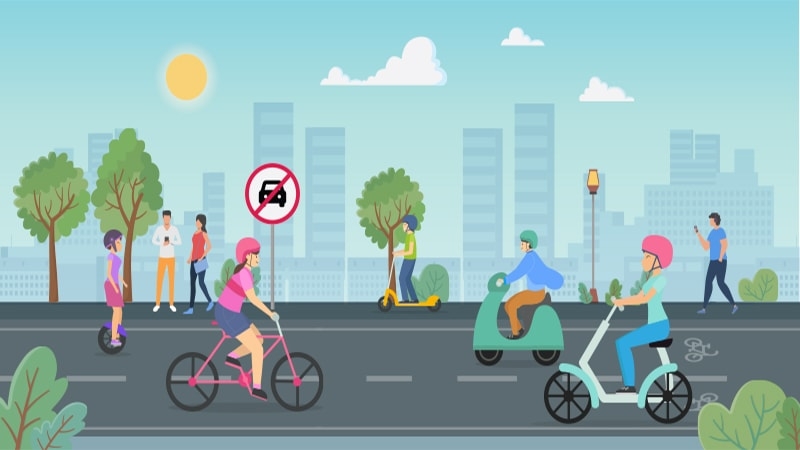 Today, after almost four and a half decades later his words are truly put to practice with micromobility - a rapidly increasing transportation service which includes electric scooters, dockless and docked shared bicycles, e-bikes, electric skateboards, etc.
The concept that was introduced to the market in the latter half of the 2010s has resonated with the needs of the consumers which is quite evident from the rapid adoption of micromobility in just a matter of few years.
Micromobility is seen as an effective solution that can establish a better connection between people and public transport. This connect would reduce reliance on private vehicles and also help in reducing congestion in urban areas across the globe.
Having said that, micromobility service like many other new entrants in a system is facing strong resistance and backlash both from the city governments and the e-scooter providers. In this article, we will discuss the evolution of micromobility. We'll also discuss micromobility programs and the various steps taken by the micromobility program service providers.
Evolution of micromobility: From past to present
There are multiple criteria to define micromobility such as:
Maximum speeds or ranges
Passenger
Payload capacity
Weight (less than 500 kg)
Powertrain (electric or human-powered)
However, the best way to define micromobility is by its existing infrastructure. Micromobility comprises various forms of transportation that occupy space along with that of bicycles. It means that it can utilize the roadside areas where generally cyclists travel. In simple words, micromobility utilizes bike spaces in unique and novel ways. It leverages them in a way that they were not originally intended.
Practically speaking, micromobility means shared bikes and scooters. However, this definition is very limited and it doesn't cover the vast potential that micromobility possess. Even industry leaders believe that we have merely scratched the surface in terms of its capability, size, and vehicle shape. In future, we might see new innovations and practices that might broaden its definition significantly.
If we look at the history of micromobility, then it dates at least 200 years before the invention of the bicycle until the Razor kick scooters of the 90s. And now the trend has begun again with personally owned electric motors that range from skateboards to hoverboards from one to four wheels.
However, it's true that these modes have emerged as a potential solution for the urban micromobility only in the last few years due to the enhancements in connectivity, GPS, mobile payments, battery longevity, and growing universality of smartphones.
It's been only two years since the electric scooters were commercially launched; however, they have taken everybody by a storm. The adoption rates are so high in a short period that they have gone past to that of the ride-hailing applications when they were in their initial days.
Bird has crossed 10 million scooter rides in its first 12 months. While Lime has completed 34 million trips in its first year across the company's various platforms of vehicles including electric & pedal-assist bikes, e-scooters, and carsharing. Many other companies are also moving rapidly in this market space as the major ride-hailing players and automakers are continuously investing huge sums in the micromobility spectrum.
The emergence of micromobility is simply a boon for the transportation industry, especially in the urban areas. It uses cutting-edge technologies like the GPS system and cellular connectivity which are easily accessible in the urban areas.
With the rapid rise in the urban population which causes congestion, micromobility has emerged as a transport facility with way less chaos. Not only that, but it also supports the argument of bringing modifications to the city streets for the safe running of vehicles.
Some key evolutions in the industry:
Increasing popularity of electric vehicles
In the United States, there's growing popularity of dockless transportation system. And people there prefer electric scooters since it got launched. They are preferring electric scooters and e-bikes for their commute. This trend of going electric has many advantages. First, it keeps a check on traffic. Second, it cuts your carbon footprints and keeps the environment clean.
Significance of shared mobility and electric vehicles
Over the years, various go green campaigns about global warming has raised awareness of among people regarding the benefits of adopting electric vehicles and shared micromobility. This awareness has led to mass-adoption of micromobility service which is quite evident by the sheer success of many micromobility platforms around the world.
Enhanced battery life and charging for vehicles
There was a time when electric vehicles seemed to be a non-feasible and non-practical as its technology hadn't developed much. However, things have rapidly changed and now electric vehicles are giving strong competition to conventional vehicles. Moreover, electric vehicle manufacturers are notching up their game by developing and introducing long-lasting and fast-charging batteries. Secondly, the number of charging stations has also increased substantially which enables users to recharge their vehicles without any hassles.
Read More: What benefits can SMEs gain by switching to electric vehicles?
Amendments in rules and regulations to adapt to new technologies
Governments and authorities of many cities have now started to make necessary amendments to their rules based on their current system of transportation. The older laws were creating a lot of hindrance when it came to the launch of micromobility programs and advanced vehicle systems. In addition to that, many governments and authorities are also taking precautions by giving permission to the transportation companies who fulfills every passenger and driver safety norms, guidelines, and traffic regulations.
Now , that we discussed about the evolution of micromobility in detail. Let's have a look at it the micromobility programs.
Micromobility programs
Micromobility programs are nothing but operations platforms that offer various micromobility services. As we are already aware that major transport companies are now looking to switch to electric vehicles and want to leverage shared micromobility. However, these companies require to fulfil a few protocols when it comes to the dock and dockless commute. In addition, to that, the entire development system needs to tick some checkboxes before they make their services available for common people.
When it comes to micromobility, there's one major factor which concerns everyone including authorities, service providers, and users, and that factor is of safety. As per the stats of 2017, the number of accidents cases associated with e-scooters increased day by day. The more alarming fact was that 51% of the injured customers were not wearing a helmet while riding.
To ensure safety to the top-notch level, the service providers are now taking some extra steps in their micromobility programs. Apart from safety, the service providers have made a cluster of efforts to make their micromobility services better, safe, and convenient. Let's have a look at this one by one.
Major steps taken by micromobility program providers
Increasing parking space and access to charging stations
To facilitate micromobility services, cities have now begun to modify their infrastructure in accordance with the prevalent transportation modes. More and more parking space is now being reserved for e-scooters and bikes. And authorities are extra cautious to avoid vehicle theft. They have also installed advanced sensor systems and maps which track the location of the vehicle.
Service providers are also developing locator applications that would show the location of the nearest charging stations. Moreover, the app would also show the battery capacity as to how much distance it would be able to cover before draining out.
Amenity fleets
There are a few companies that have introduced amenity vehicles which include multiple types of vehicles like a moped, electric cars, scooters, and bikes based on usage and parking space. These fleets are meant for individual buildings and development complexes where one can stay, live, and work.
Do it yourself – use programs
Some companies are also fancying the idea of providing a holistic solution to its users which includes operations, vehicles, and apps. Their aim is to offer faster commute, hassle-free payments, and convenient parking space. This service would provide customers with a complete control over their commutation and transportation system. However, this idea is only its initial stage and there are very few companies who are investing in it. Yet, it has massive potential for achieving success in the near future.
Lightweight vehicles
Lightweight vehicles are crucial for micromobility and transportation in general. It's because light vehicles improve efficiency and maintains vehicle's safety. Apart from that, lighter vehicles are made of composite materials like steel, magnesium, and aluminium which are stronger than other metals. This makes lighter vehicles safe for driver and passengers as compared to the heavy vehicles because it deals with the impact with more strength. Its additional benefits include smooth steering and enhanced vehicle performance.
Conclusion
The major challenge of micromobility is about striking the right balance between ensuring safety to the public interest and still having enough room for innovations that can have a positive impact on the consumers and the transportation system as a whole. There's no doubt that micromobility has tremendous benefits; however, we need to discover the equilibrium which serves the interests of the service providers, cities, and citizens.
And to do that we have to establish demand relationships that are built on trust among all the associated parties. And with time, we are bound to learn from new data and experiences that will make us better for the grand mobility innovation that is Micromobility.