On-demand taxi apps have changed the way people book cabs. It has almost replaced the traditional taxi business by providing a win-win situation for drivers and riders (passengers). Taxi booking apps leverage mobility solutions (MaaS) to enable quick booking, streamline passenger journeys and provide effective route solutions.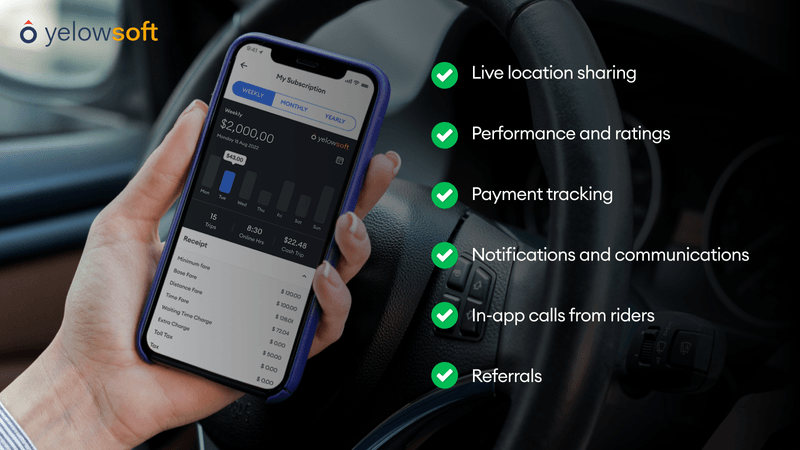 A report suggests that the worldwide ride-hailing market is expected to reach $126,521.2 million by 2025 —a CAGR of 16.8% from 2018-2025. Such staggering numbers make the taxi business invest in a taxi mobility solution.
The working of a taxi app
Online taxi booking software includes three main touchpoints — driver, riders, and admin dashboard. When a passenger searches for a ride, the algorithm will alert the nearest drivers to accept the drive. The driver will see the passenger's name, location, estimated fare, and verification code from the app.
Drivers don't need to worry about who goes first, as the app will arrange their rides. The best taxi booking and dispatch software comes with a built-in navigation system that provides drivers with systematic instructions to pick up the rider. Drivers are also provided with an ETA on when they can expect to arrive at the customer's location.
Tailoring your taxi app gives greater control over features, deployment, and UI. Customized on-demand applications have many benefits, from attracting more drivers to grow your taxi network to increasing app adaptability amongst customers.
Why is the driver app important?
Your online taxi app business is effectively run through the driver's effort. Creating a separate app for the same ensures driver management that helps meet compliance (for rider's safety), store telematics, manage payments, and work on other key parts that offer smooth running of your taxi business.
When you hire a cab app development company, they will create a driver app. This app connects your business with customers as a key point of contact, from booking a ride to accepting payment.
Let's find out!
Live location sharing
Real-time location tracking can help detect the present position of drivers. Driver apps help riders anticipate the arrival time and expected traffic. This location is then displayed on an interactive map where users can enter their desired pickup location, car type, and street address.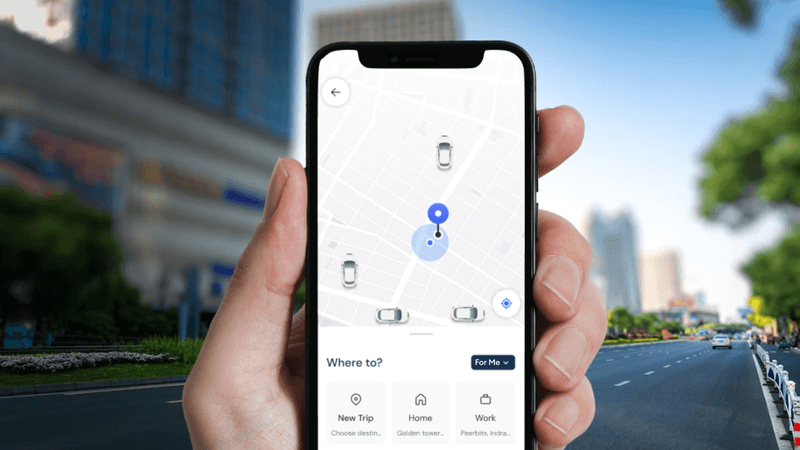 It is also integrated with a safety feature, SOS, that helps riders call the police while showing the driver's location to your Incident response team for quick help.
Live location monitoring is the optimal choice to boost customer service quality by decreasing reaction times and increasing output. The drivers are tracked to ensure they arrive at the pickup location at the scheduled time. As part of custom taxi app development, such a facility adds value for all — your business, drivers, and riders.
Performance and ratings
The success of your taxi app business relies on how effectively your driver can handle passengers. For this, a driver app helps generate a report detailing each driver's performance based on multiple parameters.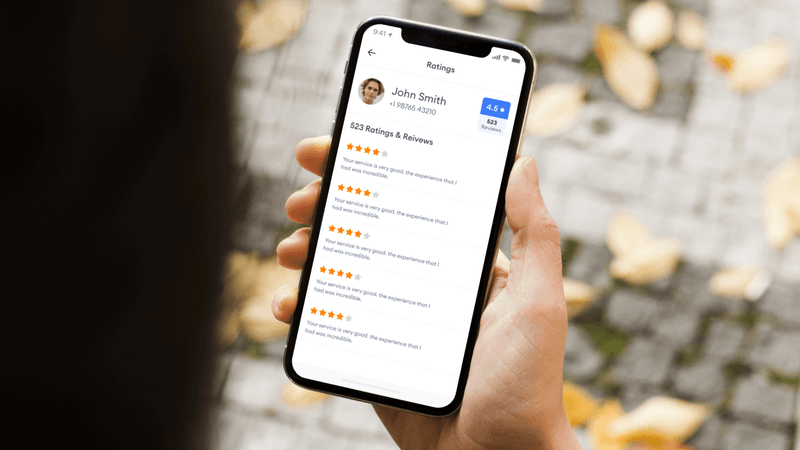 Such reports simplify the spotting tendencies and identify trouble spots that need further investigation or specialized training.
When drivers know their performance is being tracked regularly, they are more likely to work efficiently and address problems head-on. Mostly, the gauging parameters include customer ratings, ride time, canceled trips, travel time to reach a destination, etc.
In turn, this helps improve the efficiency and growth of taxi app businesses, resulting in better customer service from the driver's end.
The customer has no recourse if they had a negative experience or they were dissatisfied with their ride experience such as rash driving, overspeeding, rude behavior, etc.
Moreover, drivers can also rate riders based on their behavior using their app. A low rating for riders also indicates customer behavior and alerts other drivers.
Payment tracking
An online taxi booking app offers users multiple payment options. They can pay for a ride using various payment methods — credit/debit cards, mobile wallets, and cash.
Drivers can get paid instantly if customers pay via cash. Else, for online payments, the payout dates are determined, and drivers get the payment on payout date for all the trips they have done. Driver app will show them the accumulated money based on a per-trip basis.
Also, checking the payment dashboard enables them to track their earnings for a given day, month, or even since they started using the app.
Notifications and communications
Next, you need a driver app to share notifications and communications. Get more drivers behind the wheel by motivating them with notifications like — you are one five-star rating away from getting promoted to a new level. Or $100 more to hit the milestone. Moreover, you can also deliver payout notifications to drivers so they can know how much money is deposited into their accounts.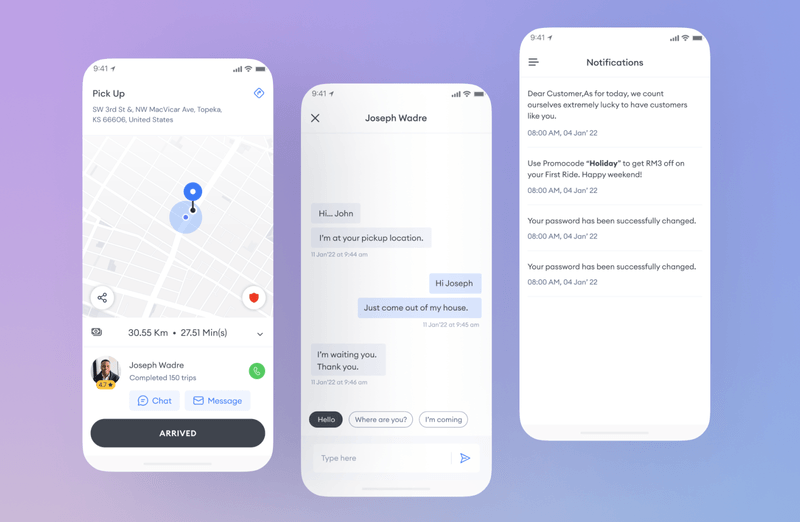 As a taxi app business, you can send alerts, booking details, route change notifications, ride completion details, and customer feedback to drivers. Driver app also notifies them of all the necessary trip details, booking time if booked in advance, etc.
Also, you can add an in-app chat feature to let drivers chat with riders. Such notifications would alert the driver and promptly respond to the rider's messages.
In-app calls from riders
Often, booking a ride from a taxi mobile app requires drivers to call riders or the other way around. Therefore, a driver app with an in-app call feature can help communicate quickly and easily.
Also, constantly switching between applications can be an issue. Therefore, In-app chats provide a simple solution to enable seamless driver-rider communication. A driver app is necessary to carry out in-app calls.
In addition to providing free in-car calls for its patrons, you can leverage VoIP technology to enable calling by cab drivers. This means a taxi driver has the same freedom to make calls to you as well as with customers. This facilitates communication between riders and drivers without disclosing phone numbers.
Referrals
Your taxi app for drivers can also act as a tool to bring in new drivers. Moreover, it is easier to convince a known person; therefore, when you implement a referral within the application, other drivers can look up the existing ones and sign up. In turn, existing drivers can get rewards for the bonus reflected in the application.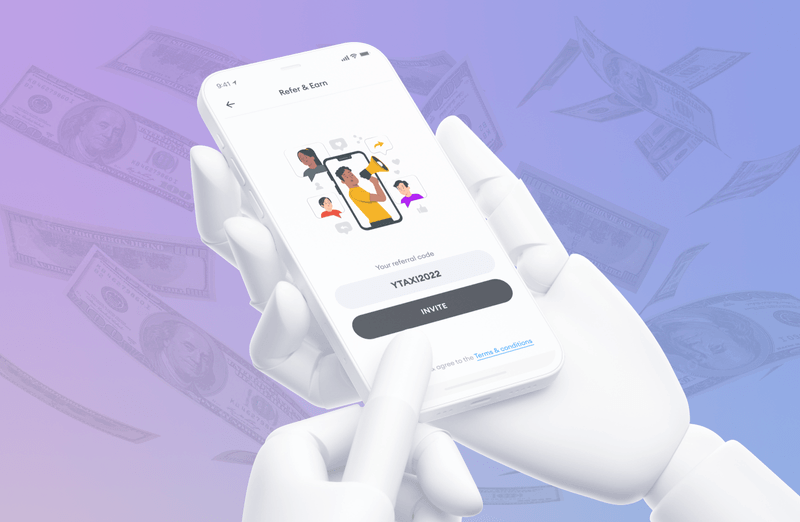 This works by providing the 'refer a friend or similar option. Clicking that button creates a unique referral URL with a code. They have to sign up using that URL and enter the code when prompted. The referring driver and the newly signed driver both get the bonus.
It is possible to display the number of invites the driver shared and those that converted (who signed up). Corresponding with the list of referrals and their invite status, drivers can see the amount they have earned for those referrals.
A driver app is, therefore, useful in providing a platform to recruit more drivers and make them a part of your taxi app business journey.
Bottomline
The taxi mobile app development requires a driver profile. For this, it is necessary to provide them with an app that boasts a range of features to simplify their job.
You can get started with a driver app by providing all the necessary features. Leveraging the advantages mentioned above will require creating an intuitive app for drivers. Ideally, the driver's app should be bug-free and provide a smooth platform to connect with customers and your business.
At Yelowsoft, we consider behavior and motivational elements that offer quality user interface and user experience (UI/UX). Our developers make taxi app solutions that are user-friendly for drivers and riders.
Reach out to us to create a taxi app for drivers that comes with a comprehensive set of features. We follow a proven taxi app development process, from creating wireframes to providing top-notch usability for your driver. Connect with us to get started.