The ride-hailing industry is facing a very tough time due to the COVID-19 pandemic. The industry as a whole is witnessing unprecedented slump due to various reasons like lockdowns, social distancing norms, and the general fear of catching virus which is keeping riders away from using ride-hailing services worldwide.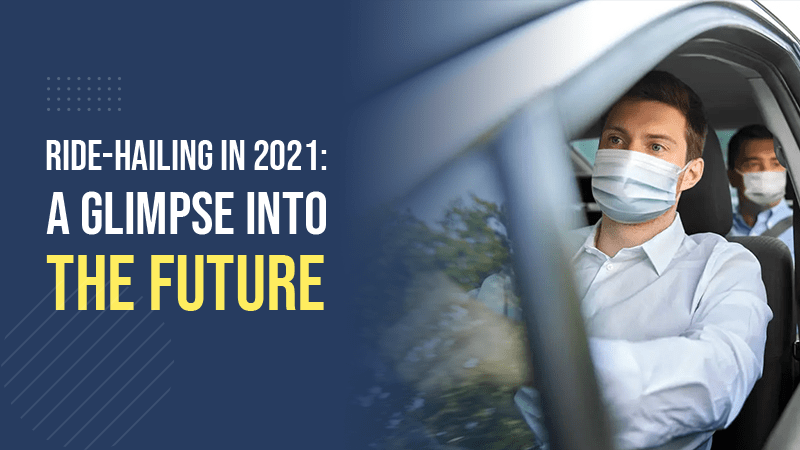 If we have a look at the stats, then the global ride-sharing market size is estimated to grow at 55.6% to reach USD 117.34 billion in 2021 from USD 75.39 billion in 2020. It's important to note that this projection is down by 2% as compared to the pre-COVID-19 estimation.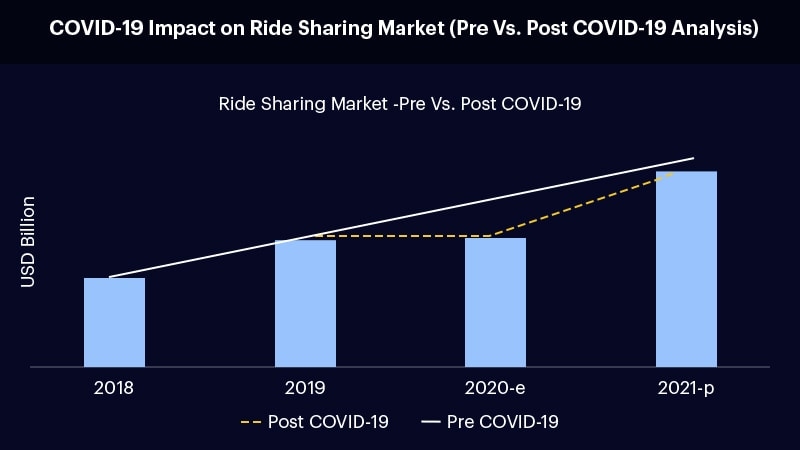 Due to this downward trend, ride-hailing companies are finding it difficult to survive. Big names like Uber and others have started to foray into on-demand food delivery and parcel delivery to make up their ride-hailing business losses. But everyone is anxious as to what future has in stores for the ride-hailing industry.
In this article, we will try to give you a glimpse of the future of the ride-hailing industry. We'll try to draw a rough picture as to what ride-hailing will look like in 2021 and the post-COVID-era.
Will the economy recover in 2021?
The state of the economy is crucial for any business and ride-hailing business is no exception. In this regard, there's good news for ride-hailing businesses as the World Economic Outlook forecast report features a gradual recovery of the world's economy in 2021. As per WEO, the global growth would be somewhere around 5.4% in 2021.
So, it's clear that the global economy will recover gradually. However, it's important to note that the speed of this recovery will be different for different countries, regions, and social groups.
We must understand that we are still in the crisis, and the people belonging to the middle-class social strata are more likely to focus on savings instead of spending on leisure like travelling and shopping. Also, health concerns are paramount for everybody irrespective of what social group they belong to.
Also, we must keep in mind that people belonging to the middle-class household are more likely to spend on daily enjoyable things as it's their part of the identity. So, cab rides are not totally out of the equation as these families can use these services for getting groceries and running other errands if ride-hailing companies offer a "COVID-safe" service and environment.
What would ride-sharing look like in post-COVID era?
Ride-hailing won't be the same after COVID-19. There will be several changes that will become an integral part of the ride-hailing business. We will see the emergence of several ride-hailing trends due to the pandemic. Let's have a look at these changes and trends one by one.
Ride-sharing companies to work with transit authorities
The first major change or trend would be that ride-hailing companies will move towards transit authorities for providing on-demand shuttle & bus services. Transit authorities will look forward to collaborating with ride-hailing companies due to many factors like low demand, high cost, and inability to come up with the required technology.
Secondly, post-COVID-19, ride-hailing businesses would be desperately looking to make up their losses made in the year 2020. One way to make up those losses would be to work with transit authorities to offer on-demand services in the places where there's little or no public transit routes.
Mobility as a service (MaaS)
Mobility as a service (MaaS) is a trend which already picking up even before the pandemic started. But post-pandemic, this trend all set to go up as traffic management and Transportation Systems Management and Operations (TSMO) are all set to integrate the MaaS once the pandemic ends.
This means that ride-hailing companies should make preparations for keeping MaaS in mind. They must ensure that their services emerge out as a vital part of MaaS in various cities. If they succeed to do so then they can compensate their COVID-19 losses with it.
Utilizing artificial intelligence
The utilization and implementation of artificial intelligence is expected to rise after the COVID-19 pandemic. AI is likely to be used in various aspects such as improvement in user experience, preventive security, operational efficiency and optimization via predictive analysis of ride-hailing requests demand, and many more.
Ride-hailing safety measures in 2021
If ride-hailing businesses want the riders to use their services like before then they must establish trust among them. Ride-hailing companies can do this by maintaining safety measures of the highest order. Let's have a look at the safety measures that ride-hailing companies must ensure post-COVID.
For better understanding, we have divided these safety measures into different categories based on various stages of a ride-hailing trip.
Before trip
Due to the pandemic, many riders had cancelled their taxi booking request. To overcome this, you can notify your customers while they are booking a trip that your cars have been freshly ventilated and sanitized.
During the trip
While the trip is going on, ride-hailing companies may want their customers and drivers to wear masks. Companies can also leverage image-recognition technology to ensure that their drivers are wearing mask throughout the journey.
Another safety measure which we can see in future is the use of a protective sheet which would separate driver and passengers. Around 30% of the people have expressed that such measures would increase their trust in using ride-hailing services during and post COVID-19. We might also see ride-hailing companies employing other safety options such as opening windows to improve ventilation in the car.
After trip
Ride-hailing companies might restrict or ban cash payments as they are prone to spread COVID-19 disease. We might see many companies employing contactless payments as they are a safer alternative. Furthermore, it will also give companies a chance to collect data that can be used to trace contacts in case of infections.
Between trips
Ride-hailing companies also need to ensure that they sanitize their cars between the trips. As per the survey conducted McKinsey, around 52% of the people said that sanitization is the most important safety measure that would increase their likelihood to use ride-hailing services.
Conclusion
The present situation for the ride-hailing industry looks grim. But no one knows what the future has in stores for ride-hailing companies. All they can do is anticipate future trends and prepare themselves for the post-COVID-19 time. In this article, we tried to do the same.
We tried to get a sneak peek of the ride-hailing future in 2021 by providing all future trends. We hope this article helps all the ride-hailing businesses across the world to make better decisions for their future business.