The taxi industry has undergone an immense transformation in the last decade. The industry which used to operate via traditional means has been disrupted by cutting-edge technologies like real-time GPS tracking, push notification, in-app payments, reports & analytics, automated driver payment settlements and many more. In addition, the adoption of on-demand business models has also changed the game forever.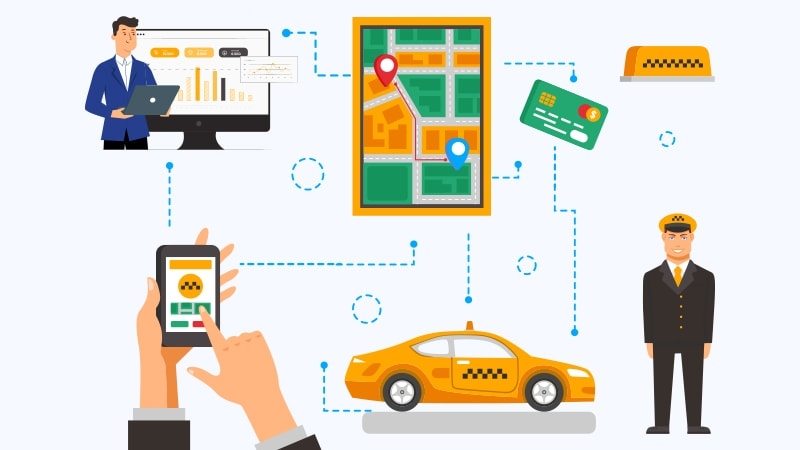 In this transition period, Radio taxi businesses are somewhat stuck in between. Radio taxis are superior when it comes to the traditional taxis but are inferior if we compare them with the advanced ride-hailing and taxi dispatch businesses.
But what exactly are Radio taxis? Let's have a look.
What are Radio Taxis?
As the name suggests, radio taxis are the taxis which operates via radio signals. Whenever a rider needs a cab, he calls the helpline number of radio taxi service. The operator picks up the call and communicates to the nearest possible cab driver through radio signals.
Once the communication is established with the nearest driver, the operator gives rider's information like pickup point, destination point, name etc. After that, the driver reaches the rider's location.
The demand for radio taxis has increased due to poor and uncomfortable services of the public transport system which has a bad reputation of being non-punctual too. Commuter prefers radio taxi over public transport to keep up with their fast-paced life.
Generally, radio taxis are managed by corporate companies which have 24x7 call centre services along with a GPS tracking system.
Read More: Role of GPS in taxi business.
How does it work?
To understand the working of the radio taxi, let's take an example. Suppose a rider wants to travel from point A to B. He calls the service operator and requests for a taxi. The operator then calls the nearest taxi driver and tells him to pick up the rider.
In radio taxi service, all the taxis are connected via a centralized system and GPS equipment. This makes it possible for the operator to determine which taxi is available for the next ride. The fare is determined based on the distance of the commute.
How is Radio taxi is different from ride-hailing?
Many of you might be aware with the ride-hailing and ride-sharing services like Uber, Grab, Ola, and many more. Although, radio taxi is quite different from these services. The first difference is based on the regulations and licences granted by the government.
All the drivers of a radio taxi company must have transport licenses/badges issued by the transport authorities. Moreover, al the drivers must undergo strict vetting and background verification process. All these regulations are not mandatory for ride-hailing services.
Apart from that, there are a few more prerequisites for radio taxi services. First, it's compulsory for radio taxi services to have a sound GPS system that has the ability to track all their radio taxis and also alert the admin if anyone attempts to tamper or turn it off. Secondly, all radio taxi services must have a 24x7 call center.
Another major difference between radio cab services and ride-hailing services is that the radio cab services are the owners of the cabs which they operate. Unlike radio cab services, ride-hailing services don't own cabs operator on their platform. They are just the aggregator. Also, radio taxi services have to get an operating license before starting their operations. However, ride-hailing services don't need any such license.
Why you must switch from radio taxi to taxi dispatch
The era of radio has passed a long ago. They have simply become the thing of the past. If radio taxi owners want their taxi business to stay relevant then they must embrace the advanced digital taxi dispatch solution. Adopting a taxi dispatch solution will prove to be a game-changer for radio taxis in many ways such as:
Improves efficiency
As mentioned earlier, radio taxis employ call centers for managing all their ride requests. This method is very slow, exhausting, and inefficient as it involves a lot of to and fro calling. Furthermore, it's also prone to human error.
By investing in a robust digital taxi dispatch system, you can take all the stress away from your human resources thus reducing the room for error significantly. Moreover, the automated digital taxi dispatch solution also ensures that the customers are never left waiting by assigning them the nearest driver as soon as possible.
Need less personnel
Adopting a digital taxi dispatch system can also prove to be a cost-effective move. It's because a taxi dispatch system can do the work of hundreds of your call center employees and too with better efficiency. This means that you no longer have to pay them salaries. This could result in major cost savings for your taxi business.
Modernizes your taxi business
By now, we all know why traditional taxi businesses are not able to keep up with the ride-hailing businesses. It's because these taxi businesses are still operating on outdated methods which can't keep up with the demands of the digital world any longer.
The situation for radio taxis is also quite similar to that of traditional taxi businesses. By adopting a cloud-based taxi dispatch system, radio taxi businesses can leverage state-of-the-art technology to revolutionize their fleet dispatch business. Additionally, customers are also more likely to use those taxi services which keeps updating and evolving themselves with modern time and technology.
Roadmap to switch from radio taxi to digital
Making a switch from radio taxi to digital may seem very difficult at first. However, there are few practical steps that if taken might make the transition smooth and simpler. Let's have a look at these steps one by one.
Define your goals
It's very critical to define clear goals for transitions. You must be very clear as to what you want to achieve from this transition. If you define crystal-clear goals then it becomes easy to assess if you're meeting your established goals or not. Clearly defined goals also help the taxi dispatch solution provider to get a sense of what a successful transition actually means for your company.
Do proper research and homework
Before you begin with the transition from radio to digital, it's very important to proper research and homework. You must write down different features that you think will benefit your taxi business.
There are many digital dispatch systems that offer several features and functionalities. You can narrow it down to the core features and functionalities that would have maximum impact on your business.
Read More: A Guide to Choosing the Right Taxi Dispatch Software
After selecting the core features and functionalities, you can encourage your employees to learn them along with giving them the confidence that the transition and the new system will boost the company's business.
Leverage your taxi dispatch provider's expertise
There are many reputable taxi dispatch providers who offer their team of experts and support staff. Not only this, but they also come with a wealth of educational materials. This material includes manuals, blogs, case studies, whitepapers, guided system tours, and many more.
You can leverage their expertise to educate yourself and your team about the nitty-gritty of the taxi dispatch system. In the transition process, you may encounter several issues. By acquiring this crucial knowledge you can successfully troubleshoot all these hiccups in quick time.
Assemble your transition team
One of the most effective ways to ensure that everyone in your team gets updated and educated about the transition is to first choose a small team that will lead education during the transition.
This team will adopt and learn everything about the new system. Once they get the knack of the system, they will start training other small groups and teams until each and everyone is not updated with the new system.
This method is very effective as it ensures the process of knowledge transfer is conducted smoothly. Additionally, it offers successful real-world examples and scenarios of the digital dispatch to the most vocal advocates of the radio taxi.
Top 5 benefits of having a digital taxi dispatch solution
Digital taxi dispatch solution comes with myriad of benefits. Due to time and space constraints we can't mention all of them. That's why we will have a look at the top five benefits.
Real-time tracking
Real-time tracking is the heart of any taxi dispatch system. This is the feature which makes taxi businesses stand out from the rest. With real-time tracking, the admin can monitor all its driver's activity at one place. They can check if all the drivers are taking the correct route or not. They can also divert their drivers to areas where there's demand.
This feature is also useful for riders as they constantly get updated about the driver's location in real-time. This makes the rider pickups smooth and fast. Also, customers can inform and guide drivers if they see the drivers going in the wrong direction for pickup.
Better ROI
With an advanced taxi dispatch system in place, your total volumes of ride requests are bound to increase as the taxi dispatch system offers high reliability and quality. Taxi dispatch system also offers customers a quick, convenient, and safe way to travel.
It offers them an option to book cabs on their smartphones from anywhere and anytime. This convenience offered by your taxi services will increase in taxi booking and revenue thus giving you a higher ROI.
Improved brand recognition
A robust taxi dispatch system will enable you to offer top-notch ride-hailing services to your customers. Such high-quality cab service will surely improve your brand's reputation among the riders.
Secondly, since bookings are done via smartphones, they will always see your company's logo every time they book a cab. This will always remind them of your services and will result in repetitive marketing of your brand.
It's also important to note that mobile apps are a proven medium for achieving digital global reach. With an app, you can grow your brand across borders. This is the reason why getting a taxi dispatch software for your taxi business is the best way to market your taxi services.
Read More: Why does every taxi business needs a dispatch software?
Simple and secure payment options
Digital payments are gaining popularity across the world and industry verticals as we gradually shift towards a cashless society. And taxi business is no exception. Nowadays, riders don't prefer to make payments by cash. They prefer making payments via card or by mobile wallets as they are a simple and fast mode of payments.
Taxi dispatch system enables you to cater to those customers by offering them with multiple modes of payments. These modes include payments via cards, mobile wallets, in-app payments, bank transfer, and cash.
Optimum vehicle management
Deployment of an advanced taxi dispatch system can streamline and systemise all your operations. Moreover, it also gives room for all your vehicles' maintenance. You can leverage the GPS technology to track all your vehicles thus eliminating the number of accidents and other damages. Overall you can manage your fleet well by ensuring its maintenance and safety.
Conclusion
Radio taxi businesses have become a thing of past. Nowadays, it's the digital taxi dispatch and ride-hailing services which rule the taxi industry. If you own a radio taxi then you shouldn't get disappointed by this as you still have a chance to rejuvenate your taxi business.
And that is by getting a robust and advanced taxi dispatch system. In this blog, we have provided a step-by-step guide on why and how can you switch from radio taxi to a digital taxi dispatch system.
If you're looking to get a taxi dispatch system for your taxi business now the Yelowsoft's taxi dispatch software is the best choice. Yelowsoft's taxi dispatch system comes with all the cutting-edge feature and state-of-the-art technology which transform your taxi business.
Moreover, Yelowsoft also has a team of taxi experts who will guide to grow your business and will solve all your taxi-related queries. So, what are you waiting for? Contact Yelowsoft to get your free demo now.