The coronavirus pandemic has halted our fast-moving world. There's no movement on roads, water, or sky. People across the globe are sitting in their houses and following social distancing. At the same time the corona warriors like doctors, nurses, healthcare assistance, and police are doing their best to control this unprecedented situation. And things are not going to change unless we find a vaccine.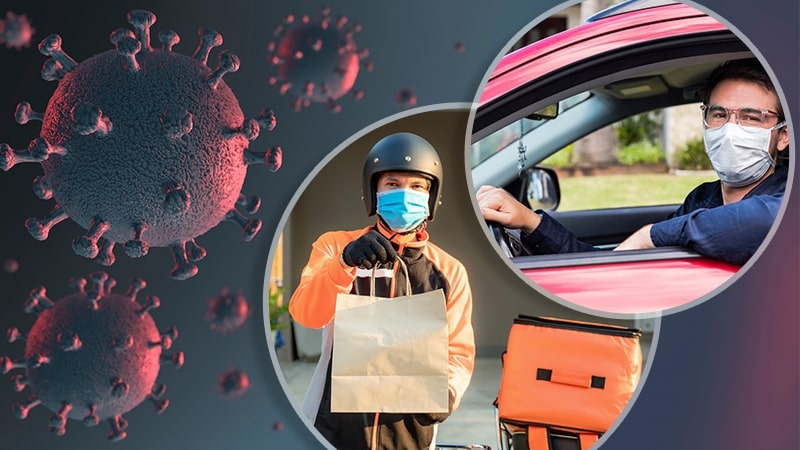 Apart from being a health disaster, coronavirus has also proved to be an economic disaster for the whole world. Businesses around the globe are losing a gigantic amount of money. However, the magnitude of impact has varied among various industries. And if we talk about the worst-hit industries, then the taxi industry would be on top.
Yes, Uber, Lyft, Grab, Didi Chuxing, and many other taxi giants that were making headlines a few months ago due to their continuous growth are now facing dire times. This uncalled hiatus is disastrous for the taxi industry all around the world. Let's have a look at it in detail.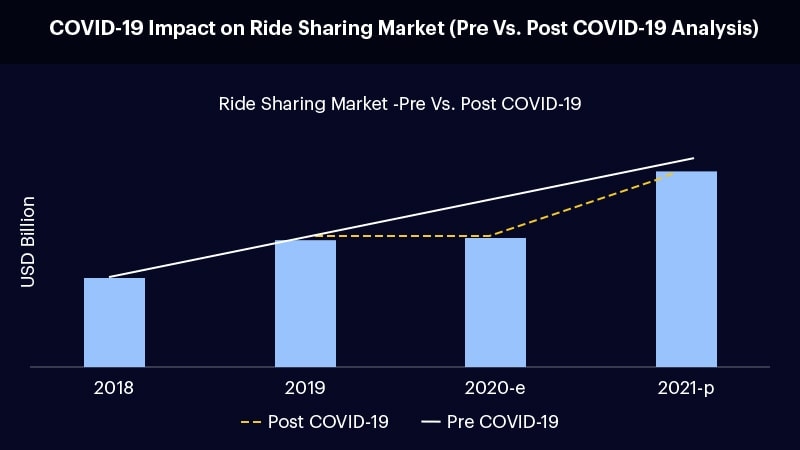 In the last few years, ride-hailing services have gained immense popularity due to factors like lower travel costs, traffic congestion, and emissions. However, due to COVID-19, the ride-hailing market will lose approximately 50-60% during the year 2020.
Moreover, Post-COVID-19, taxi companies have to adopt new strategies to eliminate the threat of Coronavirus like providing partitions to distance passengers from drivers, installing devices to measure body temperature, and equipping the vehicle with sanitizers.
How COVID-19 impacted Uber?
To understand the impact of COVID-19 on the taxi industry, we have to understand its impact on the biggest taxi player – Uber. According to experts, a two-week self-isolation is enough for the people infected with COVID-19.
However, Uber issued a statement in which it stated that all their employees infected with the virus would be eligible for 26 weeks of compensation. Furthermore, if workers are not able to report during the outbreak, then they won't be penalized even if they are not infected.
Many drivers around the world continued to provide the services by taking the necessary precautions like wearing masks, using disinfectants in the cabs, and many more.
A report came from Singapore, which stated that drivers had started to refuse to pick up riders from the hospitals. Worse news came from the Philippines where drivers were ordered to provide masks and sanitizers to the riders at free of cost by the Land Transportation Franchising and Regulatory Board (LTFRB). When customers bought masks in massive quantities, it led to a huge demand which forced the drivers to take a break from their job.
As per the National Private Hire Vehicles Association and National Taxi Association of Singapore, drivers were facing a decline of more than 25 per cent of earnings in the first week of February. It was even worse for the private drivers who were facing a decline of more than 35 per cent. Grab, which is a popular ride-hailing firm in the Philippines, made an announcement that they distribute free masks for all the drivers.
Impact of COVID-19 on food delivery
The spread of the coronavirus has impacted several businesses by forcing their customers to stay at home. Moreover, with lockdowns imposed in most parts of the world are making the situation worse for businesses especially the taxi business.
However, on the contrary, there are few businesses that have witnessed surge in their business. Food delivery is perhaps the most profitable business in the times of coronavirus pandemic. Food delivery is allowed even in the lockdown situation as it comes under the essential services that are permitted in the lockdown, the same goes for the grocery delivery too.
This is exactly the reason why companies like UberEats, WMT grocery, and other prominent services are witnessing a sudden increase in the number of orders. As per the NPD group, there was a 20% increase in the overall growth of food deliveries in China. Food delivery business is highly successful in China due to its high population.
The COVID-19 pandemic has acted as a catalyst for an already growing on-demand food delivery industry. Let's have a look at the impact of covid19 on-demand food delivery industry through some stats.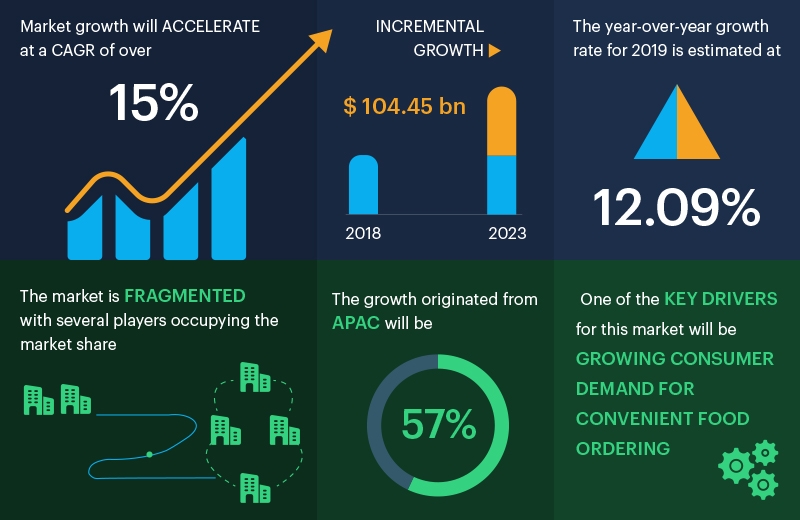 Image Source: www.technavio.com
The stats above clearly indicates how fast the on-demand food delivery industry is growing.
Many entrepreneurs saw this opportunity and adopted food delivery and grocery delivery apps to cash in. Such application got huge reception in China making them one of the most successful businesses in the country.
However, no one ever thought that one feature from the UberEats would become so popular that every food delivery app would integrate it. I am talking about contactless delivery. It was reported that more than 80% of the people had demanded for this feature given the extremely contagious nature of the pandemic. In this, food delivery companies instruct their delivery person maintain safe distance by leaving the food package outside the door or on the table.
Ride-hailing companies relying on delivery service
We saw that the impact of the coronavirus pandemic on ride-hailing business is in complete contrast with that of the food-delivery business. Due to this, many ride-hailing companies have now begun to adopt delivery businesses on their platform as an attempt to mitigate their core business losses.
Uber adopting delivery services to mitigate its ride-hailing losses
Uber is introducing new services in order to adapt to the current situation. The company confirmed its new services named Uber Connect and Uber Direct. Uber Connect is a peer-to-peer package delivery service, which enables its users to send goods to their friends and family. Similarly, Uber Direct is a delivery platform dedicated to retail items.
This indicates Uber's most aggressive foray into the courier services. Earlier, it had introduced grocery services to its Uber Eats platform. All these moves are the result of Coronavirus' adverse impact on the ride-hailing industryworse for businesses especiallya.
Not only this, but the Uber has also started new extensions for transporting PPEs to the corona warriors. Uber Eats platform has begun delivering convenience items along with grocery goods in some markets. The services like Connect and Direct are available in the selected cities and are used differently in different regions.
For example, in New York City, it's used for delivering over-the-counter medications, whereas, in Portugal, it's mainly used for supplementing the public postal service with that of the mail parcel delivery system.
Uber Connect service provides on-contact and same-day delivery of packages that can be supplies, games, or any other quarantine staples that people want to send to their friends and family. This service is launched in 25 cities across many countries like Mexico, Australia, and the US.
Uber Connect is very similar to its core service. The sole major difference is that instead of transporting people from one place to another, it transports packages and stuff.
Both the services are in their initial stages and they will evolve as the time goes on. Uber will also monitor how it performs and what exactly people are expecting from these services. Adopting goods delivery means that Uber can utilize their drivers and ensure them of continued income in the times where it's more than a novelty.
Lyft launching grocery service to battle coronavirus pandemic
Uber is not the only company who is moving towards delivery service options. It's the biggest competitor in the US, Lyft has also launched its on-demand delivery service in which it will deliver essential goods such as medical supplies, groceries, meals, and many more to all the needy people during the coronavirus pandemic.
Lyft said that this new service will also offer income opportunities to all their drivers who are suffering from the ride-hailing crisis caused by the coronavirus pandemic.
The company also said that the drivers can be booked by nonprofit organizations, government agencies, healthcare organizations, and businesses for delivering goods.
Lyft's delivery service would initially be available only in the selected regions like Texas, Dallas, Houston, Atlanta, Indianapolis, Phoenix, San Francisco, Seattle, San Antonio, Austin, Florida, and San Diego. However, it might expand to different cities if the company find additional partners.
According to Lyft, around 120,000 drivers from across the country have signed up for the delivery service.
Conclusion
In this article, we saw how coronavirus has impacted ride-hailing and food delivery business. The pandemic has proved to be a nightmare for all the taxi companies around the world, whereas for food delivery it's nothing less than a golden opportunity as there has been a sudden surge in the number of food deliveries orders across the globe.
In the article, we also saw how ride-hailing companies like Uber and Lyft are adopting various methods like introducing delivery services on their platform to make up their taxi business losses. As time passes, we will get to know how effective these strategies are. Moreover, in future, we might get a chance to see some new methods adopted by both ride-hailing and food-delivery in response to the coronavirus pandemic.