Taxi and private-hire operators often come to us with one of these inquiries. Can I run my business on taxi scripts? If so, why I need an integrated taxi solution? What is the hype around cloud-based mobile-first taxi solution?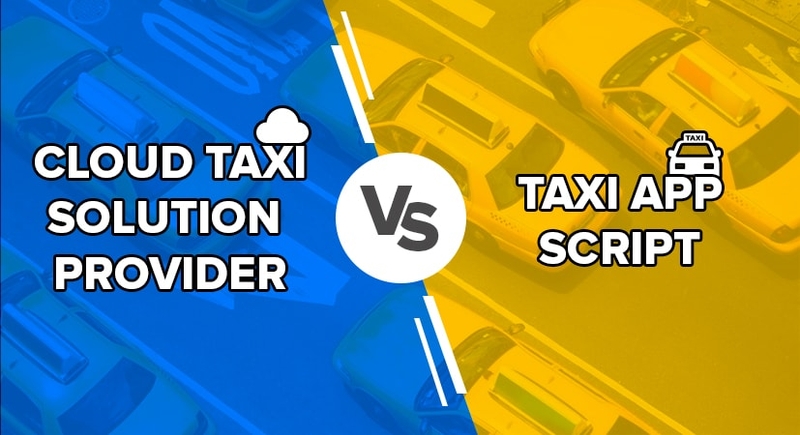 Well, the answer is lot more complicated than a simple Yes or No. A bigger problem is taxi operators don't know exactly what a taxi app script is? They think a mere taxi script would let them run their entire business. The reality is far from it. A taxi app script salesperson just wants to sell the script to you. Once the script is sold, he doesn't care what happens after. Buying taxi app script at a cheap rate is not very different from buying an iPod from a flea market. It may or may not work.
Moving back to the question, the depends on a variety of factors. At best, you might even be able to run the operations smoothly. To understand my concern, you must understand the concept behind taxi app scripts.
It's hard to define taxi app scripts as such. Think of them as a long piece of code when deployed on a server automates taxi operation with the help of mobile and web apps. When you are buying the scripts, the salesperson shows you a live demo of the solution working with your taxi business. Once you're convinced, you make the payment and the source code of taxi app script is emailed to you.
This is where most taxi business owners fall for. Most of them don't know what to do with the source code. This is where their worries start. First, they have to invest in a robust hosting solution and then deploy the code. This often doesn't work as intended. Fixing the software means tweaking the code and you need to hire a backend developer for that, which will further increase your costs.
Not to mention, your customers, drivers and passenger, will keep on running into problems with app and payment system. You would need a support staff. Then you have to upgrade the system every couple of years, which means buying the source code all over again. Customers expect their favorite taxi app upgraded every month at least with new features. Are you going to hire mobile app developer now?
Taxi app scripts vs cloud-based taxi systems
While a taxi app script looks alluring on paper, it is more of a series of overheads that taxi operators have to bear after paying for a taxi script. There are reasons cloud-based taxi booking systems are so much in demand these days.
While it is totally possible to run a taxi business on taxi scripts, I would recommend against and suggest a cloud-based taxi system like Yelowsoft rather.
1. Ready-to-go
When you buy a taxi app script, you buy hosting space, hire IT personnel, deploy the software, seek support and what not, which is not only costly but also consumes a lot of time. YelowTaxi is pre-deployed on our secure cloud and available to our customers as SaaS.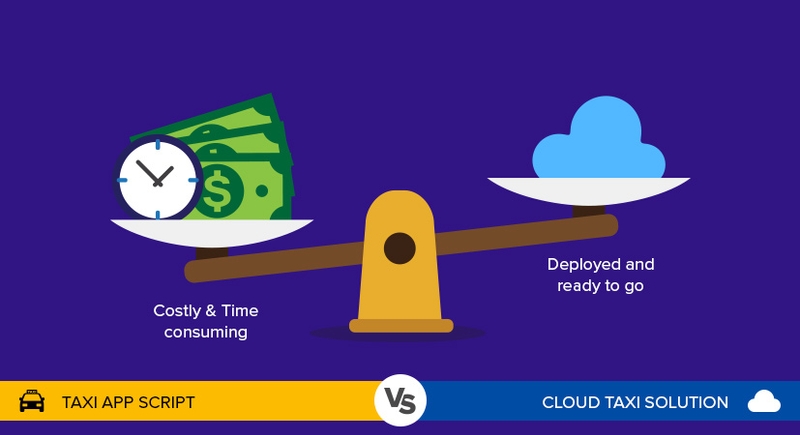 They just have to go through initial setup like setting up their fleet and define business rules like fare per Km, ETA, commission, payment and other charges. To make the process easier, a representative will assist you during the setup process.
2. Pretested
Taxi scripts are raw bunch of untested codes mostly procured from a reseller at a bargain value. When compiled from source, the resulting software is often full of bugs. It takes at least a month of tweaking before it gets ready for operation. Buggy apps are also a problem. Mobile app developers are costly to hire.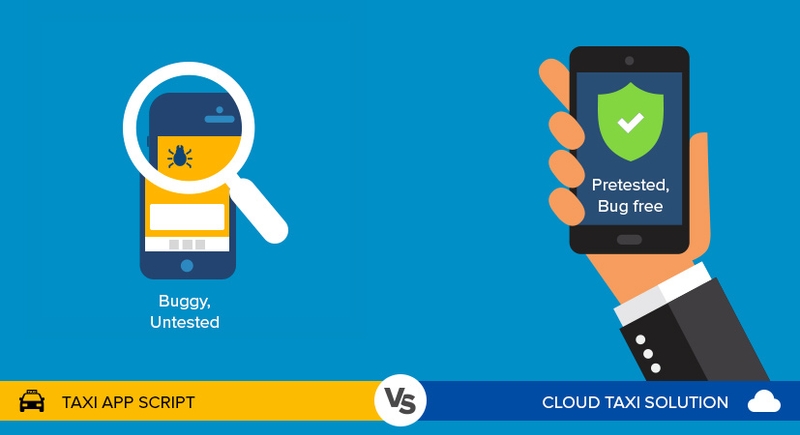 Well, YelowTaxi is pretested and bug free from the very first day. That is your customers can start booking taxi with the app as soon as you are done setting up the system and your taxi app is live on the app stores.
3. Comprehensive support
A major difference between a taxi app script seller and a taxi solution provider is this that a taxi app script seller would be gone as soon as he has your money. On the other hand, a reputed taxi solution provider is like a true friend and would be your side when you or your customers run into a problem with the solution and the apps.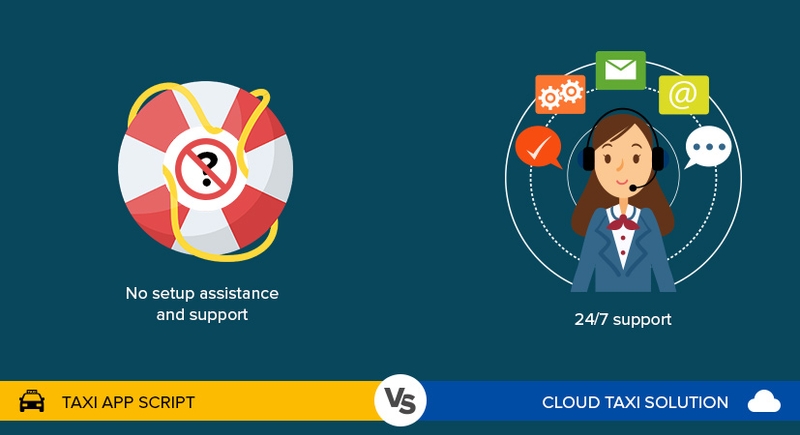 So when you run into problem with a problematic taxi app script, you have to buy software support or hire IT personnel including mobile app developers.
Read More: Reliability of taxi business with support options
4. Always up-to-date
One of the biggest problems with scripts is this that upgrading them to a newer version with new features and functionality is not easy for your existing IT staff in spite they have access to the source code. Taxi script buyers often have to approach the original seller for the upgrades for which they charge a hefty amount.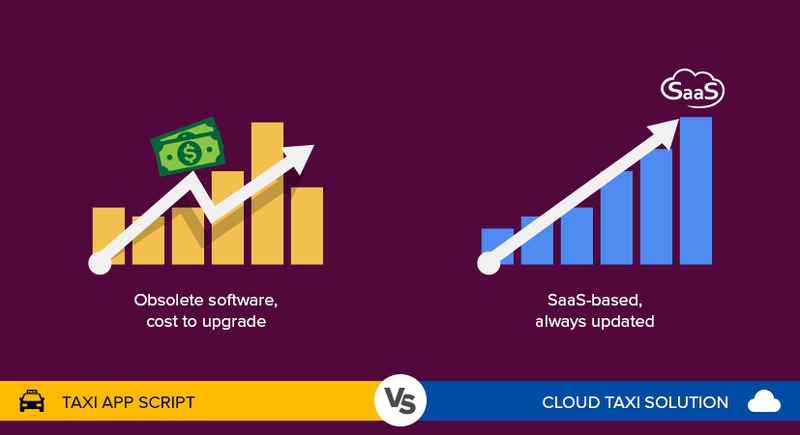 In contrast, YelowTaxi as a SaaS-based offering is always up to date. Unlike an on-premise software installation, it lies completely on the cloud and is accessible via a web interface. Since we manage the cloud and issue updates, your taxi software implementation is always up to date
5. Pay as you go
When you purchase a taxi script, you have to make a huge capital expense from your business budget and yet that's not it. You still have to invest in hosting space, additional server space, hiring IT personnel, and setting up a support desk.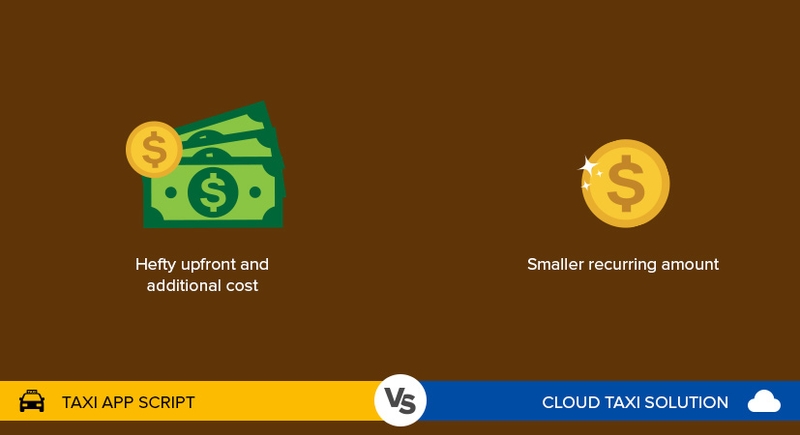 YelowTaxi, being a SaaS based offering, has a pay-as-you-go model. That is, you pay a fixed amount on a recurring basis rather than a hefty upfront. Moreover, you don't have to invest in things like hosting space, additional server space, hiring IT personnel, and setting up a support desk.
Yelowsoft will take care of those as your SaaS provider.