Nobody had ever imagined that the year 2020 would turn out to be such a nightmare. The COVID-19 pandemic has stopped everything in the world. Everyone was unable to go out for their jobs or education.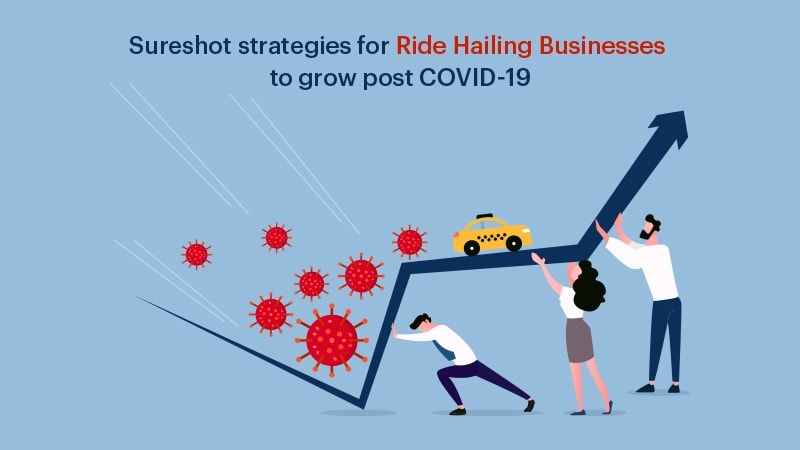 Even the highly profitable businesses have started losing their grip over the markets. It had been tough for them to sustain themselves in the times of pandemic. Ride-hailing industry has also not been spared from the wrath of the coronavirus pandemic.
Lockdown and social distancing regulations have forced people to stay at home. Due to which, the movement of people has been decreased over the roads. So the ride-hailing businesses have to suffer due to lack of passengers.
Their idle man hours also increased. It has become hard for these companies to pay salaries to their drivers. They even have to retrench their staff to save their operational costs.
However, the year 2020 was not so bad for us. The best thing that it taught us is to keep a backup plan aside. Because it's the recovery or backup plan that will show you how to keep your business going during the tough times. In this blog, we will show you the recovery plan to continue your ride-hailing business even after the COVID-19 pandemic.
Top tips to bounce back for the taxi businesses
Businesses have started restructuring their strategies to cope up with the losses suffered by them during the pandemic. If you are a taxi business owner, then you also need to chart out your plans again. You have to do in-depth research on the current taxi business markets. Watch out for the latest market trends and implement them in your business.
However, it is not easy for ride-hailing businesses to get back into action. The need for safety has immensely increased after the pandemic. Customers expectations have also soared high in recent times.
That is why you need to make some changes into your ride-hailing business to sync it with the current trends. Here are some ways to sustain and grow your business after the pandemic:
Safeguard your workforce
The need for safety has increased after the pandemic. This will also continue in the upcoming years. That is why you have to keep your customers safe during their rides. But how will you do that?
To secure your customers in a better way, you need to review your existing security measures. Remove the outdated measures and add new ones. Make sure that your taxis are properly sanitised. Provide your passengers with necessary guidelines on their app. Use a separating shield between passengers and drivers to avoid the direct interaction.
Update your drivers and admin staff about the latest safety regulations. You must educate your employees about the proper usage of masks and sanitizers. Also, you have to ensure that your employees are healthy and well. If anyone in your staff is unwell, help them financially.
Look out for diversification
Generating high revenues is the prime goal of every business and ride-hailing business is no exception. But the pandemic has put a brake on the growth of the ride-hailing industry. But still, taxi businesses can grow their business by diversifying its business operations.
People are avoiding to step out of their homes due to the fear of getting infected. That is why they are looking for a service that can deliver daily necessities at their homes. An on-demand delivery app is the best way to fulfil the needs of customers. This can be an excellent opportunity for you to earn good profits even in the times of pandemic. You just have to integrate an on-demand delivery platform into your business for this.
Food and grocery are the necessities. Start delivering food and grocery on an initial basis. Assign these deliveries to your driving staff. It will help you in two ways: First, you can continue your operations and second is your drivers will not sit idle.
Medicine delivery is becoming an emerging trend these days. Some people need their supply of medicines daily. Because of lockdowns and social distancing, they are unable to go out to purchase medicines. This has created the need for medicine delivery. You can also consider adopting this business model for continuing your daily operations.
You can also build a super app for providing all the above services under a single place. By making an all in one super app, you do not have to worry about making separate apps for everything. You just need a single app for providing all your services.
Focus on the changing needs of customers
You very well knew about your customer needs even before the pandemic. But now it is the right time to know your customers in a better way. The best way to start this thing is to find out which needs of your customers have changed during the pandemic?
Which new things do they want from you? What is something unique that you can provide them? To answer these questions, you have to do some research or you need to ask your customers directly about their needs.
Firstly, ask your drivers what complaints or issues they are getting from the customers. With this, you can get a clear picture of your customer's requirements. Formulate better strategies to resolve your customer's issues.
The next step is to draw the attention of customers towards your brand. Start publicising your brands at popular platforms. Provide customer loyalty offers to your customers.
It helps to get new customers and retain the existing ones. Create a personalised touch with your customers by wishing them on their birthdays and marriage anniversaries.
Make your brand social
People always remember the brand that has done something good during tough times. It is good for businesses to help society when they need them. This will create a better image of the company in people's mind.
Taxi companies can use their fleets for charitable activities. You can deliver food and groceries to the needy people. Collaborate with NGOs and non-profit organisations. You can appeal to your customers to make some donations in these organizations.
Reflect optimism in your ad and media campaigns. Make sure that they are energetic and positive. Take the help of radio, television, newspapers and social media to promote your services more aggressively.
Focus on moral values, rather than talking about the pandemic. Tie up with popular brands and delight your customers by offering promo codes or referrals on their bookings.
Transform your business digitally
Invest more in the latest technology to make your business digital. You can start digitising your business by making a taxi-hailing app for your business. This will help you to expand your business and allow you to reach a larger customer base.
Implementation of innovative technologies can help you to provide your customers with a better experience. Sometimes it becomes great support for you. Also, you can improve your services by solving technical issues.
Use data analytics to know more about your customers. Encourage your customers to provide more information by sending them a Google form. You can also explore the new regions by collecting more information about them. Product development initiatives can help you with this.
A great customer experience is the top priority of every business. Ride-hailing business also has to improve its user experience if they want to expand their user base. Use the latest UI/UX tools for improving your app's user experience. Provide your app users with an easy interface.
Wrapping Up
The covid-19 pandemic has created critical issues for the global ride-hailing industry that is not going to get solved easily for some time. That is why ride-hailing companies have to rethink and implement new management strategies to operate smoothly in the markets.
A recovery plan makes it easier for you to put your business back on the track. And if you still don't have a recovery plan, then you have to make one. Brainstorm with your company members to make a backup plan. Take inspiration from your competitors and try to understand their strategies. Learn from the other's mistakes and try not to repeat the same things in your case.
If you think that making a recovery plan is not your cup of tea, then you can take the help of expert professionals. They will help you to understand the plan better and also they will help you to implement it successfully into your business. Follow the latest global trends and plan your strategy accordingly.
Still, have any doubts in mind? Feel free to reach us anytime for further guidance. Thank you for reading this blog.