Over the past decade, the on-demand economy has rapidly replaced the traditional business models by offering the users with faster speed, better convenience, and advanced security. According to the stats, the on-demand economy is the most talked-about term since it has completely transformed the way various businesses used to run.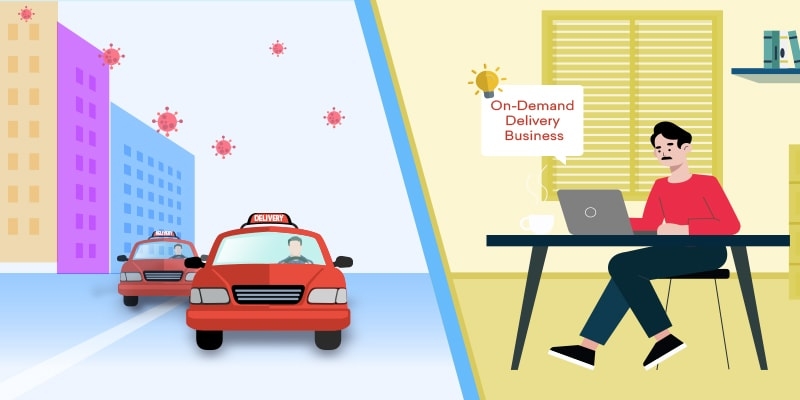 Uber and Airbnb are credited for shaping the on-demand economy in the US. As per that stats almost 42% of the US citizens have used the on-demand services at least once. Moreover, as per the Harvard business Review, the on-demand economy is adding a staggering amount of 22.4 million users every year.
It's also interesting to note that the on-demand economy has given birth to many business models and ideas which were earlier non-existent. On-demand delivery is one such model. In the absence of the on-demand economy, it was not viable to offer such services to the consumers. But nowadays, we see several on-demand services like food delivery, water delivery, gas delivery, grocery delivery, parcel delivery and many more.
On-demand delivery businesses are booming all over the world. If you're an entrepreneur, then you must consider starting an on-demand delivery business of your own. There are several delivery ideas that you can choose from depending on your expertise and resources availability. Let's have a look at these various on-demand delivery business ideas.
On-demand delivery business ideas
Food delivery
Food delivery has made lives of foodies quite convenient as all they have to do is order their favourite cuisine from the app and the food is delivered to them in no time. You can begin your food delivery business with a specific customer base of a variety of cuisine. You must always start small with a smaller delivery range. Once established you can expand your delivery business slowly by increasing your delivery range.
Read More: Introduce food delivery business in your existing taxi business.
Grocery delivery
Grocery delivery is also quite similar to food delivery. However, it's comparatively easier as you don't need to deliver groceries urgently. The delivery window is larger for grocery as it's usually not required after the general working hours.
To start a grocery delivery business you would require coolers for keeping your inventory fresh, a vehicle for delivery, and a website or mobile application for customers to place an order from it.
Laundry and dry cleaning services
Laundry and dry cleaning service is a boon for working people as they get only the weekend to enjoy their life and this service saves them from using their precious weekend time on laundry. Laundry delivery businesses can have different models viz. on-site, in-site, and marketplace.
Bicycle service courier
Bicycle courier services have gained a lot of popularity as they easily dodge heavy traffic and deliver couriers from point A to B within the city in a shorter time than any other mode of transport. To start this business, you would require a courier license for the area that you'll offer your services.
Moreover, you would also need some bicycles along with trained delivery boys who are capable of delivering the packages. In addition, you would also require a website and an on-demand delivery app that would enable users to use your services. Furthermore, the application would also help your delivery boys by helping them with directions.
After hours delivery service
In metro cities where life is extremely fast-paced and busy, many people don't get enough time to run their personal errands. After hours delivery service comes as a saviour for these people by offering their services after the official working hours of the city.
You can start your own after-hours delivery service by providing any of the above-mentioned services. In metro cities, many people don't have the luxury of reaching home at the time. Such people need dinners, laundries, groceries, and other daily items to be delivered late at night.
So, these were few of the booming and novel on-demand delivery business ideas that you can try your luck with. But what about those who already have a delivery business? Don't worry we have you covered as well. Now, we'll discuss various effective ways by which you can make your delivery business a huge success.
Effective ways to make your delivery business a successful enterprise
Invest in advanced technology
If you're still operating your delivery business by the traditional way then there's no way that you can sustain or compete with on-demand delivery behemoths. For this, you would first need to create an on-demand delivery app which would transform your traditional delivery business into an on-demand business.
We already discussed how the on-demand economy is booming in current times. Moreover, with technologies like route-optimization, automated resource allocation, real-time tracking , and more empowers you by giving you more control over your delivery business.
Offer multiple prices to customers
It's quite obvious that different consumers will have different requirements. So, you must ensure that you fulfil their different requirements by offerings multiple pricing based on weight, size, and delivery speed. These multiple offerings will give your customers an option to choose from. By providing various options to your customers you empower your delivery business to attract more customers.
Packaging matters!
Packaging plays an important role in the delivery business. Proper packaging ensures the protection of your package throughout the journey. Good quality and aesthetic packaging could also have a lasting impact on customers as it can become your USP and a differentiating factor.
Ensure client engagement
Keeping your customers engaged is crucial for your brand image. You must ensure that your customers are informed about their package throughout the journey. You can inform your customers by providing them with an estimated time of arrival along with real-time tracking. Moreover, you can also use live chat with customers to keep them informed and engaged. Another way is to update the customer is by sending SMS.
Give insurance
In a delivery business, there's always a chance of an accident or other catastrophic outcome. By providing insurance to these deliveries you can ensure the security of the customer's packages which in some case might be of the high cost.
Streamline your packaging
You can streamline your packaging to make delivery faster and more efficient. You can do this by making boxes of fewer sizes that will simplify the overall delivery operations. Moreover, you can optimize your packages in such a way that the delivery vehicles can carry the maximum number of parcels.
Delivery cost management
The delivery business consists of many legs or phases. And there's a certain cost associated with all these legs that makes up the total expenditure of your delivery business. You can optimize these legs by employing cutting-edge technologies that can identify cost-cutting opportunities in all these legs.
Pricing
Pricing is another crucial element of a delivery business. It's important that you keep your rates as per the industry standards. Keeping higher prices than your competitors can cause a shift in your customer base.
How to boost your delivery business in times of COVID-19?
COVID-19 pandemic has proved to be an economic catastrophe for the entire world. Almost all the industry verticals are suffering and facing its wrath. But, fortunately, on-demand delivery businesses have seen a huge spike in their revenue during this period.
This is mainly due to the change in shopping behaviour around the world. Due to the highly contagious nature of novel coronavirus, people are keeping social distance and thus prefer on-demand deliveries at their doorsteps.
The current pandemic situation has surely boosted the market for delivery services. However, it doesn't mean that you should just stay back and relax. You can leverage the current situation to boost your delivery business by scaling your operations and attracting more customers.
Below are a few of strategies that you must employ in times of COVID-19 pandemic.
An all-in-one SuperApp
Due to heavy restrictions laid by the authorities in the wake of COVID-19, there's a humungous demand for home delivery of essentials like food, groceries, medicine, etc.
In such a scenario it's quite obvious that customers would gravitate towards a super app that can offer on-demand home delivery of multiple essential items. By getting a super app you can gain a huge number of customers and boost your overall revenue.
Business partnerships
You can establish partnerships with local vendors and businesses to prevent supply chain disruption at the same time gain mutual benefits for all the involved stakeholders. This can help your business to offer multiple services as mentioned in the above point.
Moreover making business partnerships helps you as a delivery service provider since you can restock commodities quite simply by getting touch with the collaborators when needed. By this way, you can ensure to provide uninterrupted services to your customers.
Hire delivery professionals
To meet the increased demand for delivery services, you would require to expand your workforce by hiring more resources. Hiring and increasing the number of delivery executives can result in increased revenue and improved customer experience.
Contactless delivery
As mentioned earlier, the COVID-19 virus is extremely contagious and physical contact is the major source of transmission from one person to other.
You can eliminate physical contact between your delivery executives and customers by adopting contactless delivery in which your delivery executive simply puts the package outside the customer's door instead of handing them directly. Moreover, you can also avoid physical contact in payment by encouraging your customers to use digital payments.
Conclusion
The on-demand economy is spreading its wings rapidly as more and more delivery businesses are adopting this business model. Someone might argue that the Coronavirus pandemic might slow down its disruption rate in a few industries; however, the same doesn't hold true for the on-demand delivery industry as many on-demand delivery businesses are witnessing an unprecedented surge in their demand and revenue.
If you're an entrepreneur and are looking to start your on-demand delivery business then this is the golden period. You must leverage this period by setting up your business as soon as possible. And to do that you would require a ready-made on-demand delivery solution.