The COVID-19 pandemic has changed the entire economical dynamics throughout the world. Fear of catching the deadly virus, strict social distancing norms, and sudden lockdowns have broken the back of several small and medium-sized businesses. Even multinational companies haven't been spared from its wrath.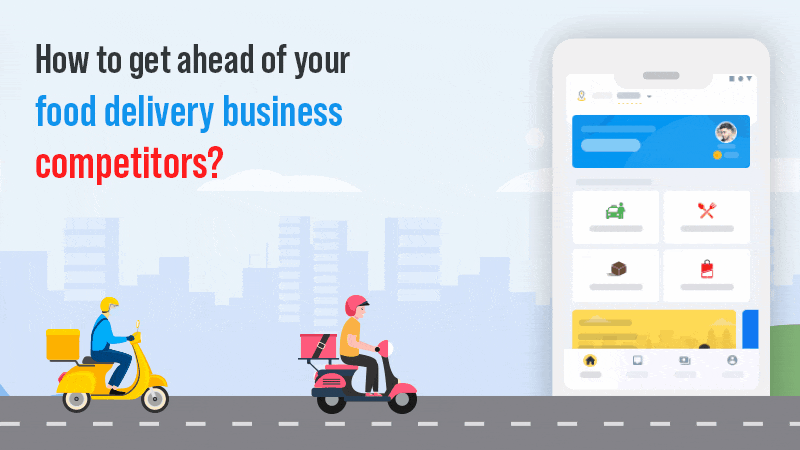 As most of the businesses struggled with the COVID-19 pandemic there were a few businesses that benefitted from it too. Food delivery businesses were one such big exception which witnessed a boom during the pandemic.
The below graphic shows how the top four U.S. food-delivery apps saw a humungous rise of $3 billion collectively in the second and third quarters when the COVID-19 pandemic caused heavy restrictions and lockdowns in the entire country.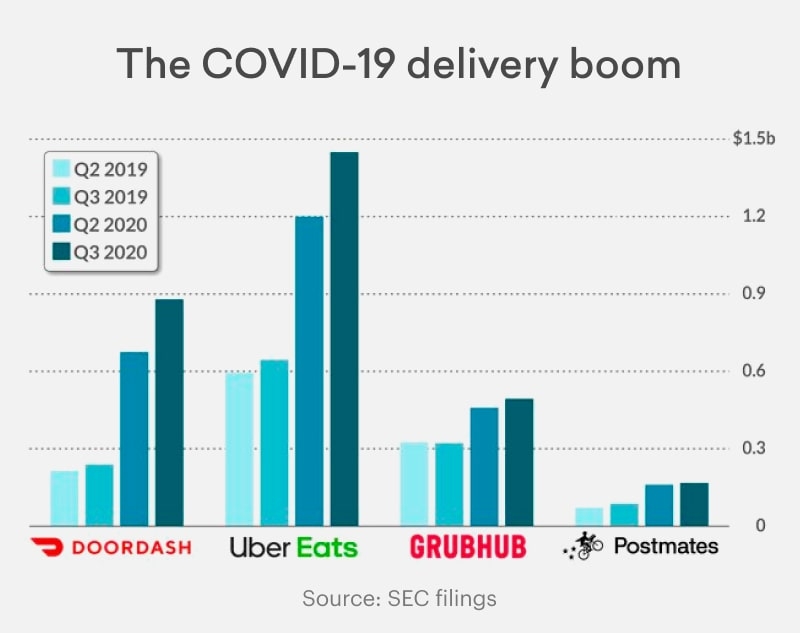 Not only during the pandemic, but the on-demand food delivery business is all set to grow in the coming few years too. The below graph shows the steady growth of the food delivery businesses whether they are a platform to customer or restaurant to the customer.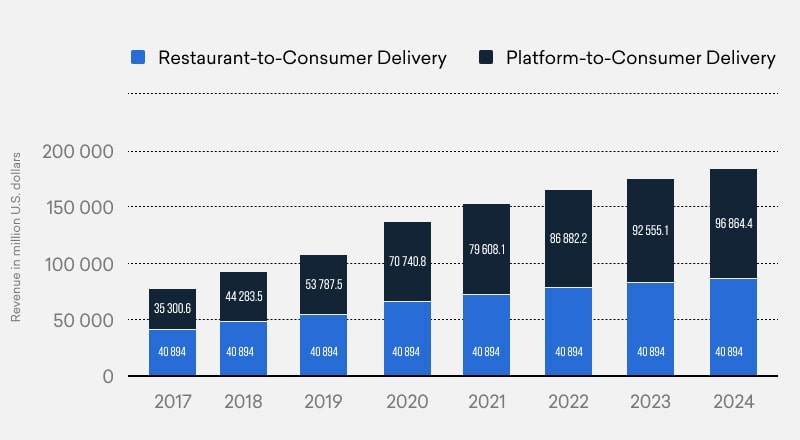 These stats only indicate one thing that it's a golden period for entrepreneurs to start their on-demand food delivery business. Although, one must also remember that there are already so many on-demand food delivery apps in the market. So, there's a very real chance that your service can end up as one of the other apps on the list.
So, the question which arises now is that what can you do to make your food delivery business standout?
Well, the answer to that question is very complex and that's why we have written this blog where we will explain it to you systematically as to how your food delivery business can stand out from the rest.
Do proper market research
To get ahead of the on-demand food delivery competition, you must offer something that your competitors are not. This offering can be a feature or a solution to the problem which is still being unsolved.
However, to come with such a unique solution, you have to first identify the problem. And to do that you have to carry proper market research on the below factors:
Location
The first important factor to research is location. The hyper-local sections of both urban and semi-urban areas constitute a major market segment for the sector. So, it becomes necessary that you conduct deep market research to search for the most optimal location for your food delivery business. This will help you to get the maximum amount of share in the nascent market.
Customers' interest
The second important factor here is the customer base. You must be well informed about your customer base. For this, you can collect data-driven insights from your customers and get to know about their buying behaviour and food interests.
Number of restaurants in your targeted region
Before starting your food-delivery business, you must have a clear idea about the total number of restaurants in your targeted hyper-location segments.
Moreover, you must know how many restaurants are willing to get their food delivered via your food delivery service. This will help you to offer your customers a wide range of options when it comes to different cuisines and restaurants.
Availability of delivery staff
Availability of delivery staff is another factor that plays a major role in the smooth operations of a food delivery business. Here you can either hire freelance delivery agents or get your own delivery team. Getting your own delivery staff will enable you to establish dynamic spatial synergies between customers and facilities.
In a nutshell, it's important to design an efficient delivery network that helps you to stand out among your food delivery competitors.
Age demographics
Many kinds of research and studies have shown that the age group which mostly uses on-demand food delivery services is Millenials. So, you must ensure that your targeted audience is young and falls under the age group of 35 years.
Choose your food delivery business model idea
We all have read the famous piece of poetry by Robert Frost titled "The Road Not Taken". In that poetry, the poet emphasizes taking the road which is less travelled. The same logic applies in the food delivery business as well.
Read More: On-demand delivery business opportunities, ideas, and strategies.
You can choose a different or new food delivery business model to avoid the cut-throat competition from the industry leaders. The food delivery business is not just limited to a few conventional options since it has many different business models which you can adopt for your food delivery business.
Let's have a look at these different food delivery business models:
Platform to consumer
Platform to customer which is also known as PTC is one of the most prominent and preferred approaches in the market. This business model consists of multi-restaurants where all the delivery processes are managed and tracked by the platform owner himself.
In simple words, food delivery businesses using this model crowdsource various restaurants and delivery personnel to provide food delivery services.
Swiggy, Zomato, UberEats, and GrubHub are an example of Platform to consumer. These companies provide their digital platform to various restaurants to offer their cuisines. Furthermore, they also offer their delivery personnel to deliver food. In this business model, the revenue is generally commission-based.
Restaurant to customer
In this food delivery business model, the food delivery businesses offer their services to the customers either through their in-house delivery agents or through restaurant websites and online food delivery platform like UberEats.
These businesses prepare food and deliver it to their customers via their physical restaurants and outlets. Subway, Domino's Pizza, and McDonald's are the top names that follow this business model.
Online table booking
As the name suggests, this business model enables your customers to book a table at a restaurant from your platform. Here, the main source of revenue for you is on-site promotions, banner advertisements, and commissions made on every booking.
Hyper-local food delivery
In this business model, the aggregators build a channelized workforce for making food deliveries in the shortest time possible. With this business model in place, you can also revive the local restaurants and help them to get an edge over the major food delivery players.
Choose the correct technology for your food delivery business
After choosing the best suitable food delivery business idea, you have to go for the right technology platform. You can gain an instant competitive edge among your food delivery rivals by choosing a technology platform that has the best features.
Innovative features
Features of your on-demand food delivery applications are crucial as they have the capacity to attract a huge number of customers. To get ahead of the competition, your application must have the following food delivery app features:
Location search
Restaurant reviews
Multiple revenue generation channels
Marketing modules
Multi-store
Discount coupons & reward points
Apart from these, you can also leverage cutting-edge technologies like Augmented Reality, Virtual Reality, Speech Recognition, Machine Learning, etc. to come up with innovative features that can attract ever-curious customers.
With VR and AR technologies, you can offer a visual representation of the food being prepared on the application itself. These things help in enhancing the engagement with the customers.
Mobile apps
In today's mobile-driven world, it's almost impossible to think of a business operating without a mobile application. That's why it becomes important that you enable your users to access your food delivery services not only from the website but also from mobile applications. Mobile applications also enable you to offer a top-notch user experience and convenience.
Payment gateways
We are slowly moving towards a cashless society. Users across the globe have heavily adopted the digital modes of payments. That's why it has become the need of the hour for every food delivery business to integrate excellent payment gateways that enable customers to make seamless digital payments. You can integrate payment gateways such as:
Amazon
PayPal
Airtel
Other Wallets
Scalability & customization
The food delivery industry is changing at a lightning speed. That's why it's important that you keep up with the ever-changing market of the food delivery business. And you can do that with the help of an on-demand application that is highly customizable. Furthermore, with a mobile application, you also own a marketplace that is highly scalable. This gives you a huge advantage over your business rivals.
Top 5 tips to get ahead of the competition
In this blog, we have already discussed a lot about how you can get ahead of your competitors. But that's not it as we have some other top tips that will help you in seamless growth of food delivery business.
Keep Menu with the right price
The menu plays a major role in the success of a food delivery business. As per a study, a well-designed and executed menu can increase the restaurant's profits by a whopping 10-15%. This clearly shows how important it is to design your menu properly.
While designing, you can keep an eye on the lowest and highest selling items. Furthermore, you can also increase the prices of your top-selling items in case you think your customers are willing to pay more for them.
Target niche audience
The best way to stay out of the competition is to look for something which no one else is looking for. In this case, you can target niche audiences like college students and corporate professionals. Furthermore, you can also attract new customers by building strategic alliances with businesses.
Delivery food on time
This might seem like a common point but it's very important. Delivering food on time is very essential as no customer would appreciate delays in the delivery of their food order. Moreover, if a customer has a bad experience with your service then chances are very less that he would use your services again in the near future.
Highlight and sell your USP
To get ahead of the competition, it's very important to have a unique or special thing that you can highlight and sell to your customers. This USP can be anything that makes you different from the rest of your competitors.
For example, your USP can be exceptional service, signature dish, award-winning chef, alternative diet menu, and many more. You can highlight these USPs by integrating them into your marketing campaigns and messages.
Establish a responsive customer support
You can enhance your customer base and customer loyalty by establishing a responsive customer support team. A team that can offer top-notch customer service that can differentiate your food delivery service from the rest.
To achieve this, you must ensure that your customer care team is respectful and polite. You must ensure that they offer an instant dispute resolution when the customer communicates his queries via social media, phone, SMS, website, live chat, email, etc.
Conclusion
The COVID-19 pandemic has given a huge boost to the on-demand food delivery business. In simple words, it has made on-demand food delivery a new normal. This means that there will be a flood of on-demand food delivery apps in the near future. So, if you're thinking of joining this sea of food delivery apps then ensure that you're different from the rest.
In this blog, we have tried to provide you with expert insights and tips as to how you can achieve the same. If you're looking to leverage this boom by kick-starting your own food delivery business then go for Yelowsoft's advanced and next-gen on-demand food delivery solution.