The legacy of the COVID-19 pandemic will be that it brought the entire world to a standstill. COVID-19 is not only a health catastrophe but also an economic catastrophe. This is because it has caused havoc in all the industry verticals.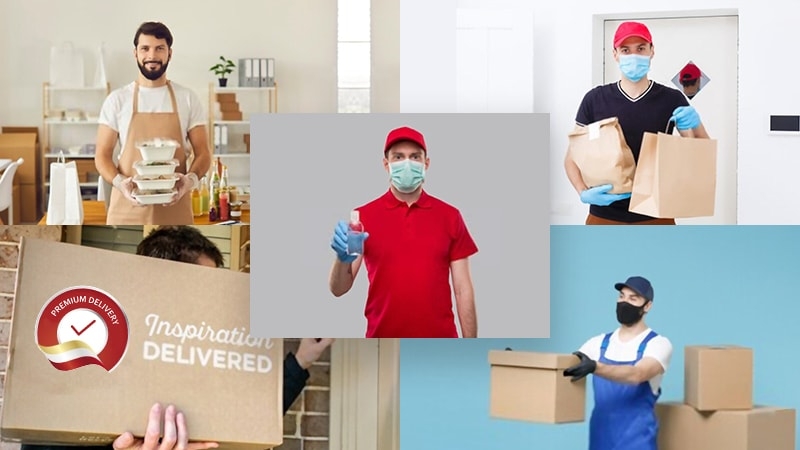 Almost every business across the world is going through a tough phase. Big multi-national firms have announced layoffs and several small-scale businesses are forced to shut.
In such times, on-demand delivery businesses have emerged as a fortunate anomaly. Yes, in times when all the businesses in the world are facing unprecedented losses, on-demand delivery businesses are witnessing a surge.
But everyone has this one question as to how long will this surge continue? How the on-demand delivery industry will look like in the year 2021.
If you're also looking for the same answer, then you've come to the right place. In this article, we will try to get a glimpse of the future of the on-demand delivery industry for the year 2021.
We will discuss the top on-demand delivery trends that will be prevalent in the coming year. But before then that, let's have a look at the impact of COVID-19 on on-demand delivery business.
Impact of COVID-19 on on-demand delivery business
Due to lockdowns and social distancing norms in place, people prefer to use on-demand delivery services over going out of their homes. People are ordering food, buying groceries, delivering parcels, and buying medicines via online delivery. Due to this sudden rise, on-demand delivery businesses across the globe are witnessing a sudden spike in their overall sales and profits.
If we have a look at the on-demand grocery delivery then, according to Apptopia, grocery companies like Shipt, Walmart, and Instacart saw a hike in their daily downloads by 124%, 160%, and 218% respectively.
The food delivery industry is also witnessing a similar surge. In the UK, there has been a rise of 11.5% in the total revenue in the year 2020 against the comparable period of 2019.
The situation in the US is also quite similar. The below graph shows the increase in the on-demand food delivery penetration share of the restaurant market from 2020-2025 due to the COVID-19 pandemic.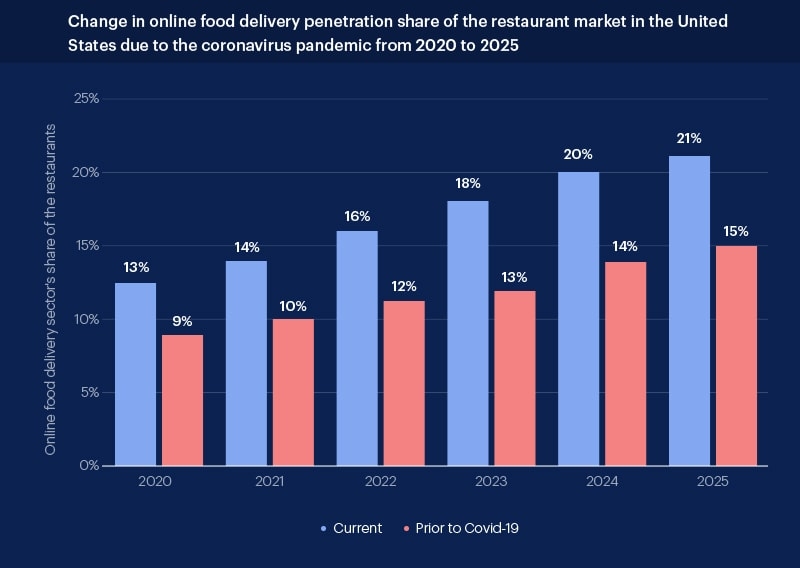 On-demand delivery in 2021 through stats
The surge which began with the COVID-19 pandemic seems to continue in 2021 as well.
Even if the vaccines are available by the mid of 2021, the vaccination drive for the entire population of different countries might take a year or two. This means that on-demand delivery businesses will continue witnessing the upward trend for at least two more years.
If we have a look at the stats then the on-demand economy is estimated to reach a whopping $435 billion in the year 2021 with an annual growth rate of 49%. It's important to note that this amount was only $213 billion in 2017.
If we have a look at on-demand food delivery, then as per a report by Technavio, the CAGR of the global market for on-demand food delivery is estimated to reach 32% in the year 2021. In simple words, on-demand food delivery is going to grow by 32% in 2021.
Like food delivery, grocery delivery is also estimated to show a steep growth curve. As per Statista, the on-demand grocery delivery in the United States will double from $14.2 billion in 2017 to $29.7 billion in 2021.
Consumers in the US are expected to spend an estimated amount of $610 billion on medicine delivery. This amount in 2017 was just $360.1 billion.
On-demand delivery trends for 2021
On-demand delivery businesses are going through an interesting phase. There's a huge demand for on-demand services at the moment due to the COVID-19 pandemic. If on-demand services do well in this phase then the customers might prefer using these services after the pandemic.
That's the reason why many on-demand delivery businesses want to make an ever-lasting impression on their customers. And to do this they will try unique and innovative ways to make their services top-notch in the year 2021.
Let's have a look at these top on-demand delivery trends for 2021 one by one.
Small meal delivery
Generally, people use on-demand food delivery -option when they have to order a substantial meal. However, a trend of ordering light bites and snacks has been observed in the recent past.
And this trend is about to increase in the year 2021. In the coming year, you'll see manufacturers and restaurants leveraging this trend by extensively promoting smaller meals.
With more and more people moving away from three larger meals per day, the demand for light bites and snack food is bound to increase in 2021. This increase in demand will introduce new delivery options for smaller meals that will have significantly lower delivery fees.
Read More: Top features to consider for building an on-demand food delivery application
Multiple orders from different stores in one delivery
Until now, one could only order food from a single restaurant or place at a time. There were a few third-party delivery companies which offered food delivery from multiple places. However, in that, you had to place orders multiple times to get food from multiple vendors.
In 2021, this scenario is going to change as third-party delivery companies are going to expand their service options to enable their customers to make orders from multiple vendors and get them delivered at once.
Increase in on-demand parcel delivery
The concept of on-demand parcel delivery became quite popular in 2020 all thanks to COVID-19 pandemic. And it's about to become more rampant in 2021 as well. The on-demand parcel delivery service enables customers to send and receive packages within the city in a matter of few hours.
In case you go to the office and find out that you have forgotten your laptop or an important file at home then you can simply use on-demand parcel delivery services to get it in your office.
These services offer the utmost convenience and speedy services to the customers. With on-demand parcel delivery services in place users don't need to freak out in case if they forget any of the essential items at their home.
COVID-19 safety measures and sanitization
Even if the vaccines introduced in 2021 decreases the rate of infection, COVID-19 safety measures will remain intact for the course of 2021. This is exactly the reason why all the on-demand delivery services will strictly comply with all the COVID-19 measures and sanitization practices.
The contactless delivery is in already in the practice by many on-demand delivery services. And in 2021 we might see many other safety measures. We might see all the delivery agents wearing masks and gloves for the entirety of their delivery course.
Delivery subscriptions
Delivery subscription is another major on-demand delivery trend that will witness a huge rise in the year 2021. The on-demand delivery firms were already offering various incentives and offer to their customers for increasing customer loyalty and retention. And in the year 2021, delivery subscriptions will become the go-to option for the majority of on-demand delivery businesses.
Subscription programs are win-win for both customers and the businesses as customers enjoy perks like free delivery, reduced price, and many more. On the other hand, businesses can increase their sales and profits.
Conclusion
The on-demand delivery industry is experiencing a surge at a time when the majority of the world's businesses are facing heavy losses. This is a golden period for all the on-demand delivery businesses to leave an ever-lasting impression on their customers.
This is the period where on-demand delivery businesses can become an inseparable part of their customers' lives even after the pandemic by offering top-notch delivery services with utmost speed and convenience.
If you're looking to leverage this surge by starting your own on-demand delivery business or are looking to use your existing ride-hailing resources for on-demand delivery then Yelowsoft's on-demand delivery software is your one-stop solution.
This solution comes with all the cutting-edge features and technologies that can enable you to offer top-notch delivery services to your customers.
Moreover, this solution is also highly reliable and scalable. Due to this, you can manage the rapid increase in the requests with 99% uptime.
So, what are you waiting for? Emerge as a top on-demand delivery business in the times of COVID-19 pandemic with Yelowsoft.