The taxi booking business has rapidly boomed in many countries of the African continent. Especially countries of the West African region have witnessed big taxi players like Uber expanding their business in the region. Moreover, it has also seen the emergence of local taxi startups that have done well in many countries of this region.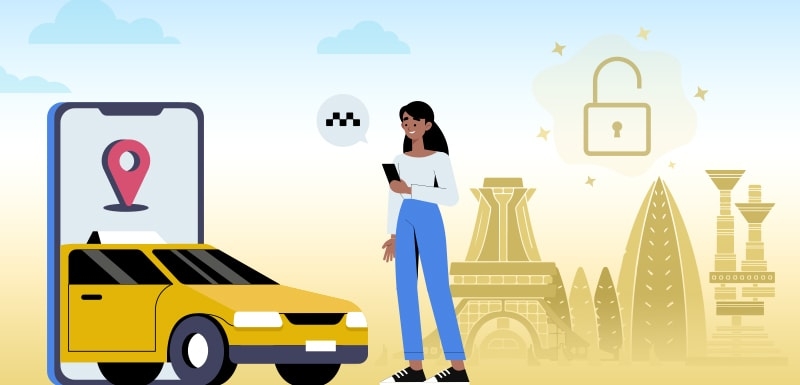 The West African region consists of many countries like Ghana, Guinea, Guinea-Bissau, Benin, Burkina Faso, Cape Verde, Côte d'Ivoire, Liberia, Togo, Saint Helena, Niger, Nigeria, Gambia, Senegal, Sierra Leone, Mauritania, Ghana, and Mali. In this article, we will focus on the latest developments taking place in the taxi booking industry in this region.
We'll see the taxi booking market stats, major players, and other major incidents that have shaped the taxi booking landscape in this region. Let's have a glimpse of some taxi industry stats of this region.
Taxi booking market stats of West Africa
As per Statista, the total revenue in the ride-hailing & taxi segment is estimated to reach around US$447m in the year 2020. Moreover, the revenue is estimated to exhibit an annual rate of 20.3% (CAGR 2020-2024) which would result in the market volume of US$939m by the year 2024. Apart from that the ARPU (average revenue per user) is projected to amount around US$37.70.
Uber eyes the West-African market for expansion
Uber- the biggest ride-hailing firm in the world is now eyeing to expand into the region of West Africa. The company is in talks with the regulators to provide their ride-hailing services in the West-African countries.
Read More: How to start an e-hailing app in your city/country?
The Sub-Saharan region is perfect for Uber as there are low levels of personal car ownership. Moreover, the population in this region is expanding rapidly which makes the case for Uber even stronger as there is an absence of an efficient mass transit system.
According to Uber, they have around 36,000 active drivers in Sub-Saharan Africa. Uber has its presence in the regions of South and East Africa but is largely absent from the Western region of the continent except for few countries like Ghana and Nigeria.
Uber identifies West Africa as a region of a massive potential expansion. According to the Brooks Entwistle, Chief Business Office of Uber "The Company was in talks with regulators of Senegal and Ivory Coast for a possible launch of the services". "Both Abidjan and Dakar are logical opportunities for us," he further added.
As per the International Monetary Fund, Senegal and Ivory Coast are two of the fastest-growing economies of the world. Moreover, Nigeria is Africa's largest economy and is also the most populous African country.
Not only Uber, but many other ride-hailing firms have also targeted West Africa for expansion. Uber started its operations in Lagos in July 2014, which is a megacity that has around 20 million people.
Entwistle while speaking to Reuters in an interview also said that the company was in talks with the state regulators for providing a transport system via the city's waterways which can effectively bypass the choked roads. He also mentioned that they had already launched their boat service in Mumbai, India a few months ago.
"We did launch Uber Boat in Mumbai and we have watched the product develop. It's in its early stages and we think there is high relevance here," he added, referring to Lagos.
Apart from the boat service, Uber is also having discussions with regulators and the bus firms of Lagos. The company spokesperson said that Uber was having talks to give a global push to build products that can complement the existing transit systems.
As per Entwistle, the combination of congestion and population growth of Lagos made the city the perfect choice for Uber expansion.
As per United Nations predictions, Nigeria's population could double by the year 2050 to 400 million people. This would make Nigeria the third most populous country after China and India.
Uber is also facing strong competition in few cities from Estonia from the ride-hailing rival firm Bolt which was earlier known as Taxify. Bolt is making a profit by taking a smaller cut from all those drivers who are using their app.
Ride-hailing in Ghana
Ride-hailing in Ghana has evolved rapidly over the years. It has become a part of the Ghanian life construct, especially when it comes to Accra, the country's capital city. Let's have a glimpse at how ride-hailing has been shaping up in the country.
Uber enters Ghana
Uber entered Ghana in June 2016. Slowly and steadily Uber gained its place in the daily life of people with its convenient alternative for city transport. People also accepted Uber's services as the fares were quite cheap.
Uber had the first-mover advantage when it entered Ghana. Moreover, its fixed formula pricing scheme which was based mostly on distance turned out to be a game-changer. The cab drivers no longer had the monopoly of fares. Now, the smooth-talkers lost their leverage to charge more. Also, the drivers can't charge more for rides booked in the night as the fare now is totally based on factors like distance, demand, and the current traffic conditions.
Taxify emerges as a rival
One and a half year after Uber's arrival, Taxify which is now known as Bolt got launched in Ghana in December 2017. Taxify's arrival meant that the ride-hailing business is going to get bigger and bigger in Ghana.
Taxify's arrival brought new dynamics in Ghana's ride-hailing market. Now, the people of Ghana were presented with alternatives to choose from. This also brought all the factors that actually account for the real market activity to come into play.
All of a sudden various factors like competition, regulation, industry, service quality, visibility, lifetime value measures, and many more that influences rider's decision to either stay with the service or to go for another one became vital.
One major advantage that Taxify had over Uber was that it was launched at a cheaper price than Uber. So, the same effect which drove Uber's popularity when it first began in Ghana was the reason behind people gravitating to Taxify.
Cost-efficiency is a major factor in Ghana. However, it's not the only factors. Uber had a bigger footprint as compared to the Taxify which made it easier for the Uber users to find and book a cab faster as compared to that of Taxify.
Challenges faced by the ride-hailing industry in Ghana
The rideshare industry in Ghana has faced a wave of challenges in the past few years. The first concern is related to those drivers who attempted to circumvent the payment structure of the ride-sharing companies. Since Uber is the most prominent player, it got affected the most as many of their drivers were indulging in this practice.
The drivers would simply make the trip offline thus circumventing the need to pay to Uber. Drivers would also start and stop trips instantly so that they can obtain the fare then, later on, perform the trip outside the platform.
Another issue was of security. There were many stories in which rides became unsafe for both riders and the drivers. There were incidents in which riders were robbed or abducted for ransom.
Apart from these issues, there was also agitation from the drivers due to Uber's pricing scheme which drivers found absolutely unfair. Most of the drivers were frustrated due to the frequency of discounts that Uber offered to its riders. Due to this, many riders end up paying less as they have a discount from the Uber.
Major taxi players in West Africa
In West Africa, there are a numerous ride-hailing companies and startups that are operational. Let's have a look at few of the major players in the region.
Uber
Uber is unarguably the biggest taxi booking firm in the world. It was launched in 2009 in San Francisco which is also its headquarters. It currently operates in more than 600 cities over 65 countries. In the West African region, it's operational in Nigeria and Ghana.
It was first launched in Nigeria and Ghana in 2014 and 2016 respectively. Uber was the first taxi booking platform to get launched in Nigeria. As of now, it's available in two cities Nigeria which is Lagos and Abuja. Similarly, in Ghana, it's operational in the Greater Accra Region and Kumasi.
Bolt (Taxify)
Bolt which was earlier known as Taxify is an Estonian ride-hailing platform that has its headquarters in Tallinn, Estonia. Bolt has a presence in 20 cities across 15 countries. In West Africa, this platform is operational in Nigeria as well as in Ghana. Bolt is Uber's biggest rival in the West African region.
Oga Taxi
Oga Taxi is the very first ride-hailing application to emerge from Nigeria. It was launched in the year 2016 with the aim to compete against Uber and Bolt with its customer-centric features that offer rich customer experience. Headquarters of Oga Taxi is located in Abuja and it's operational in cities like Port Harcourt, Lagos, and Abuja.
Jekalo
Jekalo was launched in the year 2015. The platform serves two kinds of people, car owners as well as riders. Car owners who are looking to offer ride services are scrutinized and then allowed to accept the ride requests. Similarly, riders can order for a ride by simply entering the trip information to find cabs.
Conclusion
A lot is happening in the West African countries as far as ride-hailing is concerned. Taxi behemoths are now looking to enter this region so that they can leverage the ever-expanding population and make massive profits.
At the same time, local companies are also emerging to take their slice of the cake. In the coming years, it will be interesting to see how the landscape of ride-hailing business shapes. The next few years will clear the picture as to which ride-hailing company would unlock the enormous business potential in the region.