Smartphones have equipped us with a facility to get anything at our fingertips. Gone are the days of standing in long queues in the markets or waiting for days to get a little work done. Now you can get anything on-demand, from food to a ride, getting groceries, and even the daily medicine supplies, the list is endless.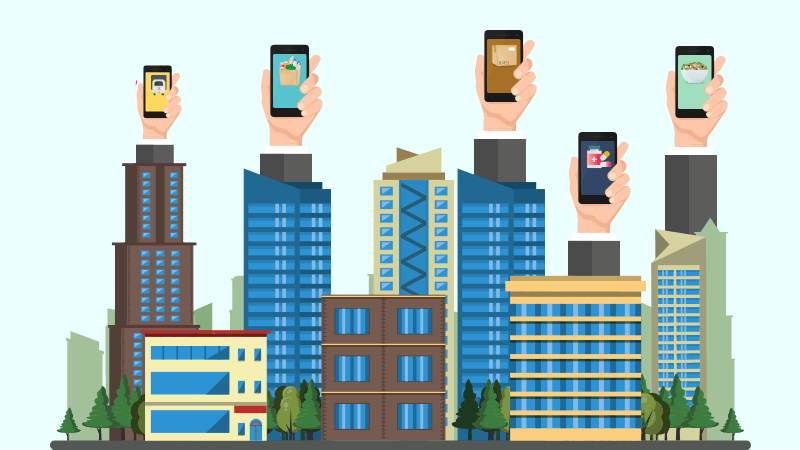 Entrepreneurs have started looking for profitable on-demand business ideas as the usage of the internet has increased among the millennials. Because of this, the on-demand delivery market is witnessing exponential growth. Moreover, consumers are becoming increasingly used to on-demand delivery services.
If you have an idea to build an on-demand delivery app, then this is the best time for you to take a plunge in this segment. But before you start, you need to know about the growth of the on-demand industry, on-demand delivery business opportunities and the perks of starting an on-demand delivery service. So let's start without further ado.
A quick overview of on-demand economy growth
There is plenty of room for new opportunities for traditional delivery businesses to add an on-demand component to what they offer. If you have not capitalised the on-demand trend yet, then you should explore the opportunities in the on-demand delivery industry. Because if you don't do so, your competitors may get ahead of you.
As per statista, the users in the on-demand delivery segment will reach 498.5 million users (approx.) by 2025. Apart from this, the on-demand delivery segment is going to show a revenue growth of 25.4% (approx.). Moreover, the projected CAGR for the on-demand market will be 16.23% (approx.).
As per Harvard Business Review, US consumers had spent approximately a whopping $57.6 billion. Furthermore, the on-demand economy is going to serve 22.4 million users yearly.
From the statistics, it is clear that the trends in on-demand delivery services are making the businesses shift towards an on-demand economy to leg up with ever changing customer demands.
After getting a detailed outlook on economic growth, let us look at the prominent on-demand delivery business models in detail.
5 successful on-demand delivery business types
We are a part of the smartphone era where life seems impossible if our daily needs are not met. And the need for on-demand apps has increased like never before after the COVID-19 pandemic because of the need for avoiding direct touch.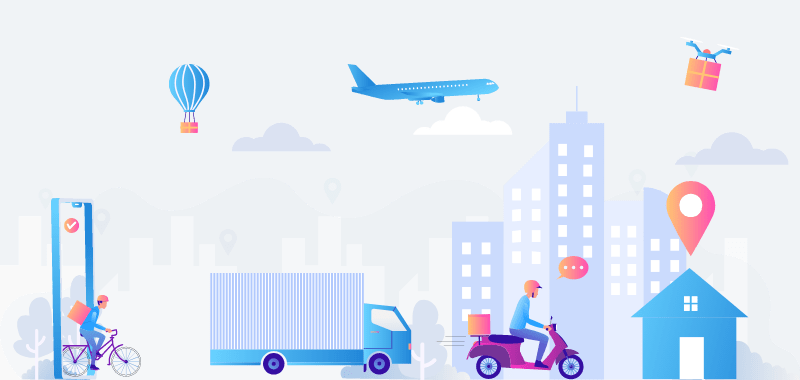 This massive surge in the global on demand delivery market volumes has enabled the businesses to strategize their business model as per the social distancing norms imposed by the government.
That is why it is advisable for upcoming on-demand delivery startups that they should analyze the market, define the target audience, set business goals, and choose the business model accordingly:
Food delivery
Food delivery services have delivered a great convenience to the food lovers by allowing them to order their favorite delicious food at their own convenience. Besides this, the hazardous impact of COVID-19 pandemic has spiked the demand for on-demand food delivery.
As per statista, the market share in the food delivery segment will grow at 21% (approx.) in 2025. So it is the best time for you to start a successful food delivery business by developing a groundbreaking on-demand food delivery solution.
Read More: Beat the competition in on demand food delivery business.
You can serve a specific customer base of a variety of cuisine by starting with a smaller delivery range. After establishing yourself properly, you can upgrade your food delivery solution gradually by increasing the range of your services.
Grocery delivery
COVID-19 pandemic has made it hard for the customers to get their daily supply of groceries as they are unable to step out of their homes. However, you can help the customers to get their daily grocery by starting an on-demand grocery delivery business.
Read More: Grow your grocery delivery business in the times of COVID-19.
To start an online grocery delivery business, you first need to develop an on-demand grocery delivery software. Then you should make an on-demand grocery delivery app for your customers so that they can easily purchase groceries from you.
Medicine delivery
On-demand medicine delivery apps have empowered pandemic struck customers to get medicine with the safety of contactless delivery. This convenience and speed of buying medicines at the time has quickly gained popularity during the coronavirus pandemic as more and more people started using online medicine apps.
Read More: Detailed guide about on-demand medicine delivery solution.
The e-pharmacy market spiked during the COVID-19 pandemic has created an immense surge in this industry. So, if you are looking to enter the on-demand delivery business, then medicine delivery is the best choice for you. You just have to build a top-notch on-demand medicine delivery solution to boost your medicine deliveries.
Parcel delivery
Parcel delivery has gained a lot of popularity as it dodges heavy traffic and makes speedy courier deliveries within the city in a shorter time than any other mode of transport. To start this business, you would require a courier license and an on-demand courier and parcel delivery solution to offer your services.
Read More: Why a parcel delivery solution is important?
Besides this, you need to hire trained delivery boys who can deliver the packages. In addition, you would also require a website and an on-demand parcel delivery app that would enable users to use your services and also help your delivery boys by helping them with directions.
Cargo delivery
You can also think of starting a cargo delivery service by helping multiple logistics companies in purchasing and delivering shipments and transporting raw materials by offering them with high-class logistics services.
Apart from this, you can emerge as a successful cargo delivery aggregator by connecting customers with delivery agents by using advanced cargo delivery management software. An on-demand cargo delivery solution comes with a robust admin panel that offers you valuable insights to achieve continuous optimization.
Popular on demand delivery business models
Entrepreneurs can see great growth opportunities in the on-demand app development arena. And a majority of upcoming on-demand delivery service providers have the potential to take over space if it continues to grow at its current pace.
To understand where that growth might occur, we need to see which business models are most successful in the on-demand delivery space and how entrepreneurs can implement them for financial gain:
Aggregator model
As the name suggests, the aggregator model enables numerous restaurants to work as a mediator between the customer and the retailer. This model is the first preference of a majority of startups as it doesn't require huge capital.
Here the on-demand delivery startup does not possess any stock or assets. Instead, it offers online customers to the brick and mortar stores. Besides this, it helps these stores to promote their businesses in their locality.
Mostly, on-demand businesses such as food, grocery, parcel, personal care services, home services, etc prefer the aggregator business model.
Single store model
The single store model is best for the retailers who want to take their business online. In this kind of business model, the retailer creates an on-demand delivery app to sell its products or services.
the food delivery businesses prefer to use the single store model. Dominos, HelloFresh, Chipotle, Popeyes, Pizza Hut etc. are some popular names who are using the single store model.
Store pick model
In the store pick model, consumers visit the company website or use an on-demand app to place the order. After placing the order online, customers will go to the store and pick their order. The prime advantage of this model is that the customers can get deliveries on their own time.
Hybrid model
The hybrid model is a mixture of two or over two business models. In this model, the store allows you to order products online as well as offer attractive schemes to increase your store pick up sales.
Remarkable benefits of having an on-demand delivery business
On-demand delivery is directly related to quick results. This means that buyers who resort to on-demand delivery want it in a few hours or on the same day. Since on-demand deliveries are like a quick fix for retail businesses, they should be easy to process for retailers as well.
This is where on-demand delivery apps come into the play. On demand applications make it convenient for retailers to schedule the hyperlocal deliveries. Since everyone has a mobile phone in hand at all times, the driver assignment process becomes much easier.
Here are a few reasons why mobile apps for hyperlocal on-demand delivery can help you with successful fulfilling of your delivery:
Golden business opportunities
The on-demand service apps have opened up tremendous growth opportunities. You can offer specialized services to your target customers and become the leader of a niche market.
Whether you want to have a custom-built mobile app for booking cabs, booking healthcare services or grocery delivery services, you can have plenty of app development companies who can help you boost your business. Moreover, you get to make your services customer-centric with these apps.
Enhanced personalisation
Advancements in technology, data, and analytics will soon allow food delivery businesses to create more "human" experiences across the marketing channels, and buying stages. That is why personalisation becomes significant for an on-demand app.
Personalisation comes in handy to appeal to the millennials and engage them with your services effectively. Virtual chatbots, personalised insights based on the customer's cash flow, real time tracking, and spending pattern tracker are some of the worth considering features of an on demand delivery app that help you to get your customers' attention and are also proven to be popular in this era.
Accept payments as you want
Payments are one of the integral parts of business which customers are always concerned about. That is why they are seeking high payment security even with the on-demand delivery services.
And while online payments have become quite popular in the last few years, why restrict customers to just one payment option? Offer multiple payment options such as credit card, debit card, mobile wallet, net banking, NFC, etc. in your on-demand app. So that customers can pay at their own convenience.
Simplified order management
On-demand delivery requires quick action and you can only achieve that if you can quickly fulfil the orders. And with an on-demand delivery mobile app, this is possible within a few clicks.
On-demand app shows you the number of processed orders. Grab every single opportunity of making profit by linking your on-demand delivery app with your delivery solution. Besides this, it helps you avoid confusion about the different status of your orders.
Behavioral targeting
Before we look at the importance of behavioural targeting for on-demand delivery business, let us understand its meaning first. Behavioral targeting is a method that utilises online data to make effective advertising and marketing campaigns.
It involves gathering data from many sources about the potential customer's online browsing and shopping behaviours.
This information helps create ads that apply to specific user's interests and habits. Behavioral targeting involves compiling web searches, purchase histories, frequently visited websites and other information that reveals what your audience wants, avoids and purchases. Using this data, you can plan ads that align with the consumer's preferences and needs.
Scale up at your own pace
App scalability can sometimes become a hurdle for delivery businesses. To resolve this issue, you need to integrate a groundbreaking on-demand delivery solution that can work over different operating systems such as Windows, Android, iOS etc.
Besides this, ensure that your on-demand delivery app is compatible with multiple telecommunication standards, iPads, smartphones, tablet computers. Because of this you can extend your services to a bigger customer group.
Be double sure with proof of delivery
Proof of delivery is an integral feature that you need to include in your on-demand delivery solution. In this, the driver clicks the picture of deliverables while collecting them from the sender.
This picture serves as proof of delivery which can be seen by the receiver as well. When the delivery agent delivers the package, he again clicks the picture as delivery proof. With this feature, you can eliminate any possibilities of fraud or theft.
Final Thoughts
The on-demand service app market is showing promising growth. Today, on-demand solutions have become an integral part of the delivery business and developing can give you a competitive edge over others. And that is why many businesses have started leveraging the on-demand delivery solution to get exponential business growth.
If you want to harness the tremendous on-demand delivery potential then get Yelowsoft's robust and advanced on-demand delivery solution that is equipped with all innovative features. This solution will help you to streamline your delivery operations that will eventually generate better outcomes.
So what are you waiting for? Just reach out to Yelowsoft to get a profitable on-demand delivery solution for your business.